Bob Pettigrew's 'No Confidence' motion in BMC thrown out at AGM
April 24th; 2017
The BMC's AGM, held over the weekend, saw Bob Pettigrew's motion of No Confidence defeated.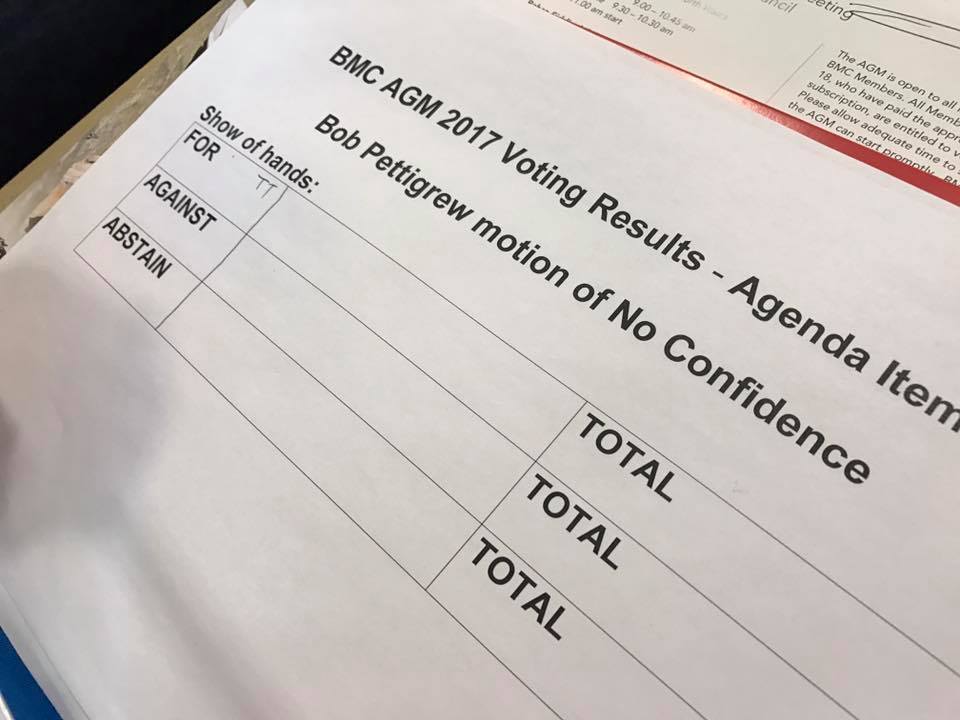 A total of 2459 votes were cast either by proxy or in-person of which 2100 were cast against the motion and 359 for. The motion of No Confidence was therefore defeated by an overwhelming (85.4% to 14.6%) majority.
However, in a shock aftermath, the BMC President Rehan Siddiqui resigned. However, he was so overcome with emotion that he was unable to read a statement to the AGM so his partner, Louise Price, delivered his statement on his behalf.
There has been considerable discussion both on-line and off-line regarding the motion of No Confidence with a number of issues being cited. However, as climbing continues to evolve not least with indoor climbing, competitions and now the Olympics just around the corner, the BMC remains the representative body and seeks to take into account the diversity of views of all those who climb and venture into the hills.
Going forward, an independent governance review of the BMC has been set-up and will be conducted under the watchful eye of the BMC's national council. It is understood that the independent chair will be Ray Wigglesworth QC, a former judge and a climber but not a BMC member.
Currently there are over 82k+ members in the BMC, an organisation which has over 500 volunteers working on a variety of aspects as well as 33 salaried staff, five of which are paid by Sport England.
A full report on the situation is expected from the BMC. Click through here to go to the BMC website.