BMC clarify Snowdonia 'open'
Feb 1st; 2019
In a highly unusual situation the BMC have been forced to clarified that Snowdonia is 'open' following an earlier statement from Snowdonia National Park Authority in which they ask mountaineers to 'stay away' due to winter conditions.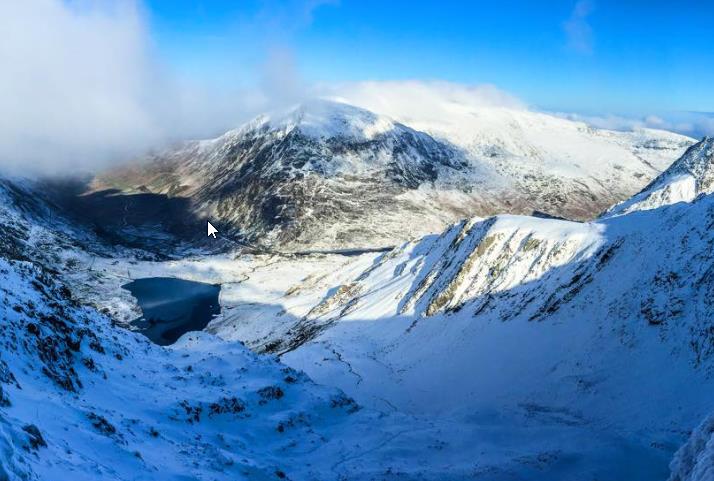 Snowdonia. Photo Rob Dyer
In a press release just issued, The BMC have however confirmed that Snowdonia is open for business albeit that climbers have a responsibility to 'be prepared'.
The full text of the BMC press release is reproduced below…
This week, the Snowdonia National Park Authority called for mountaineers to 'stay away' from Snowdonia due to winter conditions.
Now, the British Mountaineering Council (BMC) is forced to clarify that the responsibility for decisions around what a mountaineer does in the mountain environment lies with the individual themselves.
Whatever the weather, mountainous environments always come with risks and hazards. Provided that mountaineers are well-equipped and make appropriate judgements based on information, experience and ability, winter conditions in the mountains can provide fantastic adventurous experiences.
It is unprecedented for a UK national park authority to declare the mountains 'closed' due to winter conditions. While the Snowdonia National Park Authority has no actual power to 'close' the mountains in these circumstances (most of Snowdonia's mountains are classed as Open Access or accessible by Rights of Way), this call still sets a potentially dangerous precedent by obscuring the role of individual judgement.
The statement by Snowdonia National Park Authority also contradicts one of the two statutory purposes of national parks: to "promote opportunities for the understanding and enjoyment of the special qualities of national parks by the public."
The mountains are open – as long as you're well prepared.
On the same day that Snowdonia National Park Authority declared a high likelihood of avalanches as a reason for mountaineers to stay away, local aspirant mountain guide Calum Muskett was skiing in the Carneddau:
"I enjoyed a morning ski in the Carneddau today. Conditions were typical of this time of year in Snowdonia with accumulations of snow in some gullies and patchy snow cover on the rest of the mountain. Avalanche prone areas can be avoided with careful route planning and any prospective hill-goers should check the weather forecast and equip themselves accordingly."
Alun Allcock, Chairman of the Llanberis Mountain Rescue Team, said:
"The Llanberis Mountain Rescue Team/Tîm Achub Mynydd Llanberis do not, and never will, endorse the advice given yesterday by the Snowdonia National Park Authority/Awdurdod Parc Cenedlaethol Eryri in relation to avoiding the mountains of Snowdonia at any time of the year.
"Hazards exist on any mountain, but it is not the role of our mountain rescue team to decide when these mountains are 'safe'. As with all risk, changing mountain hazards can be mitigated by personal experience, route choice, equipment, weather and ground conditions.
"The ethos of mountain rescue was, and remains, that of 'mountaineers helping other mountaineers' and we will continue to turn out to people who feel they need our help without judgment. And, we'll all be out over the next few days making the most of the conditions!"
Promoting personal responsibility
While it is not uncommon for ski resorts, for example, to close following a high avalanche risk, these are managed environments. The ground conditions in the wider mountains are not managed, hence why it has always been the responsibility of mountaineers to assess the risks themselves and make appropriate judgements.
In other parts of the UK this is assisted by specialist ground conditions and weather reporting such as the Lake District's Weatherline or the Scottish Avalanche Information Service. The aim of these services is to provide hill walkers and mountaineers with detailed, up-to-date information to make their own decisions.
The BMC also has concerns with Snowdonia National Park Authority suggesting that Met Office snow conditions weather warnings are used by mountaineers to inform them about ground conditions. While included as a headline within Met Office mountain-specific weather forecasts, the Met Office themselves do not wish their own weather warnings to be used in this way.
Mountain-specific weather forecasts should be used, such as the Met Office Mountain Weather or the Mountain Weather Information Service.