BMC buys Crookrise in Yorkshire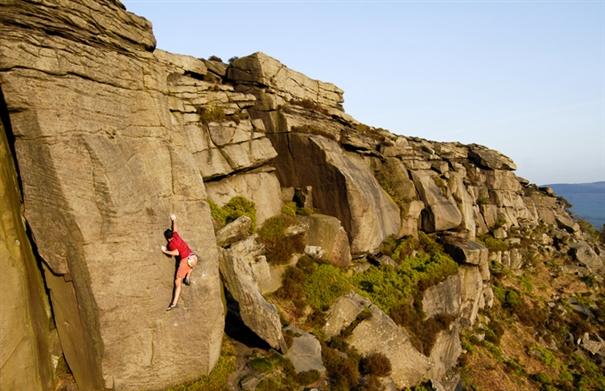 To protect access for climbers and walkers, the British Mountaineering Council (BMC) has bought Crookrise Crag, a nationally-important grit crag in Yorkshire.
The number one priority of the BMC is its vital access work for climbers and walkers. From volunteers negotiating access at local bouldering venues to lobbying parliament, the ongoing work means that climbers and walkers can just get out there and climb or walk.
Sometimes, when access is threatened, more direct intervention is needed. Consequently, if an important crag comes up for sale and the BMC believe that there is a real threat to continued public access then it will consider buying it.
As a result, the BMC now owns eight crags: Horseshoe Quarry, Aldery Cliff, Harrison's Rocks, Stone Farm, Craig y Longridge, Wilton One, Bwlch y Moch at Tremadog and, as of 20 March 2017, Crookrise.
Crookrise is a gritstone gem. This nationally important crag is tucked away in the forests of Yorkshire, a short walk above Embsay Reservoir just north of Skipton. A very high-quality gritstone edge, it's been a key stomping ground for many of Yorkshire's finest climbers.
Crookrise was owned by the Yorkshire Dales National Park Authority, who were selling off their land assets. There were a number of interested buyers for various reasons (such as parties with shooting interests) and, while the crag is located on open access land, it could have led to complicated access issues.
The potential threat to continued access for the public, and the historical importance of this crag, gave the BMC enough reason to consider the purchase. In 2015 the BMC Access Team and the BMC Land Management Group sprung into action and started work on a detailed feasibility study. Once the BMC teams had finished their research, Crookrise was bought by the BMC for £18,000, plus legal fees.
Rob Dyer, BMC access & conservation officer:
"It's great news for walkers and climbers alike. Being able to protect access to beautiful areas of the countryside like Crookrise is just one of the many things we do for our members and the wider public. It's thanks to their continued support that we can keep on working to protect the locations and interests they hold dear.
"We'd also like to say thanks to the Yorkshire Dales National Park Authority for accepting our offer of purchase. They can rest easy knowing Crookrise is in safe hands with the BMC"
Top climber and BMC ambassador Steve McClure:
"Buying Crookrise demonstrates the commitment of the BMC to securing access to the outdoors. Crookrise is one of the premier crags in the area, and it sums up what gritstone climbing is all about."
And with a touch of great timing, the May/June issue of CLIMBER (out on 13 April) will feature an article on the best that Crookrise can offer to the climber. Well worth waiting for.