Bittersweet on Everest with summits, deaths and Covid
With the first summits just over a week ago, the current Everest season is increasingly plagued by a worsening Covid situation.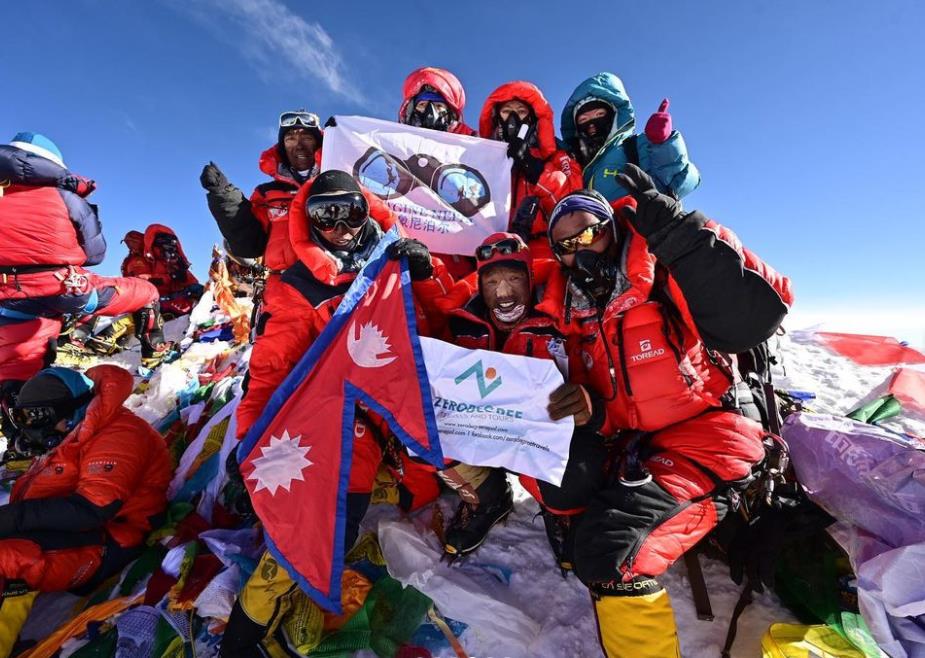 It's been a hectic week on Everest with big successes and tragically two deaths since the 12-man Sherpa team finished fixing the rope to the summit just over a week ago. Alan Arnette estimates that there were 172 summits last week on May 11, 12, and 13. As many again are waiting for their opportunity of a lifetime to stand on the highest point on earth when the next spell of settled weather allows.
However, the 2021 Everest season is, once again, beset with problems; this year's season is awash with a Covid controversy. Given India and Nepal are gripped in a deeply worsening Covid situation there are calls that the season should be abandoned and efforts concentrated on helping those with urgent medical needs. Whist some companies cancelled their entire season as the situation began to worsen; many operators however have continued.
In total 408, a record number, of climbing permits have been issued by the Nepalese's authorities this year; little wonder then that Everest Base Camp is massive again this year. Kenton Cool posting online earlier in the month estimated "Basecamp is nearly 1 mile long!!!" Given that climbers have flown into Nepal from numerous destinations it was almost inevitable that base camp would be impacted by covid infections. Reports are that covid testing, as well as isolation for those infected, are at best 'variable' and that climbers have been helicoptered away from Everest for treatment elsewhere. The Nepalese Government are playing the situation down saying that Covid isn't a problem. However, in the face of ongoing Covid issues on two Everest operators have cancelled their operations in the last day or so and are now withdrawing their entire team off the mountain. How the rest of the season will play out is yet to be seen.
Notwithstanding the Covid issues, the authorities are however allowing climbing to go ahead so let's pick up on some of the climbing events starting with the fixing team - a prominent member of which was Kami Rita Sherpa. When Kami Rita summited as part of the fixing team it was his 25th ascent of the Himalayan giant, an ascent that marks not only an incredible achievement but a remarkable career as a high-altitude climber.
One of the first teams to summit following the fixing team was a team of the Bahrain Royal Guard which included the Prince Shaikh Mohammed Hamad Mohammed Al Khalifa. This was the first time a Bahraini team had summited Everest and came after successful ascents of Lobuche Peak and Manasula in the autumn of 2020. The team was led by Tashi Lakpa Sherpa who became the youngest climber to summit Everest without supplementary oxygen aged just 19 years.
Kenton Cool, as we mentioned earlier, is also back on Everest this season – his 15th having first set foot on the mountain back in 2004. Using logistics from Madison Mountaineering, Kenton successfully summited for the 15th time on May 11th at 06:00 local time. Kenton's latest success means that he, along with American Dave Hahn, holds the record for the most non-Sherpa summits. That however, wasn't the end of Kenton's climbing. Having dropped back down to the South Col, Kenton went for the back-to-back double and summited Lhotse a day later on May 12th at 11:00 local time. Cool climbed both Everest and Lhotse with Dorjee Gelgen Sherpa.
Those summiting on May 12th included a 15-member team including three of Mingma.G younger sisters who are currently climbing all the famous Seven Summits as part of a dream to honour their father's career as a mountain guide. Posting online Mingma.G outlined the back-story for their ascent:
"Our father worked all his life as a guide and lost his eight fingers during 1983's Winter Everest Expedition with Japanese team while tying one of the members boot lace. His dream of climbing Everest never happened after that. My sisters said their expedition would be dedicated in his memory. This is an emotional moment for me so I am happy helping them with climbing all seven summits from @imaginenepal

They want to encourage women to dream big and fight for it through their climb.

Congratulations to these three sisters.
1. Nima Jangmu sherpa @jangmu8848
2. Tshering Namgya sherpa @xerpatsein
3. Dawa Futi sherpa @dawa6109
The three women are amongst an increasing number of women climbing on Everest this year.
Despite the successes, sadly Chhang Dawa Sherpa (from the SevenSummitTreks expedition) reported on May 12th that two of their clients – Abdul Waraich (Switzerland) and Puwei Liu (USA) – died during their attempt on Everest. Reports are that Abdul Waraich had summited but began experiencing problems during the descent. Puwei Liu had climbed as far as the Hillary Step before turning back exhausted. Both died despite the additional help given to them by the Sherpa's. Both climbers were experienced at high altitude. Everest was the final summit for Waraich of the Seven Summits and Liu had climbed Makalu in 2017.
Whilst summit photos have been appearing on social media it seems that the various teams are respecting the new requirements from the Nepalese authorities which stipulate that photos showing other teams should not be posted. Speculation is that this is to limit the 'bad press' which has previously arisen when photos showing numerous climbers queuing on fixed ropes making Everest look overcrowded. Famously, Nirmal Purja's photo from previous expeditions showed a long queue of climbers on the final slopes of Everest. Other images have shown as many as 200 climbers on the fixed lines.
Another new rule also stipulates that climbing teams should plan and execute their climbs in the order of the climbing permits. It is understood that the Bahraini team have been issued with the first permits and were first to summit.
The latest reports are that the bad weather which has swept through the region is keeping teams off the mountain. Numerous big teams – including Nirmal Purja's Elite Expedition – and several O2-free climbers – including Colin O'Brady and Mingma.G - are all poised waiting for the next round of settled weather which is expected in the next few days.
The poor weather has undoubtedly increased numbers of climbers both in Basecamp and those resting in Namche Bazaar, Pheriche, and the other villages at lower altitudes. The concentration of climbers is likely to have a detrimental effect on the ongoing covid situation amongst expeditions. Whilst some teams are continuing to report that they aren't experiencing Covid infections and are all ok others are less positive and have unofficially reported that they have evacuated some with Covid symptoms. It is understood that a private centre for foreign climbers, the CIEWC Hospital in Katmandu, is treating climbers. Reports are that unlike the hospitals treating the general populace the CIEWC Hospital has sufficient beds, supplies and oxygen. As an aside, it is also understood that Nepalese authorities have now reached an agreement with Everest operators that they will return their empty oxygen cylinders so that they can be re-filled and distributed for re-use in local hospitals.
As we publish this report, Furtenback Adventures have become the first expedition operator on the Nepalese south side to announce that they are cancelling their current Everest expedition citing the increased numbers of Covid infections in Basecamp. "I didn't make the decision easy for myself. But to climb above base camp with these massively increasing corona numbers and risk the lives of our 20 customers, 4 mountain guides and 27 Sherpas carelessly, would be irresponsible," said Lukas Furtenbach, Managing Director of Furtenbach Adventures."
Covid issues have also hit climbing from the northern Chinese side of Everest where only one team was operating. Concerned that covid could be passed between climbers on the summit a so-called 'line of separation' had been planned on the summit of Everest in an attempt to keep teams from the north and south mixing. However, Himalaya Expeditions who were operating from the Chinese side, have now decided that the control measures aren't enough and they too have cancelled their expedition.
Finally, those finishing their expeditions face ongoing difficulties given that the Nepalese authorities have cancelled all international flights out of Nepal until the end of May. The situation, therefore, remains tense for those who remain in the mountains or waiting to return home. There is some glimmer of hope however as Nepal's Civil Aviation has permitted 'special flights' for foreigners at the request of their embassies. It is said that Nepal's Tourism Board believes that there are currently 2,000 foreigners in Kathmandu but that a further 5,000 more will join them in the next few weeks. Reports are that some operators will arrange charter flights for their groups.
It's a rapidly changing situation but having got off to a very successful start the Everest season, as per that on other 8000'ers remains, at best, in the balance. Posting online since his team withdrew from Everest Lukas Furtenbach paints a bleak picture however of the recent scenes at Everest Basecamp.