Billy Ridal is Superman for the day
Billy Ridal has just had an amazing day bouldering in the Peak ticking Superman Sit (Font 8b+) as well as Keen Roof and Fat Lip, both Font 8b!
"At the risk of hyperbole, today was probably the best day of rock climbing I've had" Billy said after coming back down to earth!
Superman Sit is Billy's second Font 8b+ having climbed The Never Ending Story in November last year. However, there can often be more satisfaction in doing a hard send on your home turf, especially one with such as history as Superman Sit! Remarkably, Billy's ascent of Superman (Font 8b) only happened a few days prior. Justifiably chuffed Billy was pleased to send the stand; "A peak limestone testpiece I had written off as impossible for me after seeing the miserable crux crimp."
Last than a week later he was back and sent Superman Sit – first burn; "I turned up prepared for a battle, but instead found myself at the top on my first go from the start. If you'd told me I was going to do that at the start of the year I would have laughed in your face, so that's pretty cool."
His day didn't end there, however; Billy jumped into his car and drove the few miles round to the Tor - his eyes now on Keen Roof and Fat Lip. As with Superman, Billy had spent time before on both of the two Raven Tor test-pieces; "I played on Keen Roof and Fat Lip quite a bit in the summer and did some links, but the roof holds on Keen had felt too sweaty, and the heel hooks on Fat Lip too finicky, so I'd sacked them off. With energy to spare after Superman, I figured it was time to give them another go. Cooler conditions, fresh shoes, and I guess a run of form right now meant they felt very different problems, and after a couple goes on each they were done."
Finally, he summed-up his day saying; "Not sure where all that came from, everything just felt easier today. Certainly not something to complain about, I just hope it carries on!"
Billy, like all the competition climbers, had trained hard last winter only to see the 2020 world cup season fall apart when the pandemic hit back in the spring. Such a change of events can be disheartening but Billy, having taken stock, turned it around and has had an amazing year.
Climber has been in touch with Billy to talk to him not only about his recent successes but also about the change of direction that the pandemic forced on him back in the spring. It's always interesting to see how well competition climbers get on when they get outside and touch real rock; very well it turns out in Billy's case! Here are Billy's thoughts on his 'Superman Day' and some of the highlights from the rest of his season…
Hyperbole well deserved we say; your best day's climbing ever?
Ah, thanks very much! I think when you have been climbing for a long time it becomes hard to say with much confidence what your best day has been, and it completely depends on what you consider makes a great day. I can hardly say an afternoon sat by myself under some damp limestone is the most enjoyable day out climbing I've ever had, and there have been moments in competition when the pressure has been extreme that were more exciting. However, this one does stand out because of how stark a difference there was in my performance on those same moves compared to even a few months ago. Whether that was down to conditions or good form, making something feel easy that was previously beyond you is one of the best feelings in climbing for me. I would be lying if the big numbers didn't contribute too!
You've had a barnstorming 12 months. Since winning the British Lead Championships back in September 2019 you've ticked your first Font 8b+ (The Never Ending Story), redpointed your first F8c (Make it Funky) and then your first F8c+ (Mr Hyde) and then added some of the hardest blocs in the Peak, Superman Sit (Font 8b+), Keen Roof and Fat Lip (both Font 8b) to your bouldering CV. You can't sniff at any of that for 12 months effort amidst a pandemic?!
When you list it off like that it all sounds very busy! Honestly, most of the last year has felt pretty slow, the winter was mostly spent training for the coming competition season, so then when everything got turned upside down I, like everyone, was left with quite a void in my life. Walls closing meant that I had no work either as I route set for a living. Initially I struggled with that and thought that the whole year would be wasted, I knew that I had been in good shape and felt more prepared for the World Cup season than I had ever been. That took a little while to work through, and I needed a little bit of downtime, but since then my motivation returned with a vengeance and I'm really proud of what I've managed to do on rock so far this year.
Anyone serious about their climbing should be setting goals; how many of those were on your list a year ago?
Regarding competitions I have learnt that setting rigid goals is often a recipe for disappointment, better to work hard, be confident when you turn up, but not to be too attached to a specific result, there are always too many factors out of your control. In that realm, I have dreams that I am working towards, but the process of bettering my craft is more where I draw the motivation from, and in time that brings better results too.
On rock though I certainly have goals, I normally write out a list each year of cool stuff I am motivated by. I never end up completing the list so anything I didn't get around to just rolls over to next year's list, how convenient hey!
I've had 'Climb F8c' written down for years but never got around to actually trying it. The last couple seasons I've put more work into my fitness, and with all the time I've had lately, there really wasn't any excuse. It ended up being a really refreshing experience, I felt like an amateur again figuring out how to effectively redpoint, specifically fully relaxing when the terrain allows. Not something I am used to from bouldering, or even competition routes which are so in your face right off the ground. I was really pleased with how I climbed on Mr Hyde it's the first time I've had a feeling of flow on a route, a marker of progress for sure. That being said I definitely still have a lot of improvement to make in this discipline.
After sending your first Font 8b+, The Never Ending Story, you posted; "it just happened out of nowhere." After sending Superman, Keen Roof and Fat Lip the other day you wrote something similar; "Not sure where all that came from, everything just felt easier today." Hard work and training plus tenacity and commitment perhaps?
Haha, I guess they must be contributing factors. A lot of the hard things I've done outside have come as a bit of a surprise to me, not necessarily because I didn't think I could do it, more the manner in which I did. With both of those examples I was confident that I was physically capable when I turned up for redpoint attempts but unsure of my ability to put it together when I needed to. I've never been a fan of the brute force method so if I end up trying something for numerous sessions I get demotivated and go backwards. So it's often better for me when things happen a little out of the blue, before I actually feel particularly ready to do them, but also meaning I haven't had time to get nervous or stressed by the process. For Fat Lip and Keen Roof I had put some time in but stopped enjoying the process and had stagnated. Having had a break from them and with refreshed confidence after Superman it felt the right time. They hadn't even been on my radar driving out to the peak that day though, hence why it was such a surprise!
Having won the British Lead and Speed Championships last September you smashed out Diesel Power (Font 8a), Pools of Bethesda (Font 8a+) and Mr Fantastic (Font 8a) later that same day; "just to remind myself I'm definitely still a boulderer 😅" Is that still how you see yourself?
Another contender for my best climbing day. Hmm, that is actually a hard one for me to answer nowadays. With the onset of the combined discipline for the Olympics I have tried to diversify my abilities in the last few years. That meant a lot more time going round in circles and tying into a rope, and an unhealthy amount of time on the speed wall, though I certainly don't consider myself a speed climber! Competitive bouldering is still the thing I have put the most time in to, and it would probably be the discipline I chose if I was forced to, but I don't want to limit myself like that. I have aspirations indoors and out, small rocks and large, the climbers I most admire are ones who can perform on a range of styles and disciplines. For now, I've got the triple catch dynos pretty well figured out, but one day I'd like to feel just as at home 500m up, fiddling in a nut on some runout horror show.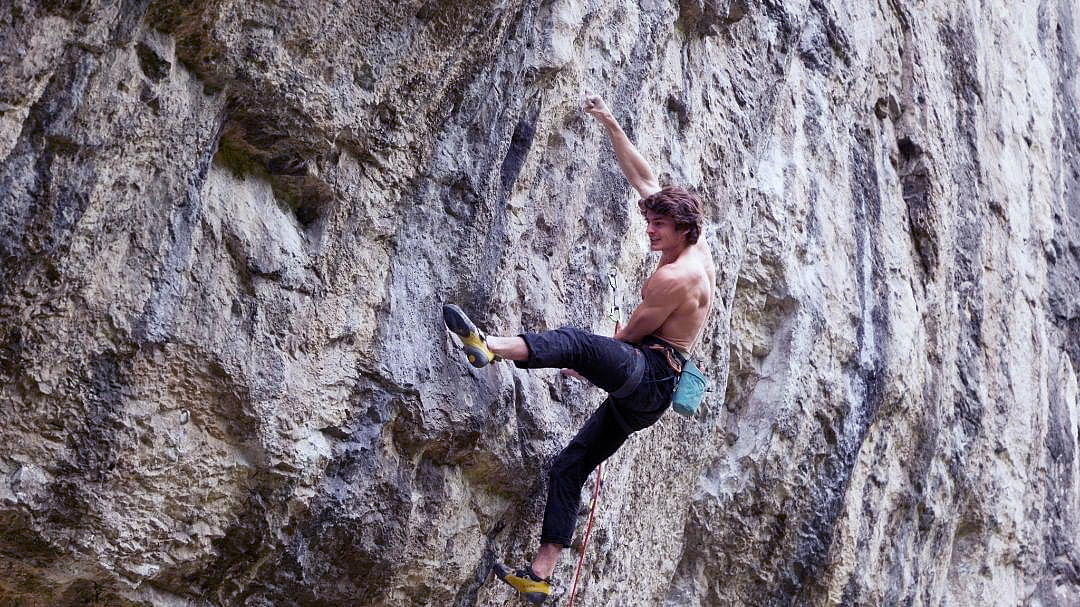 After sending Tamora (Font 8a+) in May this year you wrote; "I'm missing the world cup circuit, but now that we're allowed out it means I have the opportunity to prioritise rocks close to home for a change 🙏" It certainly seems that training for the world cup comps has given you a solid base to be able to apply yourself to climbing outside during the year. Do you think you would have achieved as much this year had the world cup's been running?
The World Cup Circuit takes up most of the spring and summer, and is so demanding that it makes it difficult to push yourself outside to the same degree. Rock climbing becomes more of a treat and so I want it to be a little more relaxing. I think the consistency in which I have been able to get out this year has been a huge reason why I managed to do so much. There was time to tune in to the style, time to wait for good conditions, good skin, and a fresh body. I've been able to build up gradually until just recently it has all come together and the bigger numbers have toppled down. There simply wouldn't have been opportunity to go through that process alongside the competitions, I imagine 'Climb F8c' would still be on my list of goals... Perhaps though I could have had comparable achievements in that realm instead, who knows!
What are your thoughts for next year then going into the winter 'training season'?
Though I have really enjoyed the opportunity to focus on outdoors this year, I want the chance to prove myself on the World Cup circuit again. This winter will be dedicated to training, as it always is, to be as prepared as possible for next season, assuming there is one...
I've made a lot of progress that I'm really pleased to have been able to translate on to rock this year, but next year will be about trying to do the same in competition. I'll still be getting out when I can though, this year was too much fun to neglect rock entirely!
Click here to follow Billy on his Instagram page…