Big Balls and Ground Falls - Jim Pope
Wednesday 29th April 2020
Jim Pope's recently released film Big Balls and Ground Falls is a celebration all everything big and bold about climbing on grit.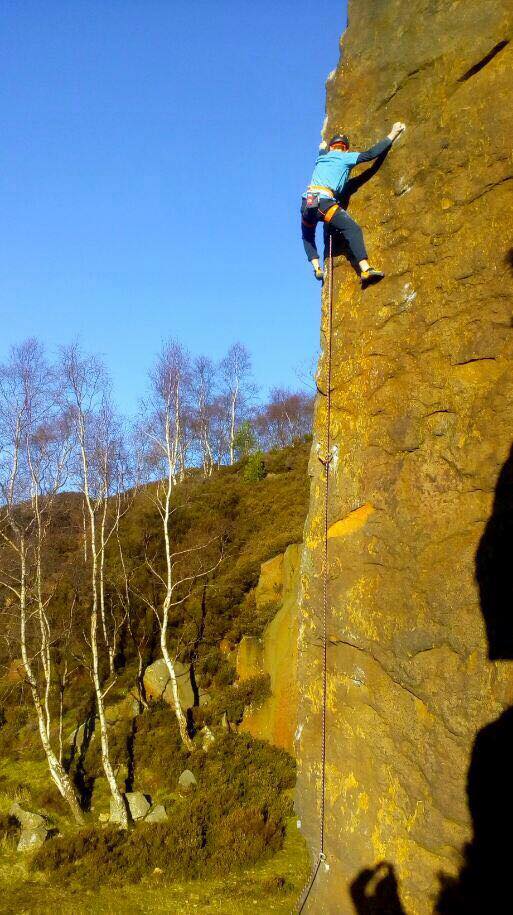 Somewhat different from many of today's climbing films Big Balls and Ground Falls – as you might imagine from the title – is a 'bare-chested, scary climbing, action-only' movie. Aged just 13 Jim did Life Assurance, an E6 at Burbage South; it appears to have ignited a spark which has burned deep within him since.
Jim explained to Climber how his ascent of Life Assurance came about and how his passion for hard routes has developed: 'At the time I wasn't climbing outside as much as I am now, and I just saw it as going out climbing, I guess I got into the harder more serious stuff when I moved to Sheffield three years ago and had it all on my doorstep.'
Jim progressed through the routes and grades but what, we asked, was his first proper hard/scary route? 'I think my first proper hard route was Meshuga; that was the first difficult one where you couldn't fall off at least. But I did a lot of easier stuff to build up to that.'
Historical context, as well as a good line on a good crag, is important to Jim too: 'A tick means more when it has all those factors behind it, but I'll still do lesser-known routes just for the sake of doing them or for the challenge.'
So what was the inspiration for Big Balls and Ground Falls? 'I really like films like Consumed and A Shock of the New, and I really looked up to the climbers in them. I wanted to recreate something similar, with the current trad scene.
Some of the routes featured in the film were headpointed – not all though as Jim confirmed: 'A few were flashed in the film; Bad and the Beautiful, Nah'han and Desperate Dan and a lot of them were done ground-up.'
In the spirit of the film, we threw a bunch of quick-fire questions at Jim to drill a little deeper into the routes featured in the film…
Best route and why?
Meshuga – it has a bit of everything, the crag has a pretty unique atmosphere, the line is really proud, and there's good history behind it.
Biggest climbing tick for you?
Flashing Master's Edge was cool, I saved it for a long time, it's far from the hardest tick but it's really technical and the routes a classic.
Biggest historical tick for you?
Probably Master's Edge again.
Closest to falling off?
Closest to falling off was probably on Simba's Pride, my heel slid on some scrittle on the worst holds of the route; that would have been a bad one!
Scariest moment?
The scariest moment was watching Henry on Gaia, ha-ha. His top-rope goes looked a little sketchy but he was smooth in the end.
Most technical sequence/route?
I think Benign Lives was the most technical, there are some really poor feet and virtually no hand, but there's just enough to get up it which is cool.
Coolest moves/route?
Destructive Tendencies has some really good moves on the crux, and that hardly ever gets done! It should see some more attention.
Most sustained climbing?
For me, Meshuga was pretty sustained, if your short there's another hard move after the classic chuck. The move to the break where you put gear is really go'ey!
Most droppable moves?
The stand up on Silk is a really droppable move, all your holds are bad; luckily it's not that high up! It's really impressive that Johnny (Dawes) did the FA of that on-sight.
Biggest tick that got away?
Soul Doubt at Froggatt! I need to finish that one-off, a pebble has broken at the top which makes it a bit trickier, that one's properly scary too!
Next on the list?
We're not done there, would love to make another film with some harder routes. I'd like to push myself a bit more, I'd love to do Parthian Shot and repeat some of Miles Gibson's unrepeated routes. Dangermouse at Wimberry in particular!
Watch Big Balls and Ground Falls below…