BIFF 2018
Jan 29th; 2018
Jim Pope and Rachel Carr out BIFF'ed all-comers at the madness on Saturday that was the 2018 Beastmaker International Footless Festival at the Climbing Works to take home the coveted titles, Mr and Mrs BIFF 2018!
Dan Varian (Co-founder of Beastmaker) and Leah Crane (World Cup boulderer, OneFiveNine show host and commentator grilling former BIFF champs, Jim Pope and Aidan Roberts about their chances before the crucial final round.
Following qualification rounds at both the Castle and the Climbing Works, the completion reached fever pitch at the Climbing Works on Saturday. BIFF madness drew in some mega stars as well as all the strong dudes from the UK. It was hard not to be impressed with the starting line-up which included the Moon Board Masters champions Alex Megos and Margo Hayes. And as if that wasn't enough, Jan Hojer was in town as well. It looked as though the Brits would have their work cut out against such opposition. However, past BIFF champions Jim Pope (2016), Aidan Roberts (2017) and Gracie Martin (2017) weren't just along for the ride – honour was at stake!
Alex Megos – wearing Kurt Albert style-lycria – putting in a stint on 'Ring the Bell'; one of the earlier fiendish obstacles set to tire competitors.
Percy Bishton, Climbing Works director, setter, commentator and all round elbow wrecker, had dreamed up and finally commissioned – albeit not without some considerable difficulty – what will perhaps become known downstream as the ultimate BIFF challenge: the Infinity Drum. Think of a hamster wheel but in reverse such that the climbers have to campus on the outside – footless of course – the winner being the last person to stay on the wheel.
Gracie and Margo going head-to-head.
After hours of footless shenanigans only eight pairs of competitors were left for the all out, head-to-head final duel. Finally, it was time for the Infinity Drum to separate the strong from the even stronger! In a super-cruel death by lactate, the competitors had to campus their way up the ever revolving Infinity Drum faster and hence ahead of their duel-partner.
Gracie Martin, Mrs BIFF 2017, drew against but was eliminated by Margo Hayes in the opening quarter final duel. It was all going swimming well – ie total mayhem – when Alex Megos was suddenly grounded in his duel against London-strongman and renowned footless climber; Captain Cutloose – a.k.a. Louie Parkinson. Louie however, being the sporting colossus that he is, fessed-up to a dab; the duel outcome was thus flawed! The crowd wanted a rematch and after a short break once again Alex and Louie fired-off for another set. This time Alex emerged victorious. However, as everyone wondered, would Alex be busted from the extra run. He's super-humanly strong but… he only human after all!?
Well-deserved third places went to Max Ayrton and Belinda Fuller but all eyes were on the recently crowded Moon Board Masters Champions, Alex Megos and Margo Hayes to see if their prowess also included footless yarding.
Rachel beating Margo for the title of Mrs BIFF 2018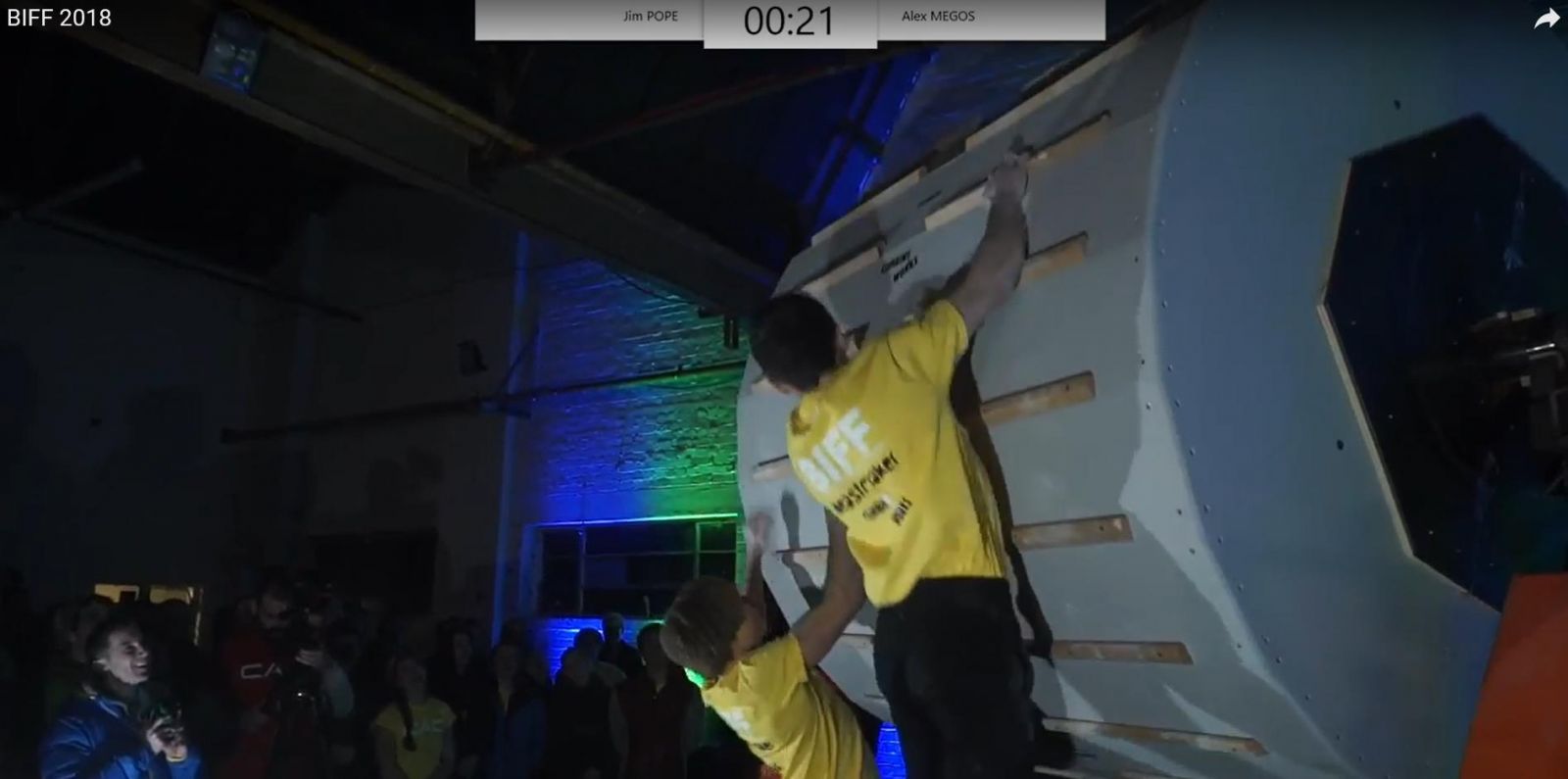 Jim out-campusing Alex for his second Mr BIFF title in three years
Despite fighting with every fibre of their respective beings, the Moon Board Master champions were brushed aside with an absolute masterclass of campusing power and endurance by Rachel Carr and Jim Pope; worthy and gallant competitors and now Mr and Mrs BIFF 2018! Doubtless there would have been some sore elbows (and heads) on Sunday morning.
Jim Pope collecting the Mr BIFF title for the second time in the last three years.
View the live stream here…