Berghaus Hyper 100 jacket wins 2016 OutDoor Industry Gold Award
Berghaus is celebrating after its latest product innovation won a major international award, the company's tenth in four years. The new Berghaus Hyper 100 jacket won a gold in the apparel category of the 2016 OutDoor Industry Awards, the highest level of award presented. Designed and engineered by the company's MtnHaus™ innovation team, the Hyper 100 is the world's lightest full mountain waterproof jacket in a three layer fabric, weighing under 100g (size medium).
The OutDoor Industry Awards are the most comprehensive and sought after awards in the European outdoor sector. This year, they attracted 343 individual entries from companies around the world, but a strict set of judging criteria meant that only the very best products were given awards by a jury of six international experts. Apparel proved to be one of the most keenly contested categories and the Berghaus Hyper 100 jacket was one of only two products to be awarded gold.
The Hyper 100 is an ultra-lightweight waterproof designed for fast and light mountain days. It's a 3L Hydroshell® Elite Pro product and the most breathable waterproof jacket that Berghaus has made. The style is part of the new Berghaus Extrem Light range for spring/summer 2017, which aims to answer the demand from consumers for extremely lightweight kit that is also durable. The range was developed over many months by the MtnHaus™ innovation team, working closely with materials and component suppliers and Berghaus' team of sponsored athletes.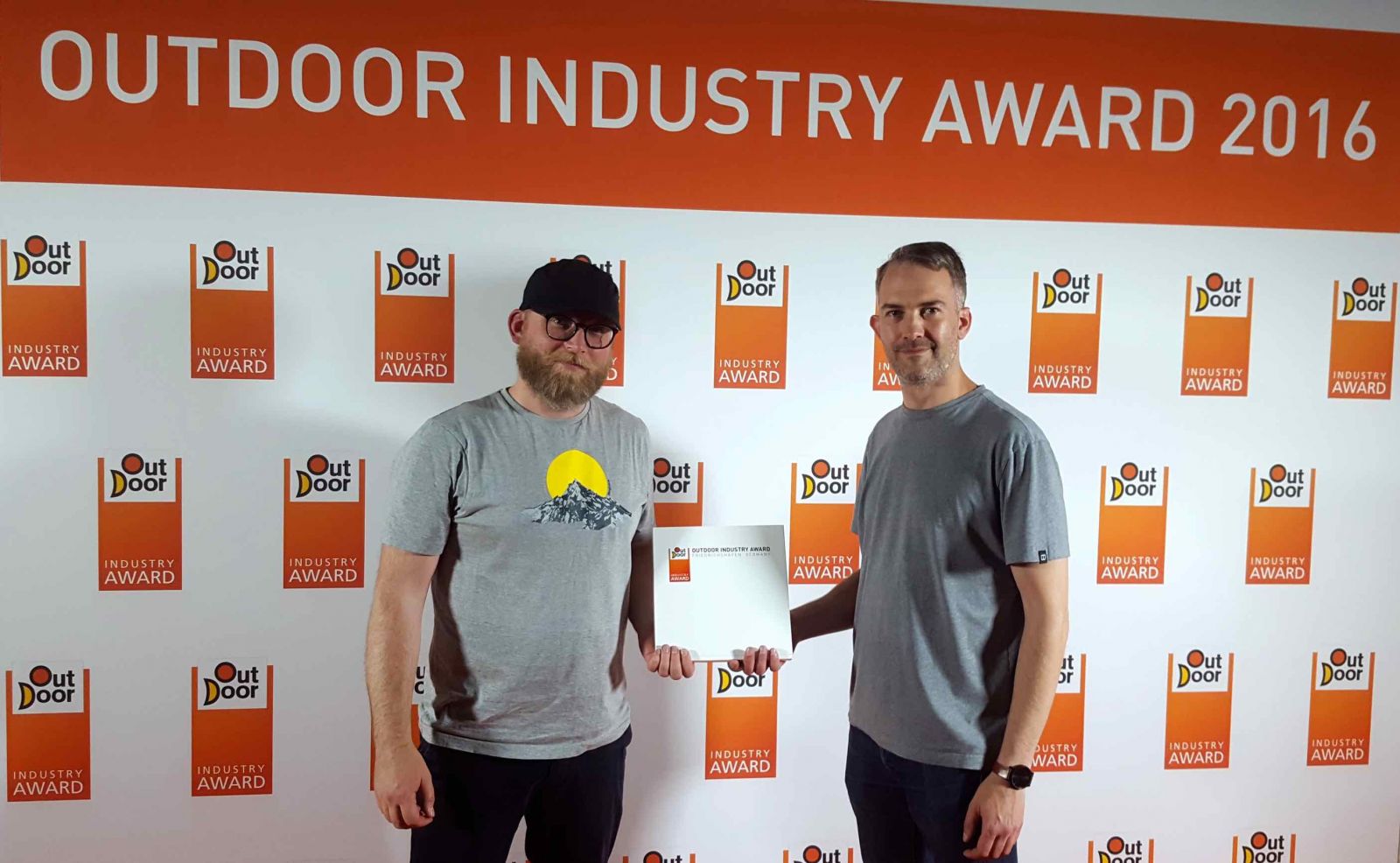 Paul Cosgrove (left) and James Hodgson of Berghaus collect the 2016 Outdoor Industry Gold Award.
Julian Nichols, Berghaus global vice president of product and marketing, comments: "These accolades are not easy to earn and the OutDoor Industry Awards are particularly sought after because they are a stamp of approval from peers in our sector. The Hyper 100 jacket continues a proud tradition of award winning Berghaus products. More importantly, it meets a clear consumer need and we're very excited about its potential, and that of the whole Extrem Light collection. The fact that this is Berghaus' tenth major trade award in only four years demonstrates that we're delivering sustained innovation and excellence, which is a fine habit to have."