Ben Moon makes Statement - again
Wednesday 18th March 2015
March 18th, 2015
Ben Moon is in the news again – this time he's on Radio 4 and donating to the Alzheimer's Society.
Appearing alongside Eimear O'Callaghan – a diarist/journalist, Gerald Scarfe – a cartoonist, Greg Wise – an actor, Ben Moon appeared on Libby Purvis's Radio 4 Mid Week programme. As usual the 45 minute radio programme was eclectic mix of four stalwarts all of whom have made their mark on today's society.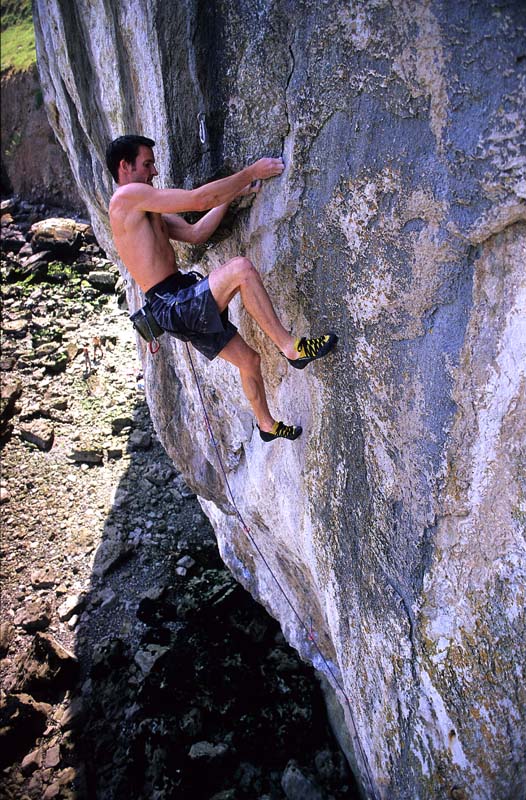 Ben Moon re-climbing Statement of Youth at LPT c.2000. Photo Keith Sharples
Libby Purvis introduced Ben as "a rock climbing revolutionary of uncanny spider-like agility" – not a bad shout at all as it happens! Given the limited time available to each of the four 'mid weekers', much of the dialogue with Ben centred on the differences between mountaineering, sport/trad climbing and bouldering. The 'revolutionary' tag was clearly a reference to Ben's ascent of his Statement of Youth where after the so-called 'thin-end-of-the-wedge' argument briefly surfaced. Purvis was clearly well-briefed bringing not only Statement into the conversation but Hubble as well before steering the conversation, all be it briefly, towards the motivation for climbing. Not surprisingly there was little time to drill deep into this or any of the other hundreds of aspects that we climbers wrestle with on a daily basis. In what seemed like no time at all, it was over. We are obviously bias, but it was great to hear Ben getting national air-time and talking about climbing. The programme is available on-line here if you missed it and fancy a listen. Ben's slot starts about c. 30minutes into the 45 minute programme.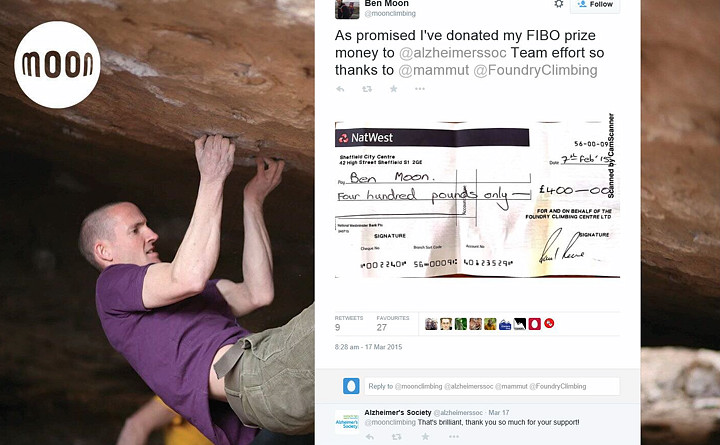 Ben's Twitter feed from March 17th
Finally, Ben tweeted earlier this week that he had, has he'd said he would, donated his recent winnings at the Foundry Bouldering Open to the Alzheimer's Society. You can't say fairer than that – a wonderful gesture and gratefully received no doubt – another statement from someone who is rather good at making them.
And if you still haven't got your copy of Ben's biography by Ed Douglas, click through here to go to Vertebrate Publishing website.