BeFree filter bottle wins Best Accessory and Product Of The Year award
March 19th; 2018
Katadyn's BeFree filter bottle has won the Best Accessory, and the Product Of The Year award, at the UK Outdoor Industry Awards 2018.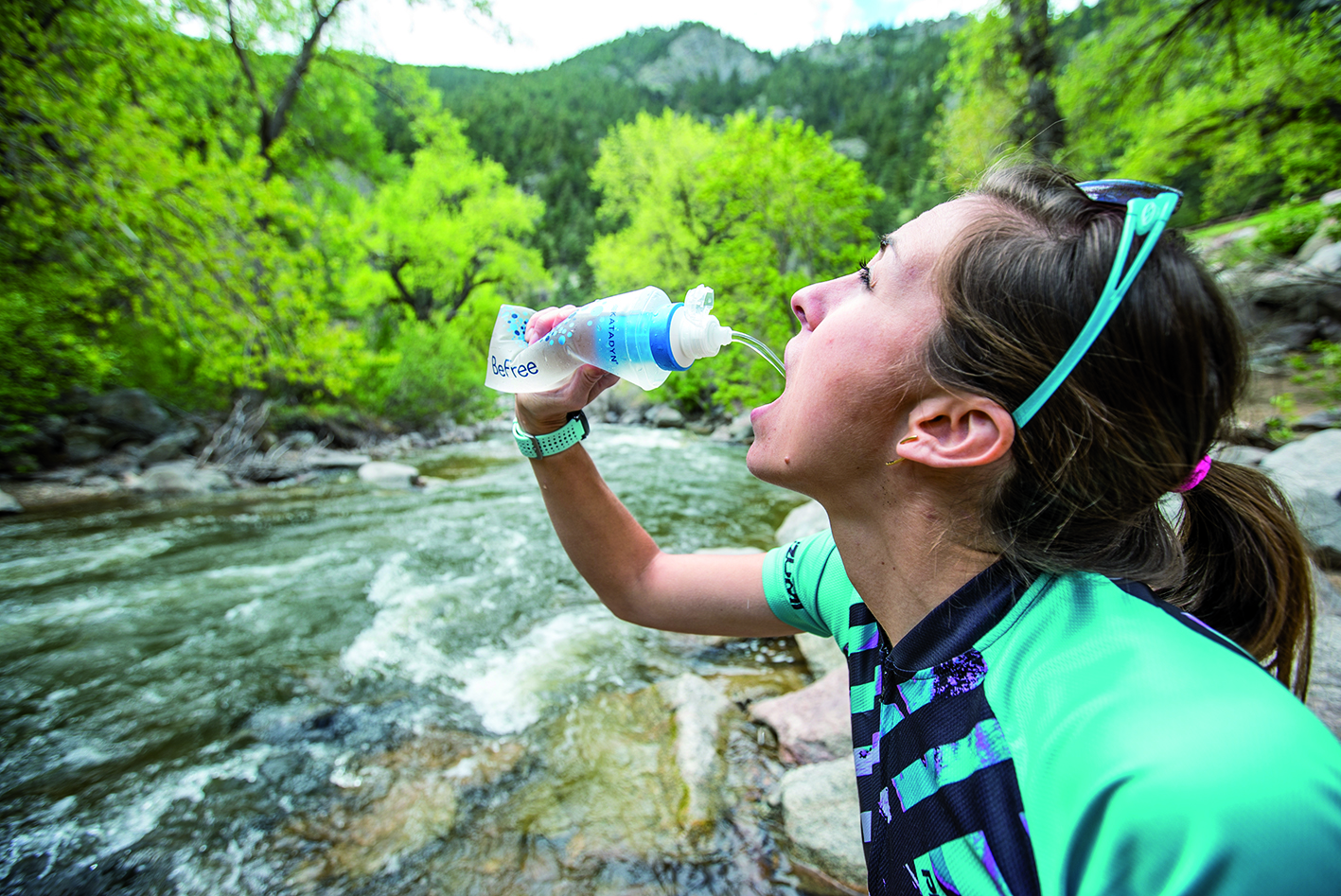 The BeFree is a collapsible drink bottle with a filter in the head. Although a really simple idea, the high flow rate means you can get clean water from streams and lakes wherever you are on the move. Consequently, the BeFree is ideal for runners, walkers and travellers; just fill up the bottle and let the EZ-Clean Membrane do the work. Once it's been used it's also really easy to clean; remove the filter and swish in any lake, river or stream, or under the tap. For storage, the collapsible bottle packs down small.
Clive Allen of Ascent Marketing explained just how effective the filters are in the BeFree : "The BeFree filters pretty much everything except viruses, which are so small that filter based systems don't typically filter them out. The BeFree has a pore size of 0.1 microns which easily cleans out bacteria and protozoa which can typically be down to 0.2; viruses are often in the range 0.02>0.2 microns, so won't be filtered. To play it safe, it is advisable to purify filtered water (by heat or chemical purification) if in a risky area for viruses which is not usually the case in Europe".
Clive also explains the process behind the UK Outdoor Industry Awards. "These awards are held annually. In total, 102 products were entered for the Awards, across 10 categories. These were initially displayed to over 1,000 trade visitors at the Outdoor Trade Show (OTS) last July, then shortlisted to 31 finalist products by a panel of judges from across outdoor retail and media. Following that, the finalists were put to the public vote at the Caravan, Camping & Motorhome Show with over 1,200 votes placed. The winners in each category were announced at the Outdoor Industry Association Conference on 14 March 2018. From these ten winning products, the panel of expert judges selected the Katadyn BeFree as the overall Product of the Year."
The BeFree has previously won Backpacker Magazine's Editors Choice Award, Runner Magazine's World Gear of the Year Award, and an ISPO Gold Award. The BeFree is distributed by Lyon Equipment and is available in 600ml (£43), 1L (£48) and 3L (£57) versions.