Barbara Zangerl in amazing Pembroke trad-fest
July 9th; 2017
Austrian all-rounder, Barbara Zangerl, has been back in Britain over the last few weeks mopping-up an impressive number of E8 & E9's in Pembroke including The Big Issue and Muy Caliente.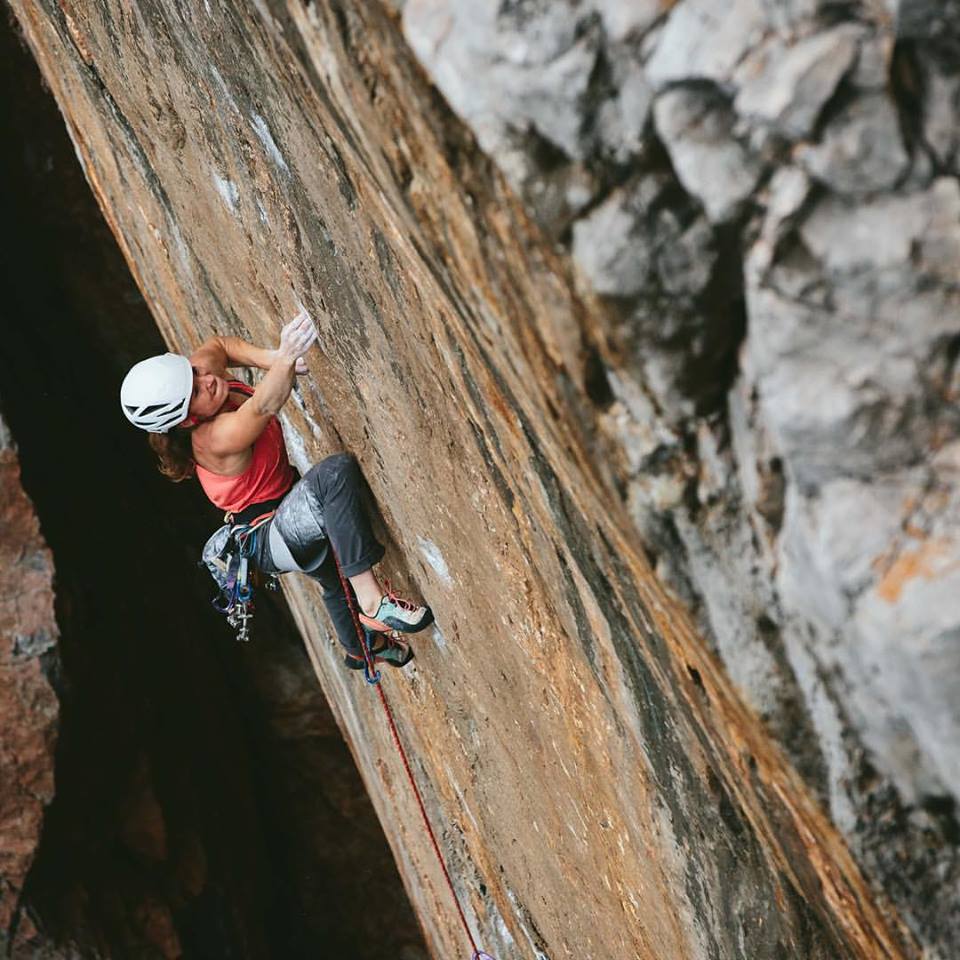 Barbara Zangerl on The Big Issue (E9 6c). Photo @jacopolarcher
Barbara – a.k.a. Babsi – was originally known as a boulderer; in 2008 she climbed Font 8a+/b when she did Pura Vida. However, a back problem pushed her into climbing routes and by 2011 she added the Vorarlberg test-pieces, Reifeprüfung (F8b+) and Erntezeit (F8c), to her CV. Since then she's done numerous hard routes including sport routyes up to F8c/+, a number of alpine multipitch routes – such as the famous Silbergeier (F8b+) – and desperate trad climbs such as Prinzip Hoffnung (E9/10).
Last year, climbing with her Italian boy-friend, Jacopo Lacher, Barbara repeated both Dalriada (E7 6b) and Requiem (E8 6c/F8a+) in Scotland. Also during that trip she did what is believed to be the second ascent of Achemine (E9 6c) – also at Dumbarton. In April this year Barbara, again climbing with Jacopo, climbed Gondo Crack which is F8c but on trad!
Barbara on Chupacabra (E8/9 6c). Photo @paolosartophoto
Barbara arrived in Pembroke in late June and within days had climbed Chupacabra (E8/9 6c) and Do you know where your Children are? (E8 6c). Then, using beta from Jacopo, she flashed Point Blank (E8 6c). Barbara and her team then spent a few frustrating days dodging the bad weather in North Wales before they returned to Pembroke. Barbara's second stint in Pembroke was also incredibly productive climbing first Muy Caliente (E9 6c) and then The Big Issue (E9 6c).
Barbara seemed especially pleased with her ascents in Pembroke and of The Big Issue judging by her comments on FB: "I am totally impressed of this place. That was one of our best trad climbing trips so far. Every route was simply outstanding! Yesterday I had such a big fight through "big issue" (E9/6c), with bad conditions.... I really don't know how I made it to the top! More luck than anything else."
This series of hard and impressive trad climbs is thought to be the hardest ever achieved in the UK by a women.
Follow Barbara's exploits via her Facebook page here.