Ballard and Nardi presumed dead on Nanga Parbat
March 6th; 2019
The extensive search on Nanga Parbat for Tom Ballard and Daniele Nardi has revealed no trace of the missing climbers who are now presumed to have perished.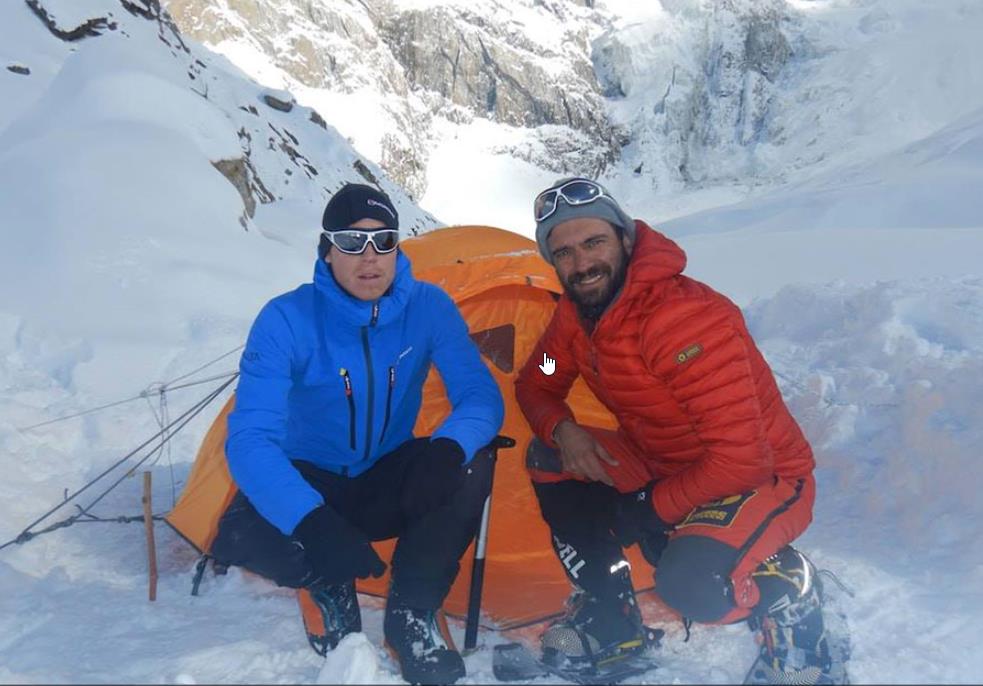 Tom Ballard and Daniele Nardi.
As previously reported, Tom Ballard and Daniele Nardi were reported missing on Nanga Parbat on February 24th. Whilst the initial search efforts were hampered by the political/military tensions between India and Pakistan some search operations were conducted by the Pakistan Army Aviation.
On February 28th Pakistan Army helicopters made an extensive three and a half hour search of the Mummery Spur between 5100m and 7000m. They didn't find any sign of the climbers but reported seeing a tent at about 5500m.
Unfortunately, bad weather in early March prevented the search helicopters from flying.
By March 3rd the weather had improved and helicopter flights commenced again restarting the search effort. By March 4th the arrival at Nanga Parbat base camp of a number of climbers including a Spanish team lead by Alex Txikon, the top Pakistan mountaineer Muhammad Ali Sadpara and a Russian team further boosted the search effort. Yesterday (March 5th) Alex Txikon, Muhammad Ali Sadpara, Felix Criado, Ignacio De Zuloaga, Josep Sanchis and Rahmat Ullah Baig were reported climbing up to C3. Reports are however that the conditions were so poor that they stopped some 300m before C3 from where they deployed drones to search the area; sadly to no avail.
Early this morning on-line reports are that has the search by Txikon et al has found no trace of Ballard or Nardi the search has now ended. Txikon and his team are back at base camp. Tom Ballard and Daniele Nardi are presumed dead.
The first winter ascent of Nanga Parbat was made in 2016 by Alex Txikon (Spain) Simore More (Italy) and Muhammad Ali Sadpara (Pakistan) although not via the Mummery Spur which Tom Ballard and Daniele Nardi were attempting to climb. A report on The Times website (here) on March 4th quoted Simone Moro as saying that an attempt on the Mummery Spur was "suicidal" because of avalanches.
Previously, Tom Ballard had previous climbed Link Sar in Pakistan with Daniele Nardi. Nardi had attempted to climb Nanga Parbat on four previous occasions.