Arc'teryx Lakeland Revival (April 29th to August 31st)
March 1st; 2017
For the fourth year running, Arc'teryx is running the Lakeland Revival.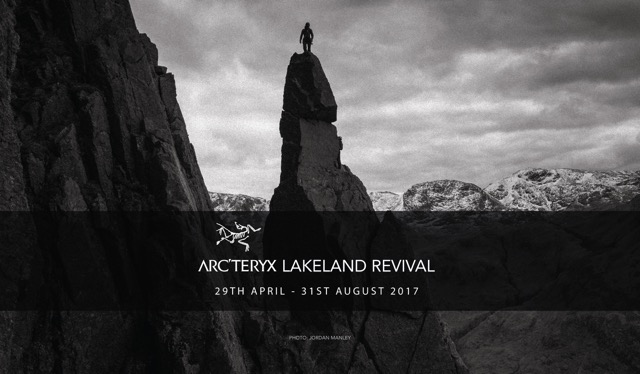 Starting on April 29th and running until August 31st, the game plan is to 'encourage and inspire climbers to explore the Lake District'.
Here's what Arc'teryx say in detail about the event.
-----
Set in the beautiful Lake District, rich with heritage it's one of the birthplaces of British rock climbing after Haskett Smith soloed Napes Needle in the late 1800s. Traditional climbing plays a huge part in the UK climbing community and the Lakeland Revival aims to encourage and inspire climbers to explore the Lake District.
The Lakeland Revival has developed from cleaning up esoteric routes into a celebration of Lake District climbing where the intention is to revive the spirit of Lakeland climbing. Last year this was done through stories with three videos published, each telling the tale of a Lake District climber, past or present. Participants could also submit stories of their own experiences. This year's Lakeland Revival will begin on 29th April and run until 31st August 2017.
The Arc'teryx Lakeland Revival is open to all abilities; participants have the whole summer to tick off as many recommended routes from the Route Cards as possible, in exchange for an Arc'teryx T-shirt or beanie. New for this year - it will all kick off with the 'Big Mountain Weekend'.
BIG MOUNTAIN WEEKEND
The 'Big Mountain Weekend' is a weekend of celebrating the climbing in the Lake District, with its stunning mountain range and to bring the climbing community together. The event aims to educate, share and improve the skills necessary for enjoying these beautiful places safely.
The basis of this weekend is a series of workshops delivered by the International School of Mountaineering. The workshops range from scrambling, to multi pitch rock climbing and are open to all levels; complete beginners, intermediates and experienced climbers. Official partners will also be attending the event and DMM will be providing demo gear and free Lakeland Revival carabiners to all workshop participants.
The 'Big Mountain Weekend' will be taking place on 29th and 30th April at the Sticklebarn in Langdale, and everyone is welcome. There will be Route Cards, demo gear, technical advice and on the Saturday evening live music. Participants will only need a ticket for the workshops.
For more info on the Lakeland Revival click thru here
Retailer partners: The Climber's Shop, George Fisher, Needle Sports Partners: International School of Mountaineering, DMM, BMC, National Trust, Mountain Heritage Trust and Fell & Rock Climbing Club