Another gold for Shauna Coxsey in Nanjing, China
May 2nd: 2017
Shauna Coxsey took her second gold medal of the season in Nanjing, China whilst Keita Watabe collected his first gold ever; both now lead the overall 2017 points table.
Shauna Coxsey picks up her second gold of the season as well as building a commanding lead in the overal standings. Photo IFSC
Travelling east from Chongqing, the world's competition climbing elite gathered in Nanjing for the second of the two Asia legs of the IFSC Boulder and Speed World Cup. The heat – like the competition – remained fierce but when the going gets tough the tough get going – as they say…
Shauna Coxsey topping W2. Photo video grab IFSC Highlights
The women's qualification round was another high scoring affair with Shauna Coxsey leading her group with all five tops in 11 goes. Her closest rivals – Janja Garnbret and Miho Nonaka – managed four tops apiece and were out-climbed by the two US athletes, Megan Mascarenas and Sierra Blair-Coyle, who both topped five each – albeit in considerable number of goes. Sadly however, the US women crashed in the semi's so that was the end of their threatened challenge. The semi's were much sterner stuff all round. Out of the eleven climbers that made any tops only three climbers made multiple tops; Miho Nonaka and Mei Kotake (two each) whilst Janja Garnbret alone made a third top – Shauan had to make do with a single top albeit that allowed her to progress to the finals. An upset seemed possible but as in so many previous rounds Shauna comes out all guns blazing in the finals which is exactly what happened – once again! Solving the crucial W3 provided Shauna with the edge and her second gold of the season with four tops ahead of Janja Garnbret with three and Miho Nonaka with two. Showing the strength of the field Anna Stohr and Petra Klinger finished in eighth and ninth. Michaela Tracy finished in 11th and Leah Crane in 33rd.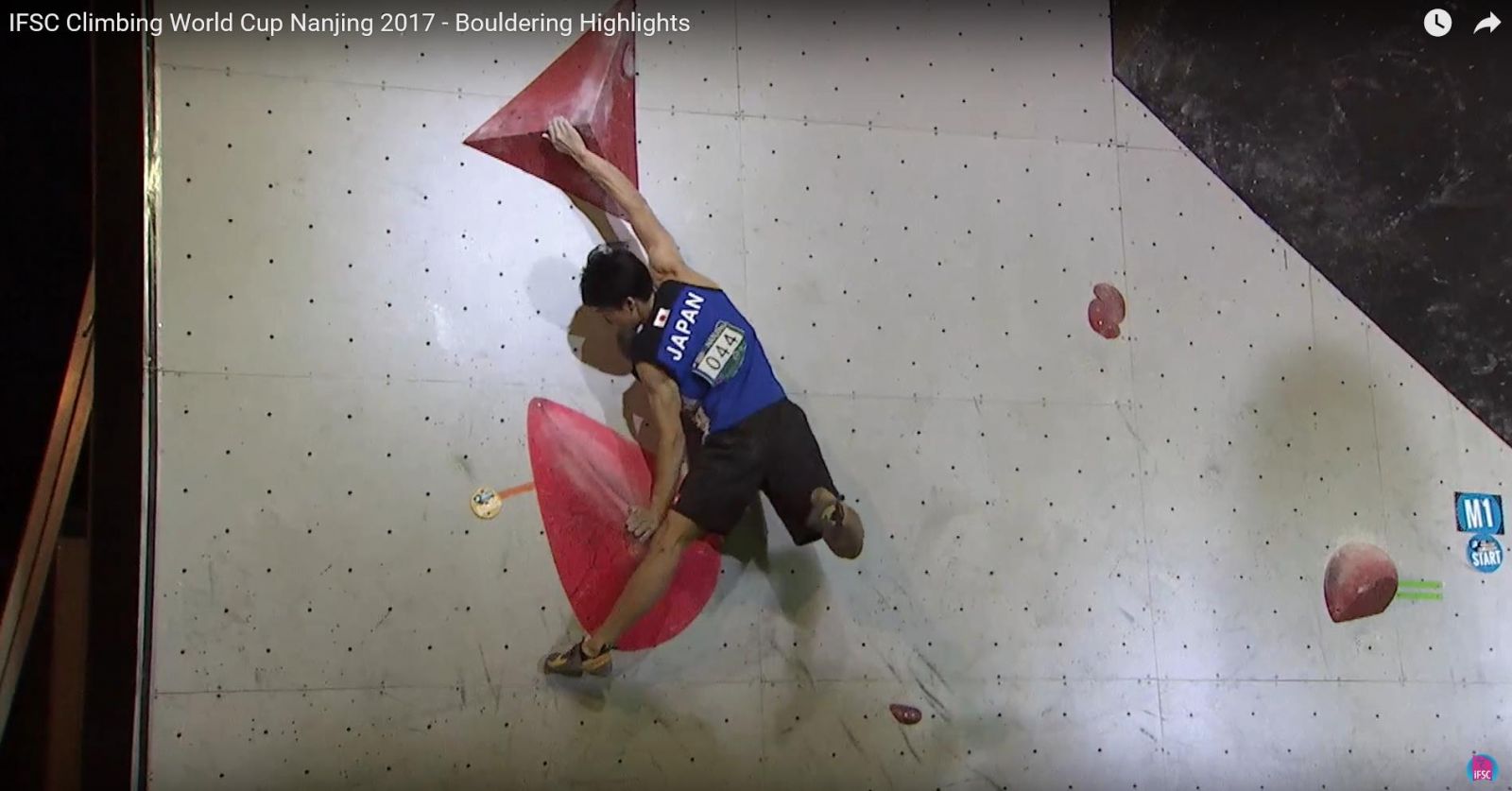 Keita Watabe on his way to topping M1, his maden WC win and the top place in the overall standings. Photo video grab IFSC Highlights
The men's stream also saw a high scoring qualification round which Tomoa Narasaki topped with five tops. Keita Watabe nailed the semi's and then repeated the process in the finals with four tops – impressively flashing M4 to seal the deal. Tomoa Narasaki finished in second with three tops and Jernej Kruder in third with two tops. Nathan Phillips finished in 14th and Tyler Landman in 17th both ahead of such stars of the plastic as Sean McColl (18th), Rustam Gelmanov (23rd) and Aleksei Rubstov (23rd). Orin Coley came in joint 69th.
Overall, Shauna Coxsey is opening a commanding lead in first place (280pts) ahead of Janja Garnbret in second (227pts) and Miho Nonaka (167pts). Michaela Tracy is in joint 7th (96 pts) and Leah Crane in 38th (3pts). The men's leader board has Keita Watabe in first place (220 pts), Jongwon Chon in second (183pts) and Tomoa Narasaki in third (169pts). Nathan Phillips lies in 24th place (25pts) and Tyler Landman in 29th (18 pts).
Click through here for the full results and the low down on the speed climbing comp which saw records tumbling in both the mens and womens events.
Finally, watch the highlights from the finals in Nanjing below.