Andy Kirkpatrick running Indigogo campaign to help fund Denali trip
Dec 8th 2014
Andy Kirkpatrick has turned to crowdfunding via an Indiegogo campaign to help fund his forthcoming Himalayan expedition, an attempted winter solo, of Denali's West Buttress. Kirkpatrick kicked-off his campaign to raise money to help fund his expedition on December 3rd. Of the £5000 goal, his current funding (at December 8th) is just 22% i.e. £1096.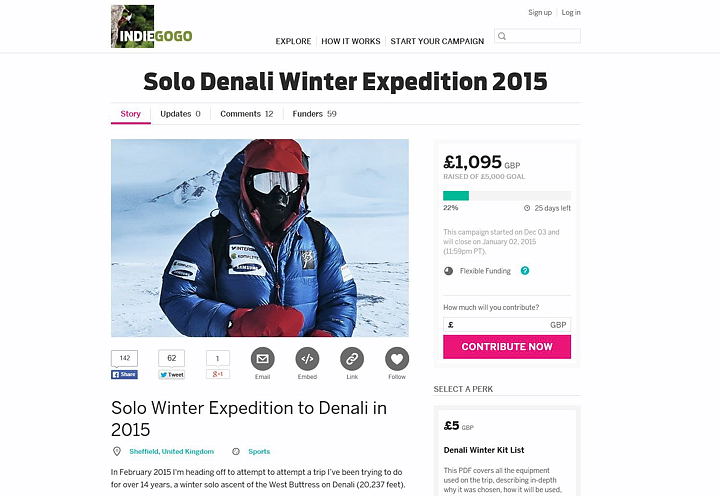 Kirkpatrick says he's been keen to undertake this expedition for over 14 years. He explains that whilst Denali isn't especially high in altitude terms at 20,237 feet, Denali is located at a higher latitude which exacerbates the altitude effect. Kirkpatrick paints a bleak picture "On top of that, the weather remains wild and unpredictable throughout the year, but never more so than during the winter, when temperatures can fall to -50°F (-45°C), winds blow in excess of 100 mph (160 km/h), and snowfalls are measured in feet, rather than inches".
Whilst crowdfunding is still relatively new, it is becoming increasingly evident in climbing. During the last year or so alone crowdfunding has been used to fund the publication of several recent major climbing titles as well as send climbers to international climbing competitions.
In this instance, Kirkpatrick is using crowdfunding to raise money to assist with numberous costs including flights and satellite phone costs. He is offering contributors e-books, talks and a movie in exchange for funding. His crowd funding campaign is set to close on January 2nd, just a month before he is due to leave for Denali.
Click though here to go to Andy's Indiegogo campaign and offer your support…
Click through here to go to Indiegogo's website and read an explanation about crowdfunding via Indiegogo…