And the 2015 Nick Escourt Award goes to…
Wednesday 25th February 2015
Feb 25th, 2015
The 2015 Nick Escourt Award has been awarded to the Baffin Big Wall Rock Climbers who are planning a free climb on Polar Sun Spire, one of the most impressive remote rock faces in the world.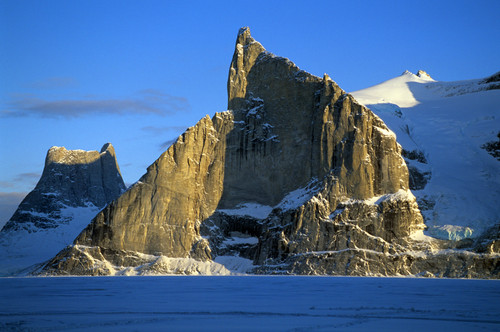 Polar Sun Spire. Photo Summitpost.org
For anyone not familiar with the Nick Escourt Award, this award was established in Nick Escourt's memory to encourage and give financial support to teams planning mountaineering challenges on significant objectives. Nick Escourt himself was a well-known mountaineer who, along with Paul 'Tut' Braithwaite, did the first ascent of the Rock Band on the 1975 South West Face of Everest expedition lead by Chris Bonnington. Nick Escourt was killed on the West Ridge route of K2 by an avalanche on 12th June 1978.
The lastet route to be added to the Polar Sun Spire. Photo Marek Raganowicz
In granting the 2015 Award to a team of rock climbers, the Trustees have departed from supporting the normal alpine objectives. The £2000 award will help the British Sam Ford Fjord Expeditions, a trip which is being led by Jacob Cook. Other member so the team are Calum Muskett, Dave MacLeod, Alexander Buisse, Dave Rudkin and Ian Cooper. The objective is to climb the Polar Sun Spore in the remote Sam Ford Fjord area on the east coast of Baffin Island. Although the North Face of the Polar Sun Spire has been climbed on three previous occasions, the team plan to make the first free ascent. Click through here to go to the BMC website to read a report by Lindsay Griffin on the previous ascents.
Further details of the annual award are available on its website: http://www.nickestcourtaward.org/. The deadline for applications is Jan 31st each year.