An evening with Mick Fowler and Victor Saunders
Monday 11th December 2017
Dec 11th; 2017
A report by Noel Dawson
Mountaineering folklore tells of two 'mountaineers, mountaineers' who travelled to the Karakoram during the 1980s and early 1990s recording extraordinary adventures to rarely visited mountains with the most excellent companions. They met incredible challenges. Their expeditions were light and fast and although the outcome was important, it was the experience and the friendships that measured them as climbers and men. On the evening of 29th November 2017, the two travellers met at the Royal Geographical Society in London to speak at an event to promote the excellent and vitally important works of the Mount Everest Foundation and the Porters' Progress UK.
Since its formation in 1953, the Mount Everest Foundation has supported over 1700 British expeditions allowing so many men and women rare opportunities to pit their mountaineering skills against some of the finest and most demanding mountains around the world. Mick Fowler explained how he and Vic have benefitted enormously from such support and how the MEF has allowed British mountaineering to punch well above its weight in world climbing. The Porters' Progress UK was registered as a charity in 2005. They support clothing banks in Nepal and Tanzania and sponsor both English Language lessons and First Aid and Safety training for porters. Recently they have worked with CAN towards reconstructing so many projects devastated by the earthquakes of 2015.
And so the fun began. Mick said sharing a lecture with Vic was '… the most dangerous thing I have ever done'. He reminisced about meeting Vic, 'the little squirt' in Chamonix too many years ago. 'And I thought he was arrogant,' interjected Vic. Touché!
For Victor it began when he arrived at the Globe public house in London, the home of the North London Climbing Club. Victor remembered how the beer was awful and how one of the organisers of expeditions was pointed out to him. 'Stay away from him! You'll come back traumatised!' That man was Mick Fowler.
Vic Saunders and Mick Fowler. Photo: Noel Dawson
There followed so many magnificent weekends climbing in Scotland. They spent Mondays and Tuesdays recovering, Wednesdays offering perhaps the best day to their employers and then Thursdays and Fridays preparing and dreaming of the weekend ahead. At one time they travelled 11 out of 13 weekends to Scotland and back. They were frantic times with the craziest of friends.
Mick described how members of the NLMC travelled to Bojohaghur during 1984. 'It did not go well!' Mick told of the climb up the Three Thousand Foot Slope reaching bare ice and a bivouac site on a granite slab. During the night Mick rolled towards Chris Watts pushing him off the slab in his sleeping bag. He took quite a fall! Chris calmly jumared back up still in his sleeping bag. He lost a boot and he and Mick retreated from the mountain. From Bojohaghur the team glimpsed an incredible tower which stuck firmly in their imaginations. It was the Golden Pillar of Spantik.
Mick and Vic made the first ascent of Spantik in 1987. They reached the top of the pillar and climbed on to the summit. Vic described another very hazardous descent during which they were hit by an electrical storm. They buried themselves as well as they could and waited for relief. They moved like 'blind men' until they eventually found their tent. Ofcourse Mick left the mountain and was back at his desk the following Monday morning!
Vic told of his ascent of Makalu II (Kangchungste) with Steve Sustad. The two men reached the South Summit and turned to retreat and there followed yet another treacherous descent. You felt listening to Vic that a challenging descent was one of his 'trademark' requirements for a successful expedition! Intimidating cliffs blocked their way and the two became tired and despondent. They dug two snowholes and rested. Someone put the compass down in the snow… it was never seen again! Vic and Steve had completed the first ascent of the West Face of Kangchungste.
Vic described to the audience his guiding on Everest. He told of guiding a woman to the top of Everest where she appeared to go blind. Vic and a Sherpa attached leashes to her and helped her back to the South Col where she was given lots of oxygen and tea. Her vision returned but strangely she could only see yellow! The next morning, she ventured from the tent and then returned explaining that she now realised the yellow had been the colour of the tent!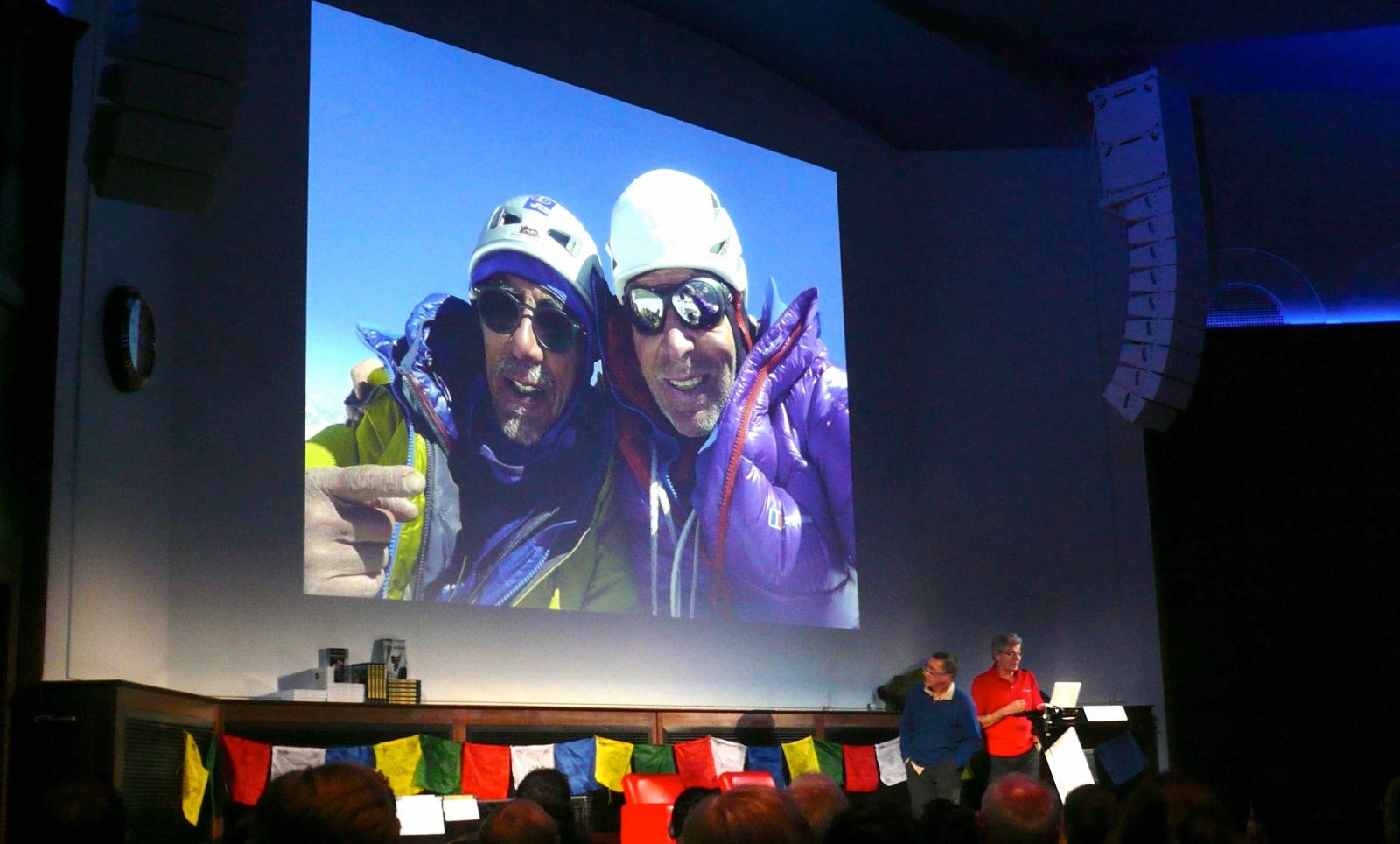 The Mick and Vic re-union in full swing. Photo: Noel Dawson
Mick reminded us all about how many spectacular unclimbed mountains there still are in the world. He explained that when he was searching for his next adventure he looked for a new place, new culture and an unclimbed peak. He searched for a challenging ascent with a safe retreat and a different route for the ascent and descent. He talked of Gave Ding in 2015 with Paul Ramsden, a challenge which had been '… a sort of a guess' but '… a most exciting adventure'.
During 2016 the 'two old men' climbed Sersank. To both men the climbing felt just the same but the conversation had certainly changed. It was all about golf handicaps and operations to try and keep their bodies working! Vic talked of Mick the great organiser, of the 'bubble of happiness' he became on the mountain and of the man who possessed a 'real genius for making it safe'. Mick spoke of Vic's determination to climb through any adversity and how he knew that with Vic he always had the best chance of success and … fun! You really felt that these two strong men were sharing thoughts of a friend who had helped shape them in some small way and who had … a lot to answer for!
Vic left us with the words of Colin Kirkus who wrote that '… going to the right places, at the right time, with the right people is all that really matters …'.
And what next? Well, there was lots of 'umming and ahhing' but it became very clear that the two great friends certainly had more adventures in mind.
As expected it was an enthralling event at the heart of British mountaineering to support two excellent organisations that give back so successfully to the world of climbing and to the inspiring people of Nepal. It was a rich evening reflecting much that is so special about the world of mountaineering. You could not help but feel that you were listening to two grandmasters telling of some of their treasured masterpieces. Mick and Vic had quite a story to tell and they told it with a smile and a wit that held the audience and carried them to amazing places.
Vic and Mick with Doug Scott. Photo: Noel Dawson
You can find out more about Porters Progress at www.portersprogressuk.org and the Mount Everest Foundation at www.mef.org.uk