All change at Vail as Hojer and Mascarenas take Gold in Round #2 of WC Bouldering
June 9th, 2015
It's was all change at the top of the podium at the latest IFSC World Cup bouldering event in Vail as Jans Hojer and Megan Mascarenas ousted Toronto winner's, Alban and Storr, to take gold.
Megan Mascarenas flashing F1. Video grab IFSC Live stream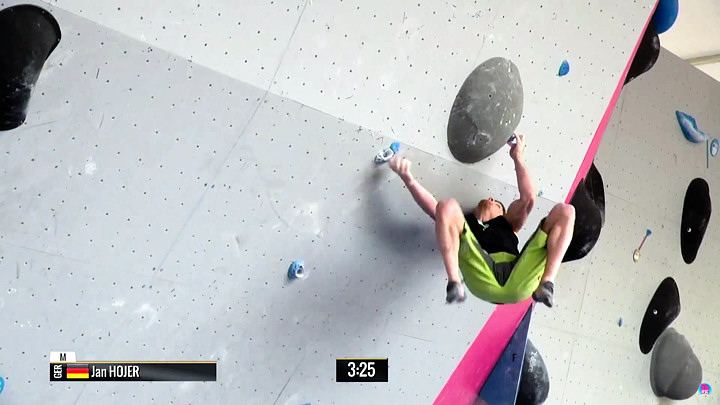 Jans Hojer destroying M4. Video grab IFSC Live stream
It seems as though a week is a long time in bouldering as neither Alban Levier nor Anne Storr podiumed in Vail. Sadly long-time ace competitor, Anne Storr, who has won a medal in each of the last five years she's competed at Vail, had to retire with an injured finger mid-way through the finals. Also injured was USA power-house Alex Puccio who withdrew after she took a short but heavy fall off a warm-up dyno damaging her ACL and MCL tendons in her left leg. According to FB posts she's looking like missing the rest of the events in this year's competition. On a positive note, Shauna Coxsey overcame her previous cold as well as her former finger injury and looked well on her way to getting back up to speed as a contender.
If we needed a further demonstration that WC bouldering is both tough and something of a see-saw event, the Vail comp this weekend also saw European Bouldering Champ, Julian Wurm, crash out of the running finishing in 23rd after the qualification round. Sadly, top-placed Team GB male, Dave Barrans once again finished just one place off the cut for the semi's in 21st. Other team GB members Nathan Phillips finished in 35th, Tiler Landman in 41st, Ben West in 45th, Orrin Coley in 65th and Louis Parkinson in 73rd. Over in the female comp, Leah Crane was joint 21st (with Sierra Blair-Coyle) and missed the semi's again by just a single place! Diane Merrick placed 49th.
The semi's also saw the end of the proceedings for big-name blocmiesters, Jakob Schubert and Alban Levier, finishing in 10th and 20th respectively. Also failing to progress beyond the semi's was Shaun Raboutou and Kai Lightner – the young American who recently redpointed Era Vella (F9a) in Margalef- who was trying his hand at a bouldering comp. He placed 70th. No doubt we'll be seeing more of these two in future comps.
The finals in Vail, a premier Colorado ski-town, kicked-off with seven men and six women in the running for the top slots. Perhaps not surprisingly given the location, the strong North American contingent in the qualifiers and semi's had collectively powered Sean McColl, Nathaniel Coleman and Jason Holowach as well as Megan Mascarenas and Margo Hayes into the starting line-up. Sean McColl, the seasoned campaigner, went into the final as the highest placed male competitor after the semis with company from fellow Canadian (and gym-owner) Jason Holowach. Team USA had no less than three competitors in the finals; Coleman – aged 18, Mascarenas – aged 17 and Hayes – aged 16 - all fully fledged members of the bright new American scene and promising fireworks. Coleman especially competing in only his second WC bouldering event after Toronto, after which he placed second, was riding on a high.
M1 (the first bloc for the men) saw five competitors get the top on their second go although surprisingly Ondra only got the better of the 'dirty vert' wall on his fifth go. Mascarenas and Nonaka both flashed F1, a blob-based bloc, a feat that none of the other female competitors could neither match nor replicate in any of their attempts.
M2 stumped everyone – everyone that is except for Ondra who topped after a few obligatory forced dismounts from the crescent-shaped volumes. Interestingly, Ondra climbed this using characteristic bendy-cum-full-on-rock-over whereas many of the other competitors (unsuccessfully) deployed dynamic tactics. F2, a concoction of paired horizontal and vertical volumes, was topped by all but Nonaka although it was Mascarenas who really impressed out-climbing the others by dispatching it both quickly and in a super impressive display.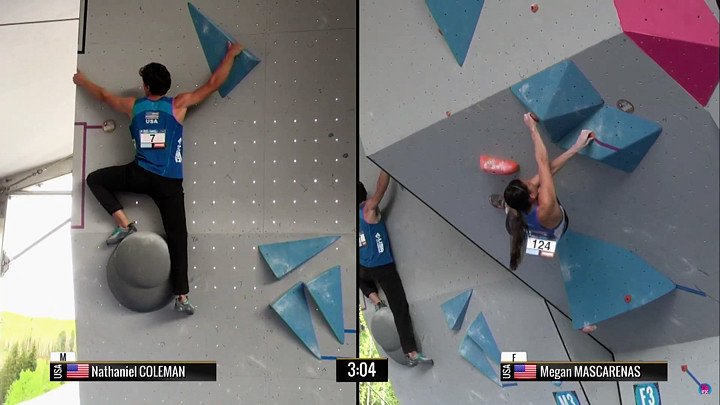 Dream Team USA - Nathaniel Coleman and Megan Mascarenas on M3 and F3. Video grab IFSC Live stream
M3 had most of the male competitor attempting either a hideous rock-over or a one-armed mantel onto a massive rounded volume which then lead to a jump to the finishing hold – another big round monster blob. This really sorted out the field. Coleman turned in an impressive performance to flash M3 but not anywhere near as impressive as Hojer who simply dyno'ed past all the rock-over/one-arm press shenanigans that so perplexed the others and so missed out the bonus – the left arête – hold altogether in a staggering display of fast twitch campusing! Ondra, for his part, contrived to pass the lower difficulties no once but several times only to fail to stick the final move to the finishing blob. He left the stage in clear frustration – the back stage camera picked him up throwing himself face-down in to the matting in isolation!
F3, an overhanging power-house problem, evidently suited both Coxsey and Noguchi – both flashed it with a fine display of power and 'chicken-wing' rock-over. Mascarenas topped in two goes but it was enough to seal her the victory at Vail – F4 being relegated as an irrelevance!
M4 was another bloc designed for power-house climbers. All the competitors topped out with the sole exception of Holowachs who was in his first ever WC final. Three men, Coleman, Fujii and Hojer, flashed M4 but it was Hojer that once again was utterly dominant – seemingly effortlessly campusing between the two/three finger pockets and crimps up the hugely overhanging wall as if it were literally a slab covered in jugs. Both he and Coleman threw a crowd-pleasing 360deg rotation into the mix on their way. Hojer clearly relished this bloc giving a (very cheeky) wry smile to the camera before setting off.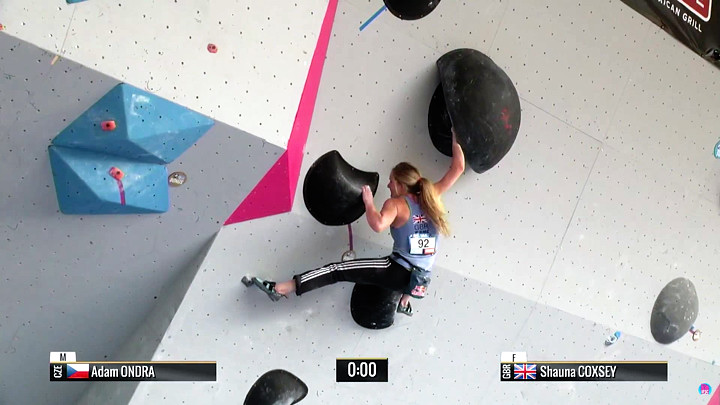 Shauna Coxsey powering off the bonus on F4. Video grab IFSC Live stream
F4 looked absolutely nails! None of the competitors topped out and only two climbers, Mascarenas and Coxsey secured the bonus. Bizarrely however, the second hold, a 'ride-'em cowboy (girl?) style' blob which all competitors straddled, caused considerable amusement when Margo Hayes lay prostrate across it for an extended shake-out - having run down the clock - although sadly to no avail (no pun intended).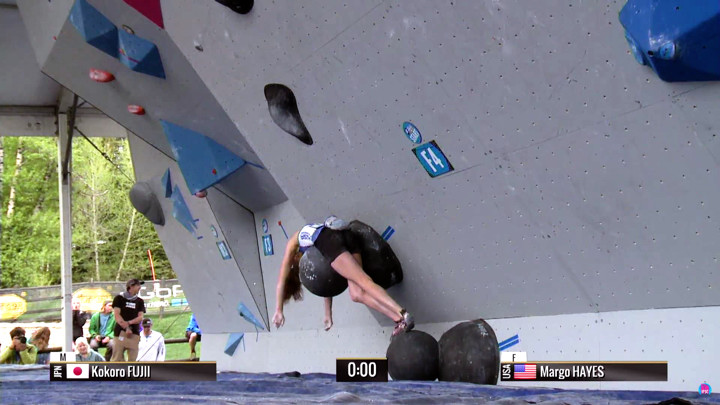 Mago Hayes, chilling out on F4. Video grab IFSC Live stream
Although Hojer's was a truly awesome display of power he only bettered Coleman's efforts by securing his four bonus holds in four attempts whereas Coleman took six goes to collect his. Ondra had the same number of tops (three) and bonuses (four) but he gathered his top and bonus in over 12 attempts each being simply out-climbed by both Hojer and Coleman. Hojer, Coleman and Ondra placed first, second and third accordingly on the podium.
Magan Mascarenas was the clear female winner with Akiyo Noguchi and Shauna Coxsey in second and third place respectively only being separated by Coxsey's bonus collection rate which was just one behind Noguchi's.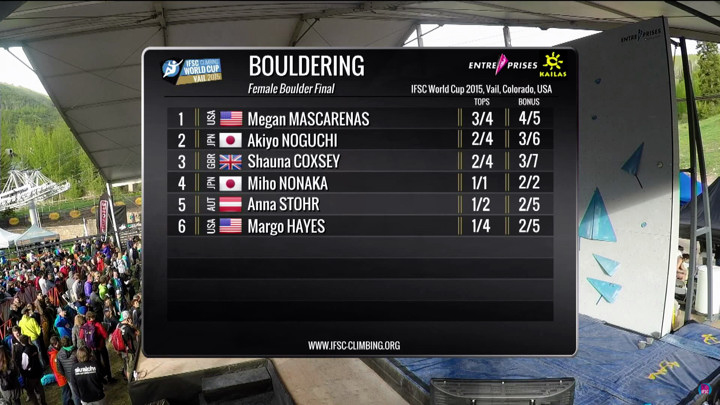 Womens Final results Video grab IFSC Live stream
Womens Podium. Video grab IFSC Live stream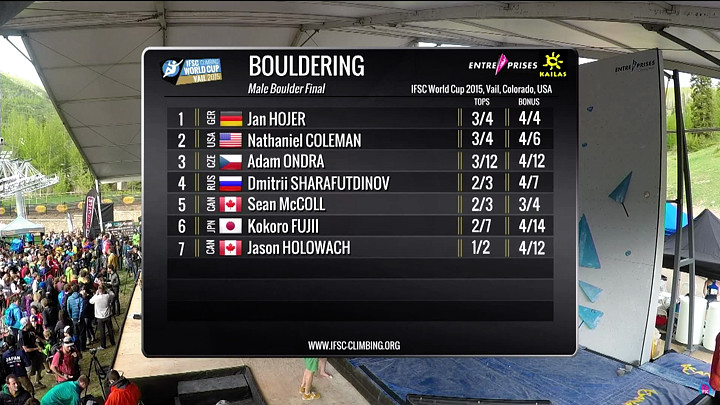 Mens Final results Video grab IFSC Live stream
Mens Podium. Video grab IFSC Live stream
After two rounds the current World Cup Bouldering standings are as follows:
Women

1

Noguchi

JPN

160

2

Storr

AUT

151

3

Coxsey

GB

102

4

Mascarenas

USA

100

8

Wurm

GER

72
Men

1

Coleman

USA

160

2

Ondra

CZE

130

3

Levier

FRA

112

4

Hojer

GER

103

16

Barrans

GB

16
The remaining three WC bouldewring comps are detailed below:
June 20th – 21st, 2015: IFSC World Cup Bouldering, Speed - Chongqing (CHN)
June 26th – 27th, 2015: IFSC World Cup Bouldering, Speed - Haiyang (CHN)
August 14th – 15th, 2015: IFSC World Cup Bouldering - Münhen (GER)
Finally, see the IFSC website for a full results listing or click through here to watch the finals on You Tube.