Alex Megos scoops up one-day ascent of Dreamcatcher
Aug 29th; 2016
Alex Megos's rout of Canadian climbing continues with a one-day ascent of Dreamcatcher.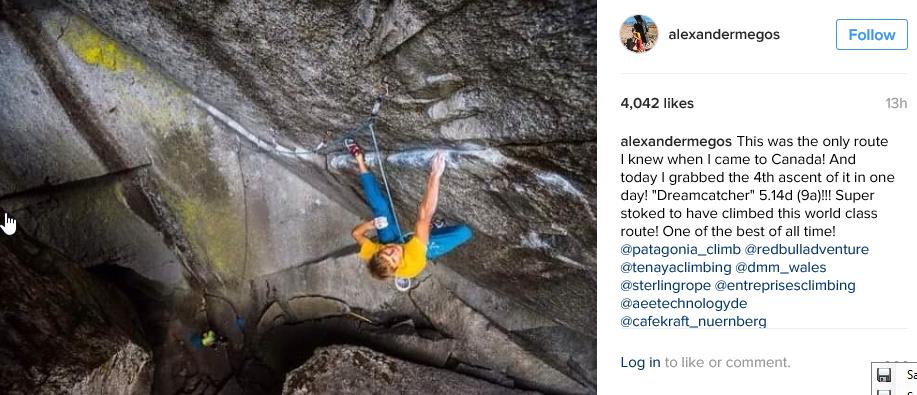 Posting on Instagram, Alex Megos had clearly got his eyes on Dreamcatcher (5.14d/F9a) before he even arrived in Canada; "This was the only route I knew when I came to Canada! And today I grabbed the 4th ascent of it in one day! "Dreamcatcher" 5.14d (9a)!!! Super stoked to have climbed this world class route! One of the best of all time!"
Originally climbed by Chris Sharma, Dreamcatcher has become well-known as a so-called 'king line'. Reporting on-line (click here for their report…) Squamish Climbing Magazine says that Alex's flash attempt ground to a halt on the initial slab. Having worked the rest of the moves on the route, the slab continued to frustrate Alex. Finally however, Alex got the better of the slab and proceeded to send Dreamcatcher. Alex's ascent of Dreamcatcher is the fourth overall after Chris Sharma (2005), Sean McColl (2009) and Ben Harnden (2012).
Dreamcatcher is the latest test-piece which Alex has added to his already super long CV. So far during his Canadian tour Alex has notched-up the first ascent of what is now the hardest route in Canada, Fightclub (5.15b/F9b) at Ravens Crag, flashed The Path (5.14/F8b+) at Lake Louise, on-sighted The Shining (5.13d/F8b) on Mt. Louis as well as climbing numerous 5.14s.
Follow Alex's exploits on Instagram here.
For a full-length interview with Alex see the latest CLIMBER magazine.