Alex Megos rips through NRG and the Red
Oct 26th; 2015
Social media and the US climbing websites are awash with reports that Alex Megos has just ripped through both the New River and Red River gorges in one of the most impressive sending sprees ever seen.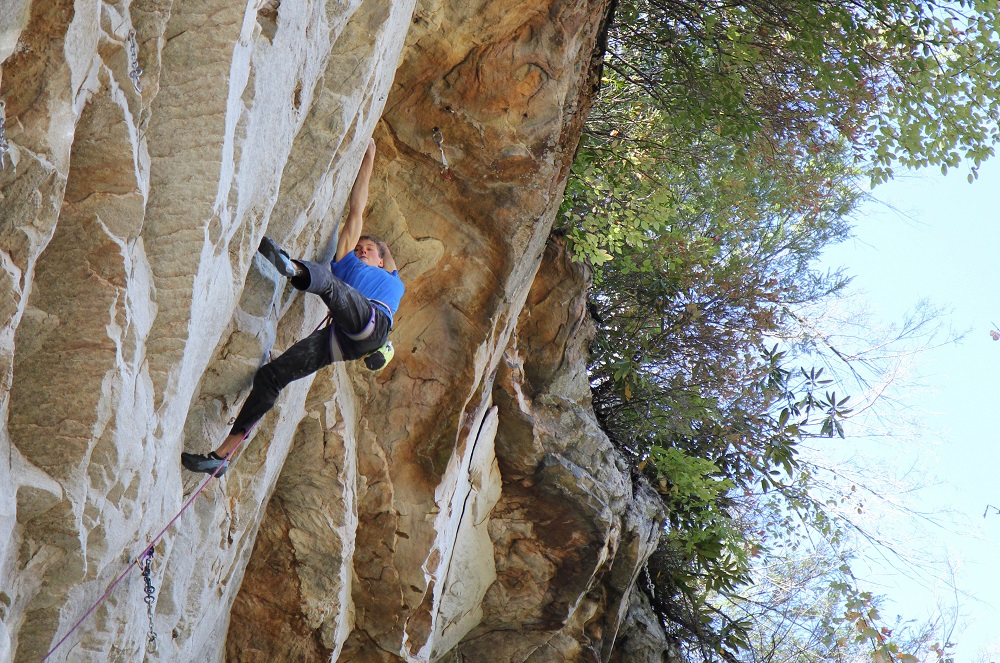 Alex Megos on the crux of Superpod (5.14d/F9a), New River Gorge's (now) hardest route. Photo Mike Williams/DPM
Alex Megos is no stranger to sending hard routes fast – as we reported early when he did the second ascent of Thor's Hammer (F9a+) at Flatanger - but his latest trip sees Megos really pumping his score-card in a manner that few of the top climbers can match.
First to get the Megos treatment was the New River Gorge where he extended an existing route Pod (5.13b/F8a) to give Superpod (5.14d/F9a). This not only completed a twenty plus year old project (first bolted by Porter Jarrad) but created the New River's first 5.14d/F9a. The extension itself isn't that long but – as reported by DPM Climbing – it packs a considerable punch given it's a V12 problem straight above the lower-off where Pod finishes. Prior to Megos first ascent of Superpod, the hardest route in the New River was 5.14b/F8c. Megos took just four goes before successfully completing the first ascent of Superpod. After that, Megos second-go redpointed Sputnik (5.14b/F8c), another project. During his time at New River Megos climbed at least ten other routes graded 5.14/F8b+ and harder including flashing both Trebuchet (5.14b/F8c) and Proper Soul (5.14a/F8b+).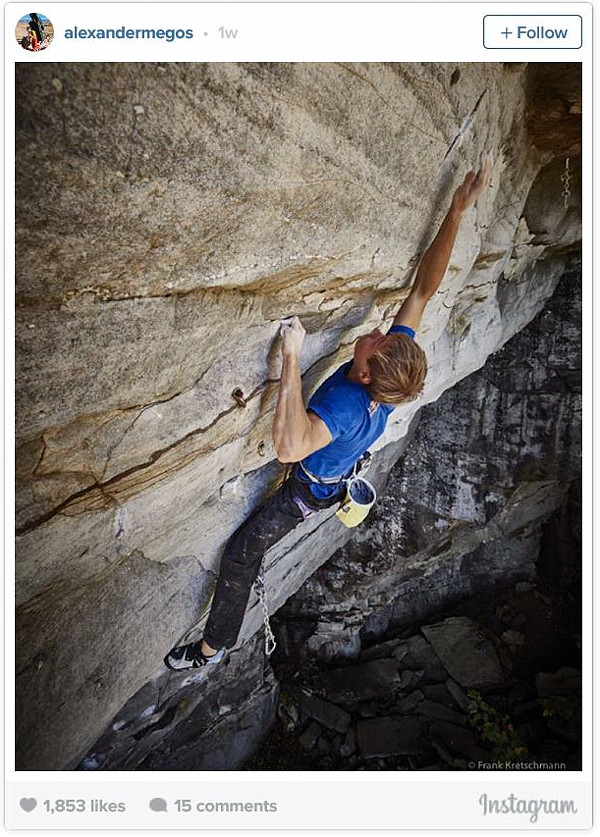 A close-up shot of Alex Megos on the crux of from Alex's Instagram feed. Photo Frank Kretschmann/Redbull
Mego then moved to the Red River Gorge. Last time Mego had visited the Red was three years ago when he flashed Pure Imagination (5.14c/F8c+). Megos wasted no time getting his mop-up operation back on track when he succeed on his first day in doing a double 5.14d/F9a day by doing both Southern Smoke Direct and then Godless Heaven, the latter a (former) project left of the Red classic, 50 Words for Pump. Interestingly, Megos had tried Southern Smoke Direct during his last trip but had been forced to leave before logging a successful ascent. Famously, Adam Ondra had flashed Southern Smoke Direct back in 2012 – then one of the hardest flashes ever accomplished. Godless Heaven, previously known as Your Heaven, My Hell had been bolted by Adam Taylor and thought off as a possible contender for the Red's first 5.15/F9a+. However, Megos dashed locals' hopes when he graded it 5.14b/F9a!
In all, Megos climbed every day bar 1 in the sixteen day stint so it's clear that he's in amazing form – hardly surprising given he had just put up Supernova (F9a+/b), Frankenjura's hardest route to date, before leaving for the US.
Click through here to see more photos of Alex Megos climbing Superpod on DPMClimbing.com