Alex Megos blasts North Wales blocs with four Font 8b's in-a-day
June 11th; 2016
Having spent nearly two weeks crushing Pennine testpiece in short order, Alex Megos moved over to North Wales yesterday where he knocked-off no less than four Font 8b's and a couple of Font 8a/8a+'s in the (single) day.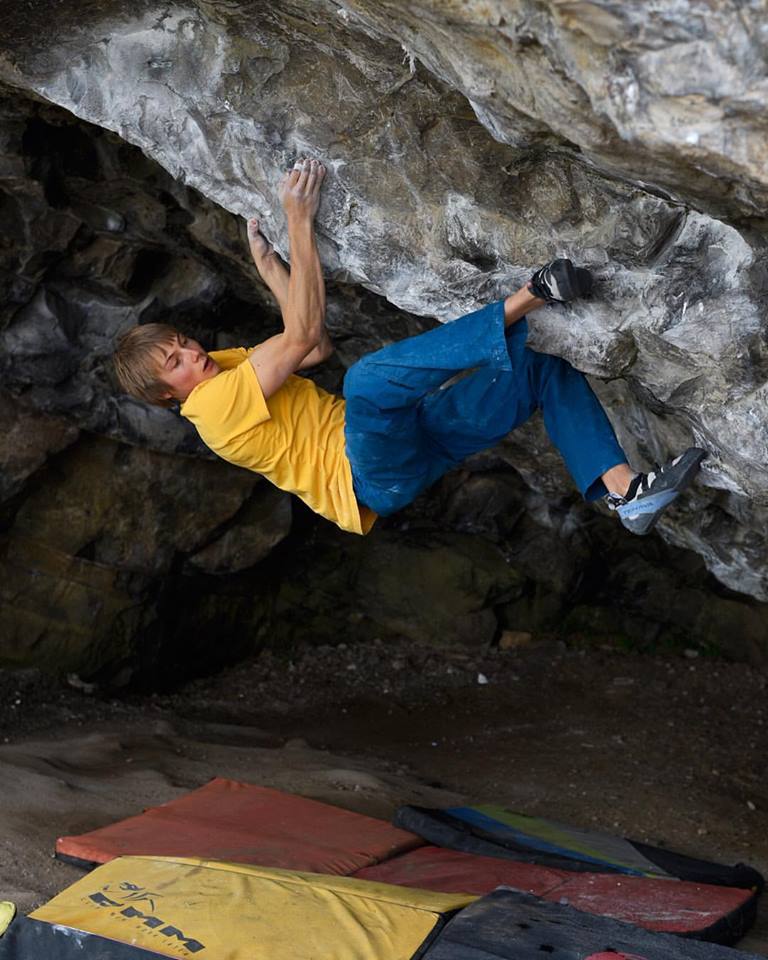 Alex Megos in bearing down in The Cave. Photo: Ray Wood
The weather over the last two weeks has been totally varied and following the hot and humide weather of late a humid haze had covered North Wales making condition far from ideal. However, Alex started the day in The Pass by dispatched the much-coverted Pool of Bethesda (Font 8a+) and the sit start which is Mal's Start (Font 8b) on Jerry's Roof at the Cromlech Boulders. Both were amongst the hardest problems in North Wales at the time of their original ascents in 2001/02.
Alex then moved over to Parisella's Cave – a.k.a. The Cave – for his second session of the day. Conditions had improved somewhat although were still far from ideal we understand. By the end of his stint Alex had done Halfway House (Font 8a/+), Director's Cut (Font 8b), East Coker (Font 8b) and Louis Armstrong (Font 8b). Local activist Chris Doyle witnessed the carnage and was later moved to comment on UKBouldering "Just got in from the Megos show in the Cave. Fairly shocking, definitely the strongest blonde German I've ever seen." Not a man easily impressed, Doyle summed up what he'd seen thus; "Total animal, never seen the like. It was obviously all so far beneath him."
There's a few aspects worth clarifying on Alex's repeats. Firstly, that he did Director's Cut without the kneebars, his ascent of East Coker was in fact the second ascent and finally, Alex had to dry all the holds on Louis Armstrong which was wet! It seems that Chris Doyle's comments are entirely justifiable in the circumstances.