Alex Mason adds new E8/9 to Gogarth
May 8th; 2019
Alex Mason has just blasted Democide (E8/9 6c) up the front of Main Cliff, Gogarth.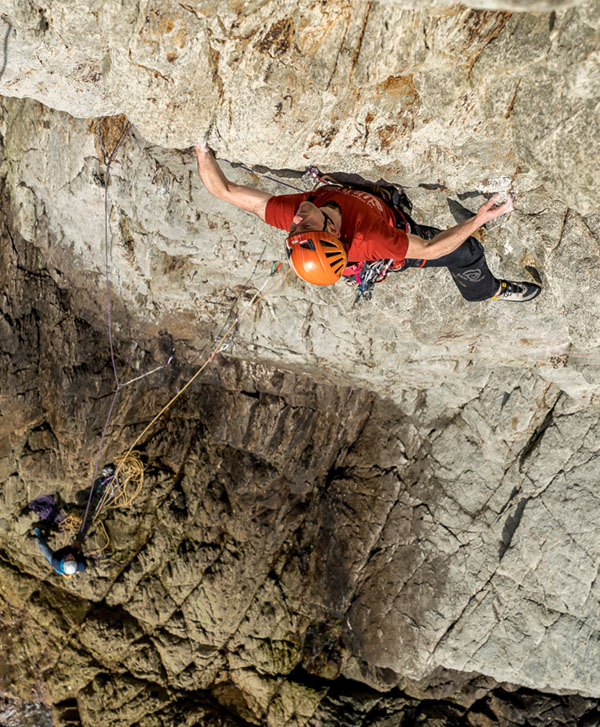 Alex Mason on Democide. Photo John Bunney
Originally climbed in May 1984 by Andy Pollitt, Skinhead Moonstomp, itself is renowned as an excellent route, something which Alex agreed with when he did Skinhead back in 2013. However, as so often the case, climbing Skinhead triggered something for Alex that has lurked ever since. Posting on FB Alex explained: 'Since I first climbed Skinhead Moonstomp I dreamt of climbing it more directly, in one long pitch from sea-level. Six years later, after intimidation, injuries and blinkered sequences it finally became a reality!'
Alex described the line and the crux for CLIMBER. 'The route starts up Alien Direct and follows it right up to the 'fin' on the crux of Alien. Here, you pull out leftwards on a hanging rib to some small roofs. Go over these and follow the steep tunnel-like features to meet Skinhead at the poor rest before its crux. From here you follow Skinhead all the way to the bucket seat.' And then the hardest section; 'The crux is just after leaving Alien with hard climbing for about 10m before a breather on Skinhead.
Next up, Alex explained how his attempts to climb the line unfolded since doing Skinhead. 'I first tried to link Alien into Skinhead with no new climbing via the chossy chimney/groove in 2013 a week or so after first doing them both. Bad conditions and being overwhelmed ended that effort before I'd even got up Alien.
A couple of years later I abbed in to have a look at a more direct line which I know others like George Ullrich and maybe Jack Geldard had looked at before. When I first abbed it, I just blindly back-aided down the wall scoping it out. I'd heard that it wouldn't quite go and that you'd always be forced up rightwards up into the chimney so I was really surprised when I found a direct line right through the roofs. It seemed nails, but possible.
I had a couple of sessions that year and realised that there were two cruxes, both around V7/8, so I decided I'd try and get stronger and come back the following year. Worried someone might beat me to it, I started going to the route in January. Every time I went it was cold, minging and greasy and the moves didn't feel any easier. After about five sessions and probably 100+ goes at the single hardest move, I finally did it, once. But once was enough.'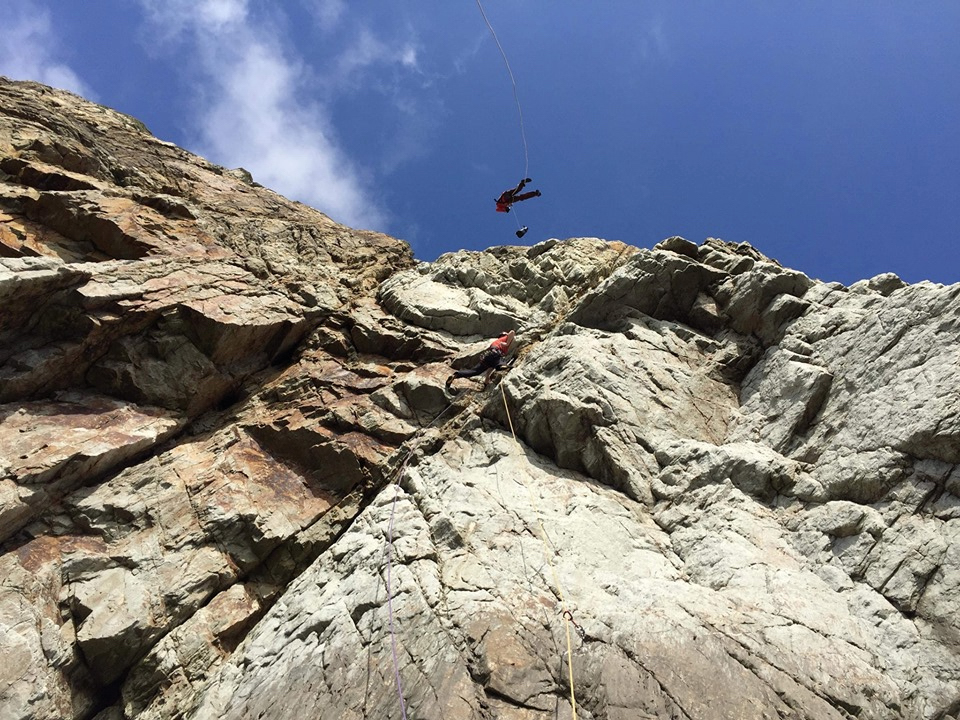 Alex Mason on Democide - from the belayer's perspective. Photo George Ullrich
So what came next then?
'I went down one day with Mick Lovatt to try it, but it was blowing a gale so we bailed to the slate and I ended up injuring my finger. My wife Jemma and I were expecting a baby in two months so I thought it was game over, but, uncharacteristically it spurred me on and I did all the training I could without loading my finger, mostly running and sit-ups.
I came back this year and abbed in to find that although the crux felt easier, it was still very hard and I needed to reconsider my options. I climbed two moves further up Alien and found an easier way of joining the second crux which was at the same time both a huge relief and a bit of a disappointment. I'd been completely blinkered this whole time, following the wrong line.
At the next opportunity I went back and got straight on the lead, I was pretty under-prepared and took the rack I thought I needed but it turned out that I'd misremembered a couple of the pieces. I got a bit gripped at by the crap runners I placed on Alien so got pretty flash-pumped on my first lead attempt. I got part way through the crux but again, I didn't have a good sequence and fell off. I stripped all the kit, except the top runner that I lowered off and tried again.
Second time up, I managed to improvise my way through the end of the crux but got horrendously pumped in doing so and it was touch and go all the way up Skinhead Moonstomp. It's better that way though!'
In case you wondering about the abb-in and how it feels working it on an ab-rope, here's the low-down; 'It's about a 40minute walk to the abseil point. Then a 30m abb down a heather slope, followed by a 40m abb to the bucket seat, followed by another 40m overhanging abb to get down to the hard climbing. Then you have to get properly in position to try the moves, the whole while being completely gripped about hanging above the sea, alone on a piece of string. Getting it in condition was tricky too, only ever having good connies on the day I finally led it'.
So finally, where did the name come from and what about the grade? 'The name took forever to decide on. The route had been very poignant to me because I took my now wife to do Alien on our first date and Skinhead resonated with me for a long time after first doing it, feeling like the pinnacle of a long time spent focussed on on-sight trad climbing. I wanted to stick with the extinction theme, particularly with the current political and actual climate so Democide seemed to tick all the boxes.
Grade-wise, here's Alex's thoughts; 'Yeah so I'm not sure of the grade, I'm pretty sure it's the hardest trad route I've done, but really it's safe and about F8a so it probably doesn't warrant the big E9 tick.'