Al Evans has passed away
Saturday 12th January 2019
Jan 12th; 2019
Yesterday's sad news was that Alan 'Al' Evans, a stalwart from the Pennine scene 'back in the day', passed away in Sheffield.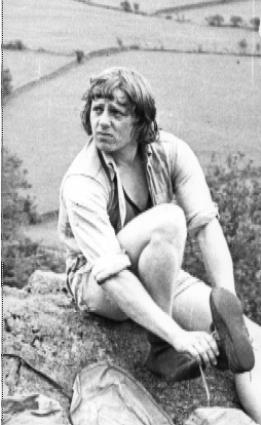 Al Evans
Geoff Birtles, one of Al's longest friends and joint co-founder of the seminal climbing magazine Crags, summed Al up well; "everyone knew Al". Born in Crookes, Sheffield in summer 1948, Al went to college in Preston to study photography after which he got a job at Granada studios, Manchester.
The young Al might have cut his teeth on the local edges but in 1969 he was on the first ascent team alongside Ed Drummond, Jack Street, Leo Dickinson and Ben Campbell Kelly of Big John on the biggest sea cliff in the UK, St John's Head on Hoy. The 400m cliff gave the team a 15 pitch VS/A2.
During the Seventies Al developed a keen eye for classic lines in the rather off-beat world of the Lancashire Quarries. His trio of routes at Trowbarrow, Jean Jeanie (VS 4c), Hollow Earth (HVS 5a) and Cracked Actor (E2 5c) which he climbed between 1973 and 1977 with a variety of partners, are true classics.
Al captured many great climbing images such as this of Ron Fawcett on L'Horla
The Seventies also saw Al active in the Peak District. His was something of a supporting role in the Peak however, climbing as he did with all the emerging stars. Al supported Gabriel 'Gabe' Regan on the first free ascent of Darl (E4 6a) in 1976. That same year Al, along with Geoff Birtles, followed Ron Fawcett along the Cream Team Special traverse at Raven Tor (E5 6b). His own eye for minutia rewarded him with the first ascent of Soapsuds (E3 6a) at Stoney Middleton in 1979.
Over in North Wales Al had a hand in the development of Gogarth where he was instrumental in looking at 'blank' sections of cliffs with new eyes. Freebird (E1 5b) with Nadim Siddiqui and North West Passage (E1 5b) with Jim Moran at Castell Helen were Al's offerings. Al's penchant for both blank bits of rock and/or wholesale cleaning of big blocks carried on - ultimately Al encouraged Jim Moran to make the first ascent of Barbarossa (now E6 6b).
Another of Al's shots – Ron Fawcett making the first ascent of Supersonic at High Tor - made the front cover of Crags #4
The mid Seventies (Feb 1976 to be precise…) saw the first every Crags Magazine hit the shops; a joint collaboration between Geoff Birtles and Al. Many of Al's images found their way into print in Crags; remember Ron Fawcett muscling up L'Horla on Curbar in the poster in the Crag #1 – well that was one of Al's shots. Al also captured Ron cranking out Sentinel Crack for a feature on the then emerging star as well as on the first ascent of Supersonic at High Tor. 1977 saw Al and Geoff in action overseas developing the cliffs at Ulvik, Norway.
As a trained cameraman Al recorded Big Ron's audacious solo of Darius for TV; an ascent and film which shocked many. The (literal) high point of Al's climbing came in 1988 when, taking part in an Army expedition, Al got 'quite high' on Everest.
Alongside Al's climbing, photography and camera work he worked for many years as a cameraman on Granada's epic soap, Coronation Street. Ultimately, Al rose to studio manager before retiring and moving out to Spain where he lived until his recent illness brought him back home to Sheffield. He passed away yesterday in the Northern General Hospital, Sheffield.
The CLIMBER team pass their condolence's to Al's family and all his friends.