Akira video: Seb Bouin repeating Fred Rouhling's testpiece
Wednesday 10th February 2021
Last autumn Seb Bouin made a number of visits to Les Eaux Claires as part of his Vintage Rock Tour making the second ascent of Fred Roughling's testpiece Akira. A short video of Seb Bouin climbing Akira has just been released.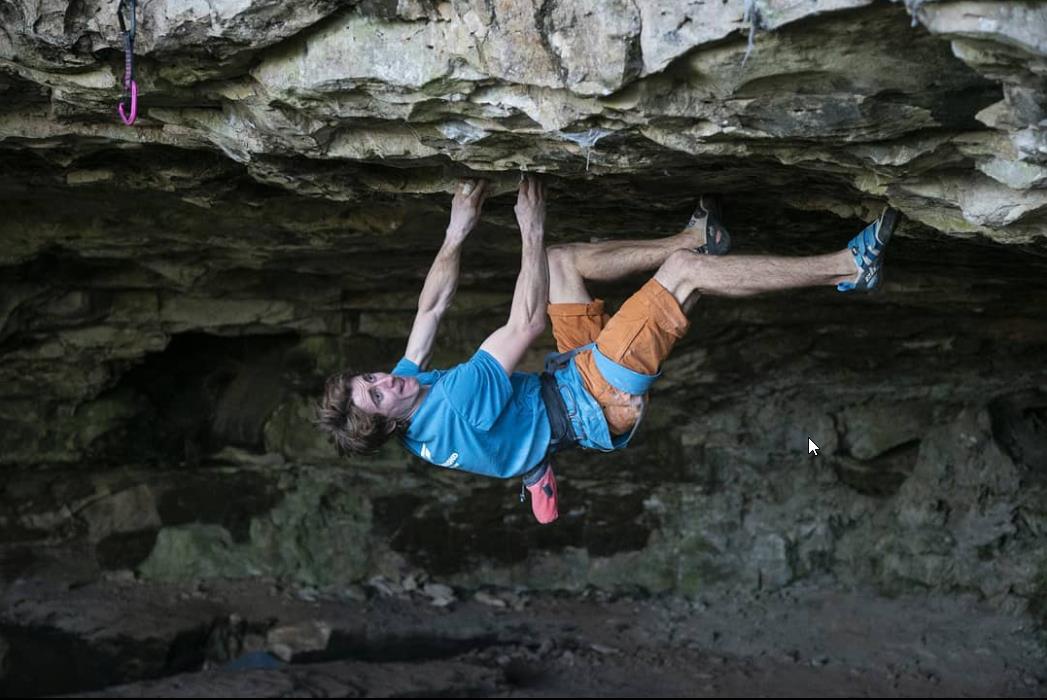 Back in the day, 1995 to be more exact, Fred Roughling climbed Akira at Les Eaux Claires. Roughling shocked the world when he graded Akira F9b. At that time only F9a existed so grading Akira F9b he effectively said it was two full grades harder that the hardest routes at that time; this several years prior to Chris Sharma's epic first ascent of Realisation F9a+ at Ceuse in 2001. Perhaps understandably a fair number of climbers were highly doubtful about Roughling's claims about Akira; both in terms of whether he had actually climbed it and in terms of the grade. Rumours spread that not only had been chipped but it had been manufactured entirely to suit Roughling's reputedly massive height and wing-span. In addition, some dismissed it as a route as although it was long the bulk of Akira was bouldering and only when out at the lip of the cave did Roughling clip a rope on to protect the very final section. Although a number of such routes exist today, Akira was the first of this kind and many climbers saw that as a means to dismiss the route.
Rightly, or wrongly, Akira and Roughling were both dismissed. Akira remained ignored and unrepeated - until Bouin came along. Bouin, and his friend Lucien Martinez both repeated the route last November climbing it without kneepads, has Roughling had done in 1995. Seb's conclusion was that it was hard, although not as hard as originally claimed, and an impressive achievement from Roughling back in 1995:
"About the grade, we are thinking this one a bit easier than the number announced.
We had the impression to climb a 9a route.
It's hard to speak about grade on this historical piece, but we need to be honest.
Anyway this route is hard, and quite unbelivable for the 90's.
Respect Fred!"
Roughling, although ridiculed at the time, was later interviewed at length, observed and photographed climbing on Akira years later by Pete Ward and Tim Kemple. After spending days with Roughling Ward wrote an article which was published by Climbing Magazine. Ward and Kemple found Roughling to be warm and welcoming, genuine and despite the passage of time still operating at a high climbing standard. It's a fascinating read and well worth checking out.
Click here to read that article.
Watch the short video of Seb Bouin climbing Akira below…