Aidan Roberts crushing in Rocklands
July 16th; 2018
Aidan Roberts is crushing out in Rocklands sending Oliphants Down (Font 8b+) on his third attempt.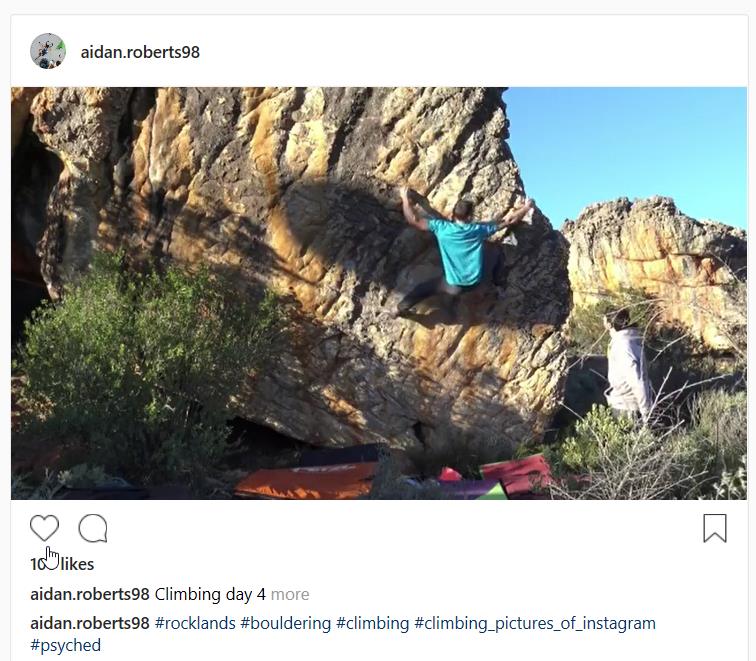 Aidan on Oliphants Dawn. Vid still
Aidan, definitely no stranger to hard bouldering, has seemingly settled into Rocklands very quickly having only just arrived.
Writing on his Instagram page Aidan says: "Today was my best day yet! An early start brought me to Oliphants Dawn 8b+, I knew this was a hard boulder and anticipated a few sessions. In hindsight I feel I should have given it a good flash burn, dropping the last hold on my 2nd try! Thankfully it went down 3rd try, psyched!"
Sending Oliphants Dawn third go however wasn't enough for Aidan: "I then headed to The Coop and had a full day of climbing where I was able to do a bunch of 7's along with Patience 8a, The Beaten Path 8a, The Buying Power 7c+. I then finished the day off with Night Visions 8a+, the hard crimpy thing to the right of this (8something) and Antidote 8b"!
Hmmm, looks like Aidan should have a great trip to Rocklands if his fourth climbing day is anything to go on!!
Follow Aidan on his Instagram page here…