Action Direct 24 years old
Thursday 17th September 2015
Sept 17th; 2015
Twenty Four years ago, on Saturday 14th September 1991, Wolfgang Gullich completed the first ascent of Action Direct F9a in the Frankenjura, Germany.
His ascent was the culmination of hard specific training sessions on what we now call a campus board. Although Action Direct is 'only' 12 metres long, it overhangs at roughly 45 degrees and involves jumping between single and double-digit pockets, side-pulls and pinches. Gullich suggested Action Direct was worthy of a grade X1, an unprecedented high grade at the time.
The year previous, Ben Moon had climbed Hubble F8c+ then but now graded F9a like Action Direct. Together, they were two of the world's hardest climbs. Both climbs have acquired legendary status.
Sadly, Gullich died of his injuries sustained in a car crash on August 31st, 1992.
Alex Megos celebrated Action Direct's 24 years by doing his fifth ascent of the Frankenjura and world test-piece classic.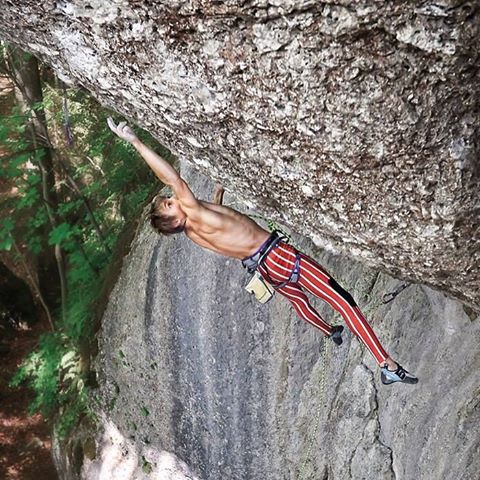 Alex Megos on Action Direct. Photo Alex Megos/FB…