October 2020
Thursday 1st October 2020
Contents November/December 2020
News
6: News
Maddy Cope repeats The Final Round (E9) – exclusive interview plus news round-up.
Destinations / Crags / Features
16: Easy Sandstone Climbing – Wainstones
We head to the North York Moors and this wonderful outcrop.
22: My Progression in Climbing
Angus Killie describes his journey from starting out to climbing E9.
28: Twll Mawr
Peter Goulding heads into this iconic Llanberis slate quarry in North Wales.
32: Lawrencefield – A Welcome Surprise
David Simmonite takes a tour around this much-loved Derbyshire crag.
44: Swanage Boulder Ruckle
New routes and accidental on-sighting for Scott Titt on the English south coast.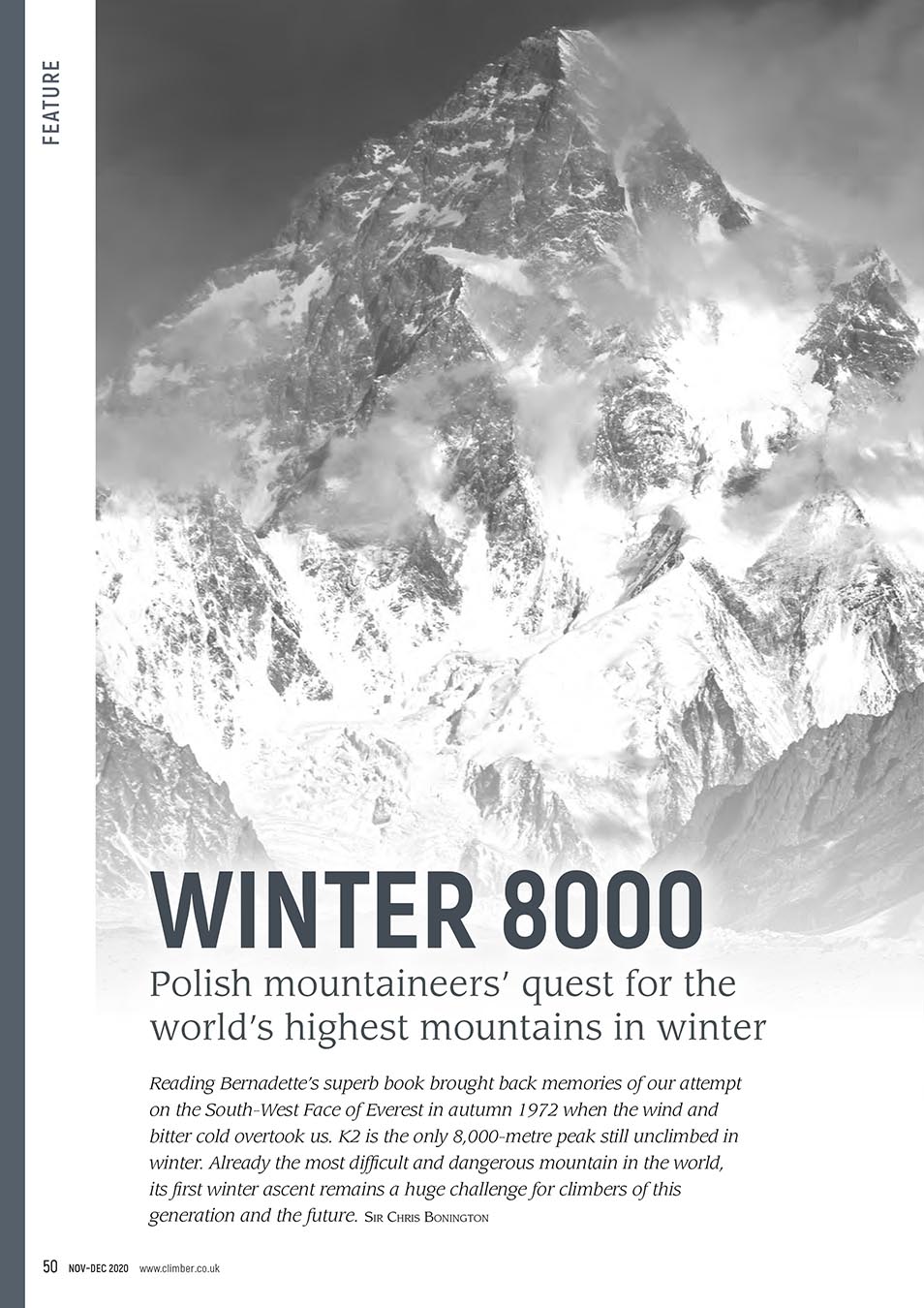 50: Winter 8000 – Polish Attempts on K2
Exclusive extract from a book about Polish Mountaineers' quest for the world's highest mountains in winter.
Exposed
40: Céüse – The Queen
Stunning images of a major French crag from top photographer Sam Bié.
Bouldering
62: Gib Torr
This small but perfectly formed crag in Staffordshire with superb problems.
Training & Skills
66: The Climber's Coach
Mark Reeves on keeping motivated.
Gear
72: Sport Climbing Essentials
Keith Sharples reviews the three key components to your sport climbing kit – ropes, quickdraws and harnesses.
Regulars
12: UK Classics
A Dream of White Horses (HVS 5a), Wen Zawn, Anglesey, North Wales.
14: The Climber's Voice
Left Wall Fall by Ian Wyatt
56: James Pearson and Caroline Ciavaldini
Tour des Alpilles – a bike and climb trip.
70: Book Reviews
Peak Limestone and Lakes Sport and Slate guidebooks.
79: BMC Update
The latest news from the British Mountaineering Council.
82: Climber Legends
Maciej Berbeka.