June 2020
Contents July/August 2020
Exposed
6: Bouldering away from it all at Wimberry, Chew Valley.
News
8: News
John Allen, bouldering round-up, Vidal goes solo in Patagonia.
Destinations / Crags / Features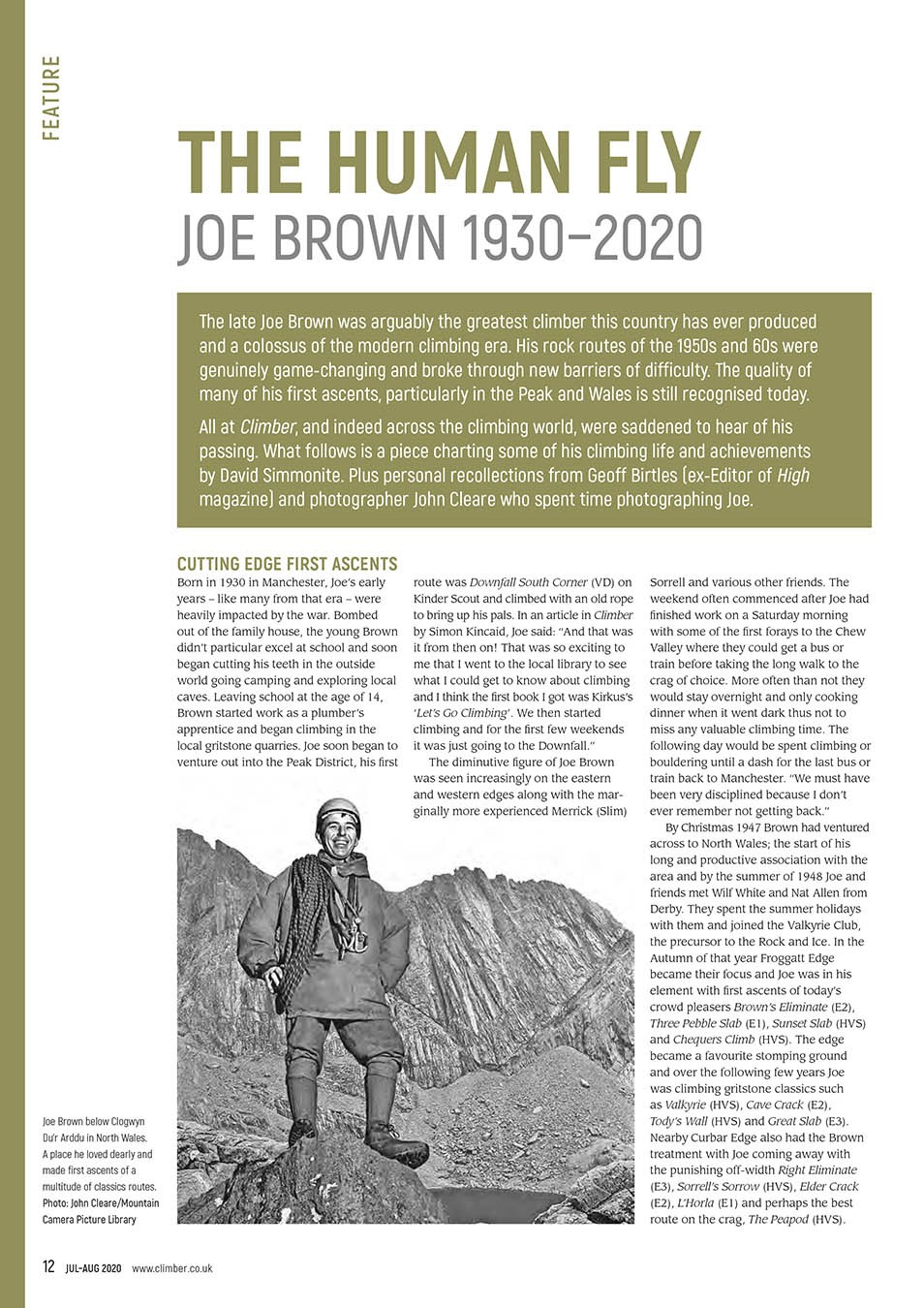 12: Joe Brown – The Human Fly
An extensive tribute to the late Joe Brown, one of climbing's true legends.
24: Rock Poets – Part 1
Andy Clarke on the work of Geoffrey Winthrop Young, Ed Drummond and Andrew Greig.
26: Gower Reborn
Roy Thomas takes us around southeast Wales' Gower and it's sport climbing venues and recent developments.
34: Easy Outcrop Climbing – Hound Tor, Dartmoor
This granite outcrop in England's southwest offers an assortment of lovely easier routes.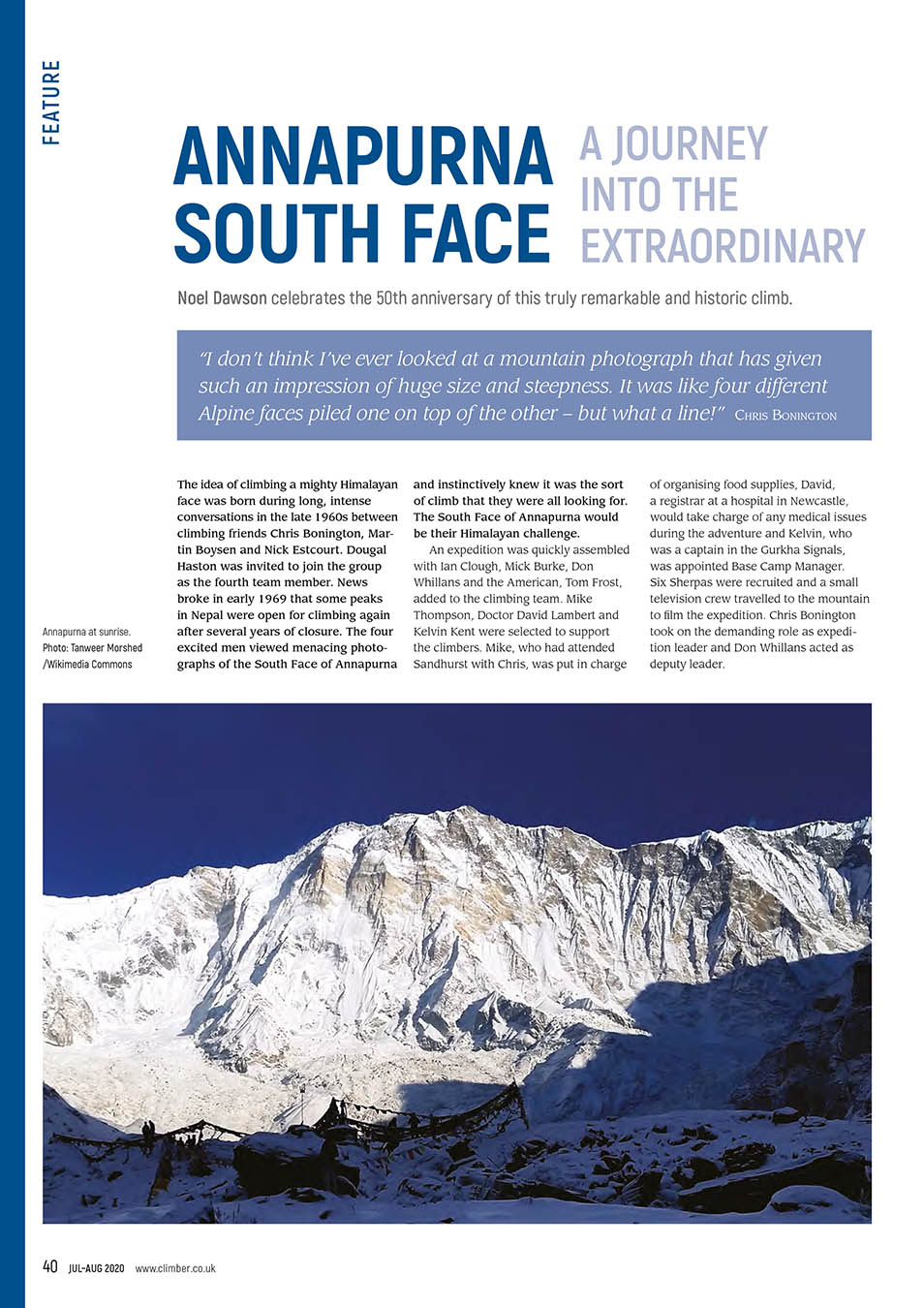 40: Annapurna South Face – A Journey into The Extraordinary
Noel Dawson celebrates the 50th anniversary of this truly remarkable and historic climb.
50: Take Me
A gathering of belay stories from across the globe and before bedtime by Dave Barnes.
Bouldering
56: Harmers Wood, Cheshire
John Dunne sings the praises of this neat sandstone venue.
60: Valgorge Bloc – Bouldering in the Ardèche
France's Ardèche has a history of bouldering including this relatively unknown set of superb granite-schist boulders.
Indoor Climber
64: Climbing the Walls: The New Normal
Keith Sharples on what we can expect to be the 'new normal' for climbing wall use.
Training & Skills
66: The Climber's Coach
Mark Reeves focusses on steep ground with Jemma Mason-Powell.
Gear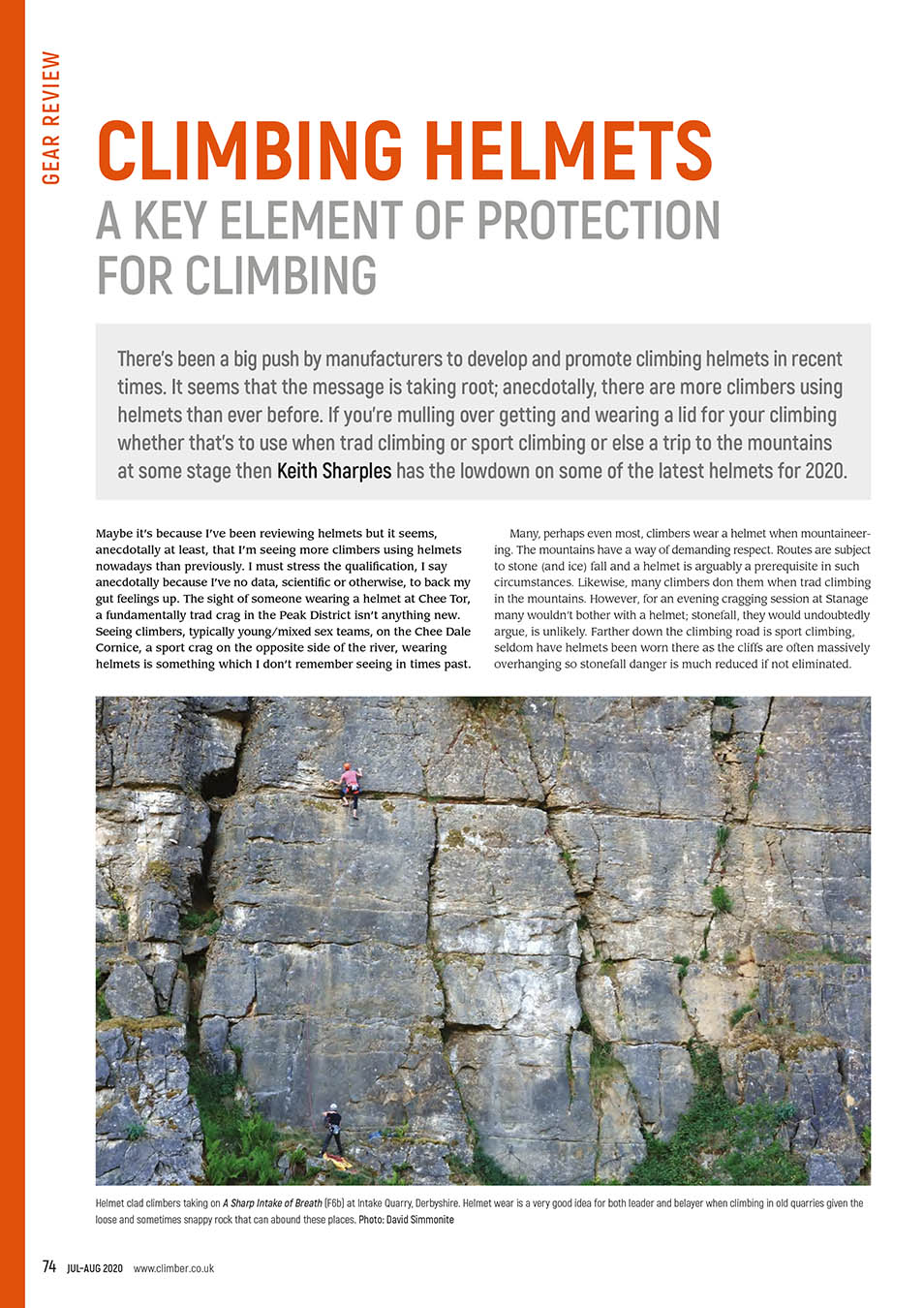 74: Climbing Helmet Review
Climbing helmets are a key element of protection for climbing so we check some out.
78: Women's Rock Pants
Ros Beveridge reviews two of Patagonia's women's specific rock pants.
Regulars
18: UK Classics
Vember (E1 5b), Clogwyn Du'r Arddu, North Wales.
20: The Climber's Voice
Climbing with Age by Mark Cobbs.
46: James Pearson and Caroline Ciavaldini
A Changing Way – Lockdown and Beyond.
70: Book Reviews
Hard Rock and The Mountain of My Fear plus Lake District Climbs and Skye's Cuillin Ridge Traverse guidebooks.
78: BMC Update
The latest news from the British Mountaineering Council.
82: Climber Legends
Lionel Terray.