February 2021
Contents March/April 2021
Exposed
6: Harder Faster at Black Rocks.
News
8: News
K2 climbed in winter, Pearson and Ciavaldini repeat hard grit routes, news round-up.
Destinations / Crags / Features
16: Doug Scott (1941-2020)
Friends pay tribute to one of the UK's greatest mountaineers.
26: Cheddar Gorge – Paradise Lost?
Lena Drapella highlights the climbing at this spectacular venue in England's southwest.
34: The Lost World of Egerton – Lancashire Rock
Geoff Hibbert takes you into a gritstone quarry near Bolton that's awash with quality routes.
46: Easy Sport – Hedbury Quarry, Swanage
We visit Hedbury on England's south coast for this easy climbs article.
50: Tongs Ya Bass – Bermuda DWS
Grant Farquhar on the trials and tribulations of a new deep water solo route in Bermuda.
Bouldering
40: Pant Ifan Bouldering
The quality problems hidden above this popular North Wales crag.
Training & Skills
62: Petzl Skills
Belaying a lead climber.
64: The Climber's Coach
Mark Reeves on why every climber should boulder.
Gear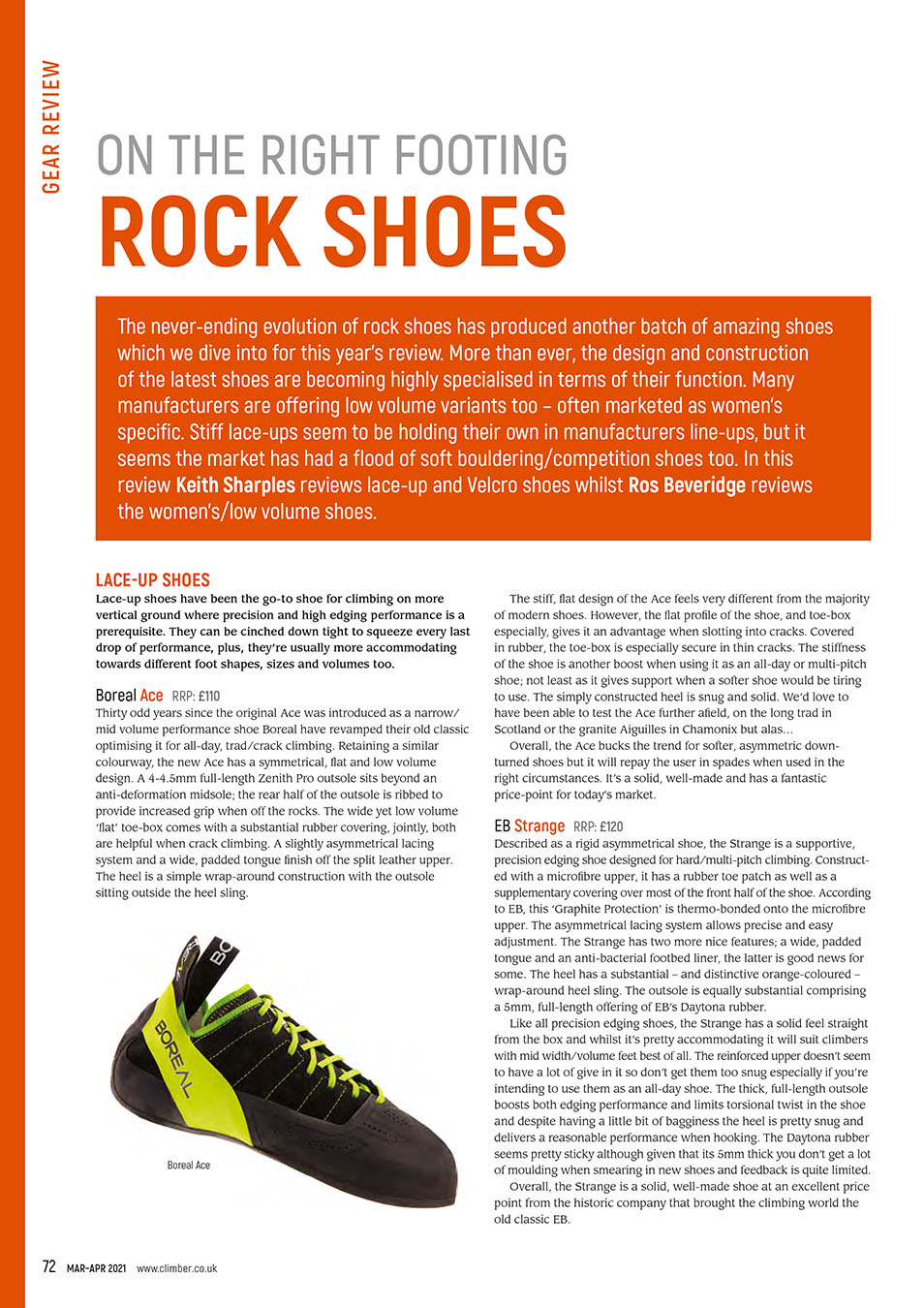 72: Rock Shoes
A look at the latest rock shoes – ready for you to get them worn in for 2021.
Regulars
20: The Climber's Voice
Motorhead – Jules McKim recounts an ascent of a classic Swiss route.
24: UK Classics
Sacre Coeur (E2 5c), Blackchurch, North Devon, England
56: James Pearson and Caroline Ciavaldini
James Pearson talks about climbing the world's hardest trad route – Tribe.
60: Indoor Climber
Competition round-up – Continental Championships conclude pandemic-hit year.
68: Book Reviews
Peak District Grit, Costa Blanca Climbs, The Uncrowned King of Mont Blanc and Conquistadors of The Useless.
79: BMC Update
The latest news from the British Mountaineering Council.
82: Climber Legends
Mina Leslie-Wujastyk.