August 2021
Grab a print or digital copy and/or subscribe by clicking here
Contents September/October 2021
News
6: News
Welsh trad – E10 for Taylor, Findlay climbs Muy Caliente (E9).
Interview
14: James McHaffie
We talk to James about becoming the first climber to tick the Extreme Rock book.
Destinations / Crags / Features
26: Runestone Quarry – Lakeland Slate
Redeveloped for sport climbing, this Lake District quarry is not only in an idyllic location but the climbing is good too.
32: Alan Rouse – Spirit of a Generation
Steve Dean looks at the life of an iconic British climber and mountaineer who sadly died on K2 in 1986.
44: A Life of Climb
Graham Hoey writes about the experience and process behind documenting Peak Grit.
50: Easy Sea Cliffs – Independence Slab, The Range
A gentle venue on Anglesey, North Wales, well away from more serious fare at nearby Gogarth.
60: Games Without Frontiers – Protest in Pembroke
The story of how 30 years ago climbers took action to gain access to the Range West MOD area.
Bouldering
38: Healaugh Crag – AKA Crag Willas
We head to the beautiful Swaledale region of Yorkshire and this surprising bouldering gem.
Training & Skills
66: Petzl Skills
Tom Livingstone gives his tips on crevasse rescue.
68: The Climber's Coach
Changing habits and behaviour in relation to climbing.
Gear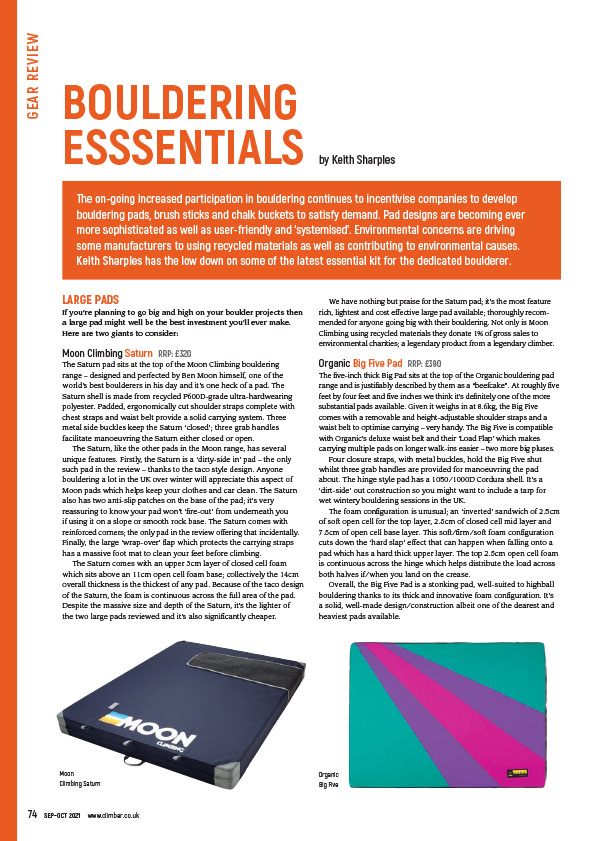 74: Bouldering Kit Essentials
Keith Sharples reviews bouldering pads, brushes and chalk buckets.
Regulars
12: Indoor Climber
La Sportiva British Bouldering Championships report.
20: The Climber's Voice
To climb or not to climb: where's my motivation by Mark Cobb.
24: UK Classics
Will-o'-the-Wisp (HVD), Craig Cywarch, mid-Wales.
56: James Pearson and Caroline Ciavaldini
Summer migration and the search for hot weather venues.
72: Book Reviews
A Feeling for Rock by Sarah-Jane Dobner and Nick Wharton's How Hard Can It Be.
80: BMC Update
The latest news from the British Mountaineering Council.
82: Climber Legends
Paraclimber Abbie Robinson.