Rab Men's Kangri GTX Pants
Review by Stewart Moody
RRP: £200
In autumn 2019, Rab unveiled a range of innovations and new products that would soon be appearing on the rails and shelves of your local gear store. Amongst these innovations was the coming together of Rab and Gore-Tex culminating in an eye-catching range of hardshell jackets and their new waterproof overtrousers – the Kangri GTX Pant.
These pants are designed for year-round use in the mountains but with an eye on changeable days out where the total wet protection is exactly what you need. The three-layer Gore-Tex is the same as that used in their Kangri GTX Jacket and it will take a fair amount of abuse if winter climbing, or mountaineering, in less than clement weather is your bag.
Rab have used a three-layer Gore-Tex whose tough 70 denier face fabric protects the breathable middle layer membrane which is concealed on the inside by the silky smooth inner that allows the pants to move freely over your other layers. Putting them through their paces, I've found them to excel in the UK's winter conditions. The mobility that the trousers' articulated knees afforded when doing big rock-overs or plodding up steep slopes was great. When sat on a snowy ledge belaying they've kept me warm and dry. A protracted thrutch up an icy chimney with plenty of body contact (and a bit of gear pulling, but let's not go there) saw them (and me) emerge dirty but unscathed (save for a bit of bruised pride). Further afield these pants are equally at home in the Alps where their warmth in the pre-dawn darkness is as welcome as their good venting system when the sun finally hits you.
This level of durability and protection comes at the expense of weight. At 505g they aren't the lightest overtrousers on the market and if you want something for those warmer days where waterproof overtrousers are thrown in your pack as a 'just in case' these may be overkill, but for almost everything else they are spot on.
Full-length side zips, a feature I'm experiencing for the first time, are great for pulling the trousers on over winter/Alpine boots and crampons. I recall several instances of having to remove my crampons to get my old overtrousers on. It always felt clumsy and I'd get cold whilst faffing. For winter/Alpine mountaineering I don't think I'll settle for anything other than a full-length zip ever again. At the ankle, where the zip ends, there is a popper to keep everything together if you want to unzip the leg from the bottom up to vent and a cinch cord at the hem to pull it tight around your boot.
The waist is adjusted by a pair of elasticated Velcro tabs, one on each hip. This is not something I'd seen before and, at first, I was a little skeptical, I've found that velcro has a habit of coming undone. But in practice they work really well which, I presume, is in no small part due to the Velcro tab being elastically attached at the back. The first time out I put them on at 10am and didn't take them off until 6pm and at no point did I have to adjust or tighten the waist.
That two-way front zip gives you a couple of options when you answer the call of nature, and personally I'm not shy of opening the fly from the bottom up to do a bit of venting either – every little helps you know. Talking of zips, all zips are YKK AquaGuard.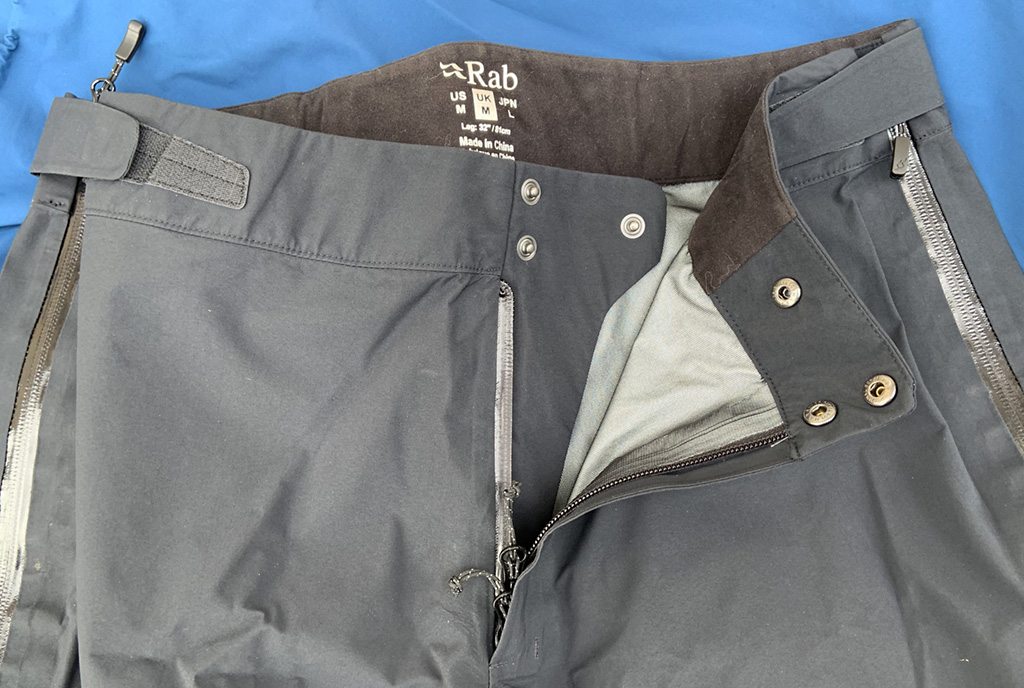 It was put to me by a friend that a couple of zip thigh vents would have made a good addition too, maybe, maybe not. If I were to suggest an addition I'd like to see reinforced inner ankles that are more abrasion resistant to protect against crampons. But it wouldn't stop me buying them and gaiters do that job perfectly well too.
In terms of sizing, unlike jackets where there isn't much that can go too wrong, I find sizing of trousers is a bit harder to get right. I have been wearing the UK Medium and they fit pretty well at the waist and perfectly down the leg. They look good on and are not at all baggy. For perspective, when I buy jeans, I go for a 32inch waist and I'm 6'2". I have worn the Kangris over a winter grade soft-shell trouser and there is still a bit of breathing space around the waist. If in doubt, there is a useful sizing chart on Rab's website for more details.
These are a really top performing pair of waterproof overtrousers that are more than adequate for the kinds of activities that most of us do most of the time. They are durable, well-fitting, and can't be recommended highly enough.
You can find out more at Rab's website here
You can find Stewart's review of the Rab Kangri GTX Jacket here