Rab Kangri GTX Jacket
RRP: £280.00
Reviewed by Stewart Moody
Out this season the Kangri GTX is one of the very first Rab hardshell jackets that employs Gore-Tex in its construction to create a robust 525g waterproof, windproof and breathable jacket. With this being my first foray into the world of Rab hardshell and acutely aware of their popularity, I set off into the mountains of Snowdonia with a spring in my step.
Let's focus on the material for a moment. For the Kangri, Rab have used three-layer Gore-Tex whose tough 70 denier nylon face fabric (which comes in black, blue or red) is very durable. Having used a fair amount of body contact whilst thrutching up an icy chimney in Snowdonia the jacket emerged unscathed save for a slightly grubby patch on the elbow. This face fabric protects the membrane middle layer, which is sandwiched on the inside by the silky smooth inner that allows the jacket to glide over your other layers whilst you climb. It beaded beautifully under the mizzle that mother nature threw my way and I remained dry all day.
To complement the breathability of the material, Rab have included some good venting features. The underarm 'pit' zips are superb for ventilation when you are working hard on steep ground and, by chance rather than choice, are not something I've had on a hardshell before. I'm a convert now and think the sacrifice of a few grams and bit of bulk is a small price to pay. I even left them open during a light shower and didn't really notice any water getting in. Additional variable venting is possible thanks to the two-way main front zip can be opened from the top down or bottom up, with the popper at the bottom helping to keep things tidy if you open the zip to vent heat.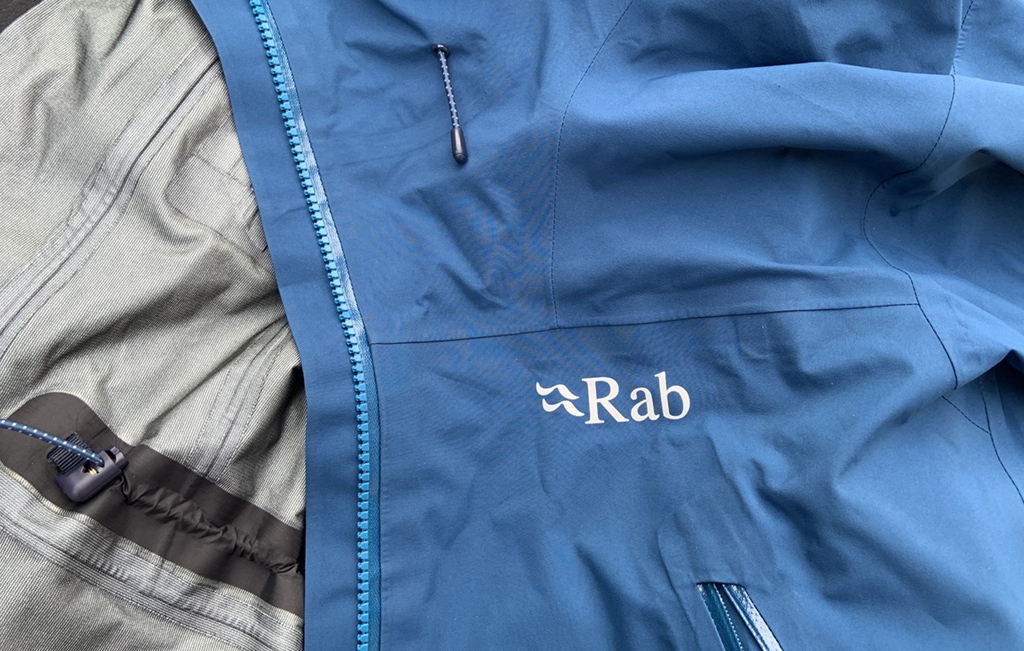 I'd describe the fit as regular, it is neither athletic nor baggy. It sits well over a base layer and mid-layer with room to spare. I actually wore it over two mid-layers with no problems. The articulated arms give a fine range of movement, the sleeves are a good length and the cuffs can be tightened with Velcro tabs that have a wide range of adjustment that holds firm. These cuffs easily fit over the gauntlet of my gloves (and stay there) and are much better than the other jackets I've worn. The jacket is a practical length (for my 6'2" height) meaning that it didn't fall foul of the common tendency to ride up and instead firmly kept itself tucked under my harness waistband.
To make the jacket hug your figure, and retain more body heat, the fit can be adjusted at the hem and waist and it's worth noting here that all adjustments can be made with a single hand. The hem drawcords are easily pulled tight, even with gloves on, and just as easily released. The waist drawcord runs across the lower back with the toggles near your kidneys. You have to reach inside the jacket or hitch it up at the back to make adjustments, which is a little awkward but the end result is good. I had worried that the location of the toggles, which sit right under my harness, would press into me, but I haven't noticed it, perhaps due to wearing it in colder weather on top of several layers. That this hasn't been an issue is, I feel, through luck on my part rather than good design on Rab's.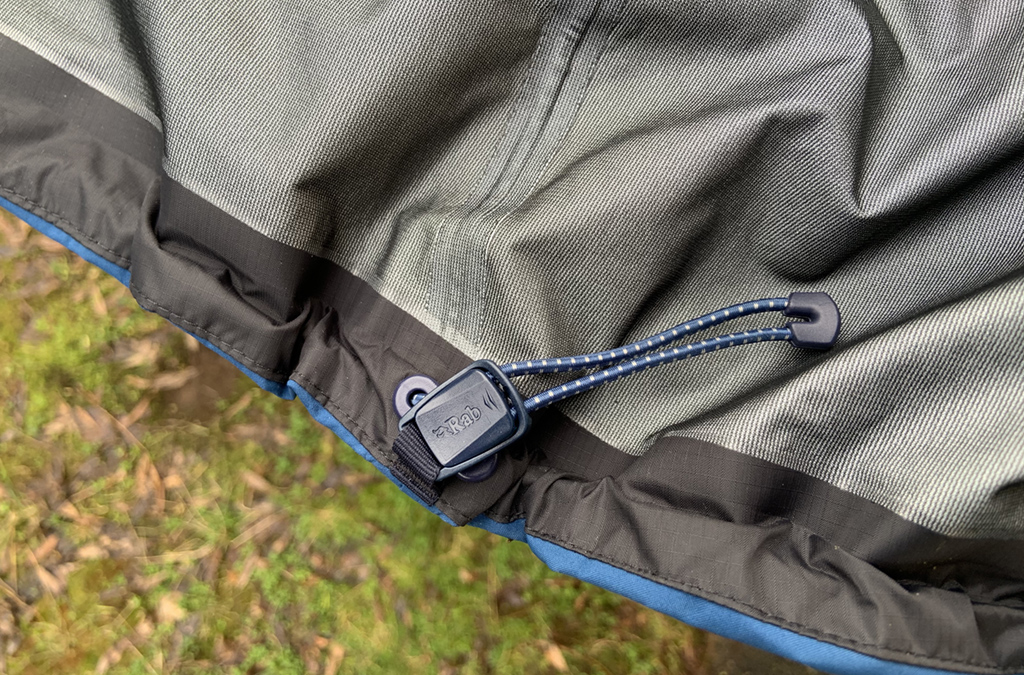 We now find ourselves skirting the list of activities for which the jacket is suited, so let's tackle that head-on. Rab cite winter hill-walking and showery scrambling as two activities for which this jacket is well-suited. They do not mention climbing or mountaineering. I feel that for activities where a harness and helmet are necessary, the Kangri has flaws. Apart from the waist toggles being located right under the harness, the elephant in the room is that the hood is not helmet compatible; Rab themselves acknowledge this in their questions and answers section.
That's not to say the hood isn't good, far from it, with full-face closure, fleece-lined chin guard, ease of adjustment, stiffness of the visor and range of motion it affords it is an excellent hood. Nevertheless, I wore a beanie and a helmet and then pulled the hood up and it just about fits, but head movement is very restricted and discomfort came from my helmet being pulled down onto my head. It's a shame for the Kangri, but with the Ladakh and Latok Gore-Tex jackets being aimed specifically at climbers and mountaineers Rab does give you plenty of choices if helmet compatibility is a 'must have' for you. Other features include two generous front chest pockets, high enough so they don't get in the way of your harness and a small slightly elasticated one on the inside that is big enough for your phone or wallet. All external zips are YKK AquaGuard with the front zip having a nice big toggle to grab hold of.
At the end of the day, this is a durable jacket with many great features, but it could have been more attractive to the climbing community if Rab had given it a helmet-compatible hood. For an extra £70 you might want to consider the Ladakh.
Click here for more info on Rab's Kangri GTX Jacket.