Ortlieb Atrack (45L) Rucksack
Wednesday 11th December 2019
RRP: £195
Review by Mark Reeves
The Ortlieb Atrack is a fully waterproof rucksack, a rarity when it comes to humping stuff on your back as it has been my experience with many rucksacks that they are only waterproof one way, often letting water in quicker than they let it out. This once resulted in me stabbing two holes in the bottom of a rucksack to stop one behaving like a bucket.
This is not the case with Ortlieb, who have for years specialised in making things waterproof, I still have a 15-year old map case of theirs that is still as waterproof as the day I got it. Which for me is something of a miracle! The design and build of the 'sack appear to be in the same robust vein as that map case. However, I do worry if I use it for climbing the metal clanging about in there, particularly my nut key, will soon wear that material out. So I have chosen to use it for more mountaineering based days out with less ironmongery in my bag and, as it is advertised, a travel bag.
The Atrack comes in 25, 35 or 45-litre sizes – I reviewed the 45-litre version – and the material is highly durable and waterproof with all the seams being welded. Which along with the waterproof 'TIZIP'zip means the bag has an IP67 rating having met the strict International Protection standard that signifies it can be dropped into one metre of water for half an hour and the contents will remain dry. Whilst I have the red version the bag also comes in black and mustard. It has some external mesh side pockets for water bottles, and if you prefer, you can place a hydration system inside the bag and have the tube come out of the hermetically sealed hole. Both sides of the 'sack feature some compression straps, which can be used to attach stuff to the outside, I have used them to connect a large tripod to the outside, which was surprisingly stable. In terms of weight, it comes in at around 1,560g, which given the robustness of it is pretty good.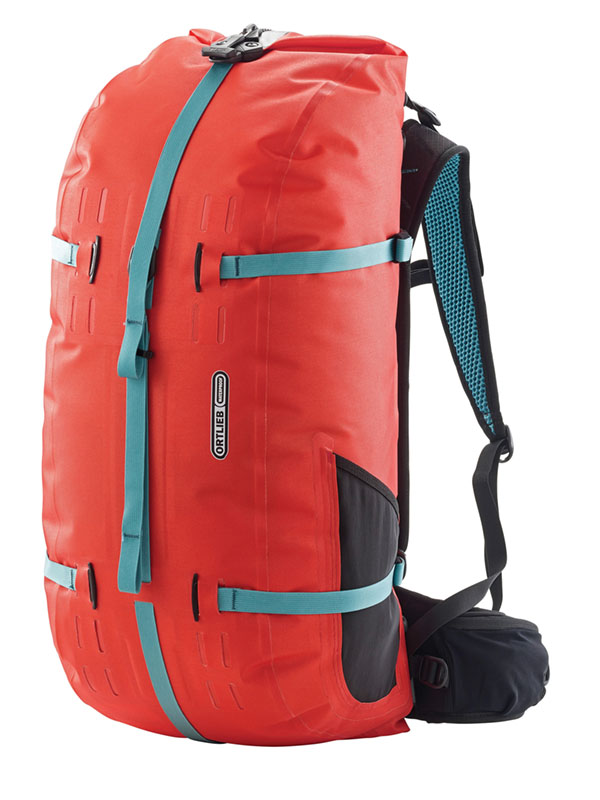 Out on the hill, the bag is comfortable with a good hip belt to get the weight off the shoulders a little and the chest strap makes it stable enough to be used whilst doing harder scrambles. Whilst it looks bulky when on your back it does not feel that way, this is in part because the bag is so waterproof that in general when you zip it shut it traps air like an unopened packet of crisps. So the bulk is literally just fresh air.
At first, the idea of a waterproof zip worried me because I have had zips proclaiming to be waterproof on jackets, again only to find puddles of water accumulating in my pockets as the day progressed. However, as soon as I saw the zip in question, I felt a little more at ease. As I have zipped myself into dry suits using the TIZIP in question and stayed dry, as this is more of an 'industrial' zip. The zip is also on the back-facing side of the bag, meaning it will be almost impossible to steal anything from it whilst travelling if it is on your back.
This ingenious full-length zip allows you to get to anywhere in the bag with ease, making it a great travel and hill bag at the same time. Within the bag are some small compartments for things like wallet, phone and car keys, that replace the role of the top pocket on most rucksacks.
I guess there are many reasons to want or need a waterproof rucksack, in particular, outdoor users who head out in all weather and just want to keep their stuff dry, short overnight trips to huts and or camping. Then some people need to keep their equipment dry for shooting photos or videos, allowing them to get to or from locations whilst it raining, in order to make the most out of a day's shooting, but at the same time keeping their beloved technology dry and this suits these needs well.
All in all the bag is an interesting one if you want or need a truly waterproof bag, my only concern is heavy use in the mountains could eventually cause the waterproof fabric lining to fail, although it is heavy duty and will certainly last most users a good few years of sensible use and this may never be an issue. Whether you want a truly waterproof bag for the mountains or a comfortable rucksack for adventure travel then this bag may well be the answer to your search.