La Sportiva Xplorer Approach Shoe
Wednesday 2nd October 2019
RRP: £110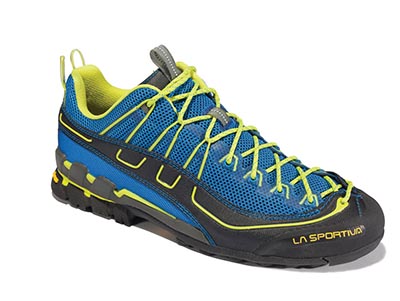 By David Simmonite
The Xplorer Shoe from La Sportiva is an approach shoe designed for technical approaches on the rock, crag trails and Via Ferrate. The soles feature the Impact Brake System, which uses different friction rubber compounds to provide a perfect balance between extremely efficient grip, impact absorption and hold. A combination of pull strings which hug the 360° clinking to the lacing system via loops and high-frequency reinforcements provide the Xplorer Approach Boot with its precise, ergonomic fit. A rubber toe cap protects the front of the Xplorer Shoe, whilst the midsole
'Rock Guard' wedge contains a layer of EVA with an injected shock absorbing cushion at the heel and offers enhanced support to the ankle to avoid torsion of the foot. The Idrogrip Vibram sole contains graded zones: the climbing zone at the toe, lateral suction pads of various sizes and a shock-absorbing cushion at the heel, allowing the Xplorer Approach Shoe to go anywhere, meaning the walk towards the next challenge has never been easier… Right, enough of the manufacturer's statement, what are these really like in the real world?
My first impressions of the Xplorer were of a striking and bright shoe both in looks and features. With a distinctive blue colour and yellow trim, they are certainly noticeable and I, for one, like it. Once you examine them closely it soon becomes apparent that they are well-made and a serious bit of kit. These are approach shoes that are easily at home for not only walking to the crags but come into their own when scrambling around or tackling easy rock or Alpine climbs.
I initially tested these on a two-week photographic assignment where they would be used as a workhorse shoe and treated with little respect. I need a shoe that is functional, comfortable and robust and I can certainly say that the Xplorer ticked all of the boxes living up to my expectations. Whether it was scrambling around on rock or vegetation to get in position for a shot, they were just about faultless. With a well thought out wrap-around lacing system all the way to the toe and a secure heel fit it gave a very positive fit with little unwanted movement. Depending on the activity I could adjust the fit from a bit looser for walking to cranking them tight when I was climbing around. The Vibram rubber sole is definitely sticky and the grip on both dry and wet rock plus vegetation was very good indeed and gave me a feeling of confidence moving on a mix of terrains.
The front of the shoe has what is termed 'a climbing zone' with 'Toe Box Overwrap' technology rand construction which controls foot creep when edging and smearing plus a stiffened edge for support. However, due to the more flexible middle section it's not quite as supportive as an all-out rock shoe would be, but then again perhaps that's to be expected and I'm maybe asking for the moon on a stick. If it was too stiff they wouldn't be great when it comes to walking and these are a fine compromise. I managed to climb easier rock routes and felt okay.
The only downside from a personal point of view was that the toe area was a little too boxy but that's possibly down to the shape of my feet. If I was getting another pair I may look to go down a half size for a more precise feel when climbing in them. It's been a couple of months since the two-week photo shoot and these have become my 'go to' approach shoe. I wear approach shoes out very quickly especially at the front from jumaring up ropes but having done many miles and scrambled and scrapped up many metres of rock the Xplorers are showing little sign of wear. I can't say fairer than that, it appears that La Sportiva has a winner here.