Black Diamond Vapor Helmet
Wednesday 11th December 2019
RRP: £130
Review by Richard Wheeldon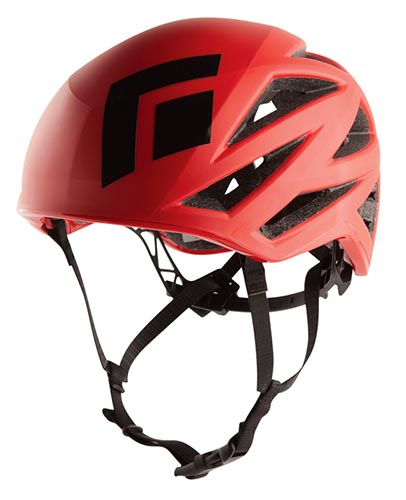 Climbing helmets have come a long way in the past 20 years or so, gone are the old-fashioned, heavy, cumbersome 'lids' of the 1980s/90s to be replaced by the sleek, low-profile and, most importantly for the majority of users, lightweight, models that are available today. Almost all climbing hardware manufacturers now produce helmets and Black Diamond Equipment are no exception and have been making helmets for many years now which brings us their latest offering, the Vapor. Make no mistake, this helmet is incredibly light, weighing in at just 186g for a small/medium and 199g for a medium/large. The Vapor is low-profile in design; has great ventilation and because it's available in two sizes, a great fit can be achieved. It's ideal for multi-pitch trad climbing and would work well for Alpine climbing (note: it comes with removable headlamp clips for those pre-dawn starts or late night finishes). Due to its lightweight, it would also make an excellent helmet for those going on a sport climbing trip and wanting some kind of head protection.
Its strength is derived from inserting a sheet of Kevlar and a series of carbon rods in between moulded EPS foam, the whole thing is then covered with a polycarbonate shell. Once on your head, micro-adjustment of the helmet size is easily sorted using a ratchet adjustment system (also easy to use with gloves on) this can be tucked up into the helmet for compact storage when carrying the helmet in your pack.
In use, what can you say? Most of the time you don't know it's there; it's incredibly comfortable due to its lightweight and the ventilation works well; certainly much better than the first generation lightweight helmets like the original Petzl Meteor. A friend recently suggested you could quite happily wear it on the walk-in using it as an alternative to having to take a sun hat, it's that unobtrusive.
Some will argue that long-term durability is sacrificed to produce such a lightweight helmet and they probably have a point, however, it is interesting to note how climbing helmets have become the norm nowadays. When I first started climbing in the mid-80s, only a tiny minority of rock-climbers wore a 'lid' and in many instances, those that did were often students or participants on climbing courses. You go to any crag today and the vast majority of climbers are wearing a helmet, in fact, at places such as Pembroke or on the high mountain crags it is difficult to justify why you wouldn't, given the modern lightweight designs now available.
All in all this is a great helmet and I for one am perfectly happy to pay a premium price for something that, as well as potentially saving my life in the event of a fall or something falling on my head from above, is lightweight and easy to wear; aesthetically, it looks pretty good as well…
Features
Co-moulded EPS foam with polycarbonate shell
Geometric, open-air design provides unparalleled airflow
Ratchet adjuster with moulded push buttons
Headlamp clips are removable for reduced snagging on slings and clothing
Weight: S/M 186g (6.6 oz) M/L 199g (7 oz)
Size Range: S/M 53-59 cm (21-23 in) M/L 58-63 cm (23-25 in)