Alpine and Winter hardware
Sunday 22nd December 2019
Review by Bruce Goodlad
Choosing kit for any trip is a challenge, even more so when you are entering an environment that will require a huge blend of skills and equipment that must be able to perform in a huge variety of situations and not let you down. There is an assumption that this means compromise but not necessarily. Like so many climbing activities it is all about thinking about what you need the kit to do and not over complicating things.
In this review, we are going to focus on some kit for climbing classic Alpine routes (and equally at home on easier winter climbs too) but much of what we are going to talk about also extrapolates into harder Alpine routes as well.
Ice Tools
If we think of the humble ice-axe it is the one piece of kit that typifies Alpinism, the ice-axe has come a long way from the wooden alpenstock designed to cut steps and act as a glorified walking stick. If we look at the pinnacle of design, the modern axe, that allows the climber to swing around on overhanging rock and ice, they are completely different pieces of kit. So how come every year I see Alpinists on classic Alpine terrain using ice-axes designed for use on vertical rock and ice. The leashless handles mean that you can't plunge the shaft to gain security on steep snow, the lack of decent spike means you can't effectively gain traction to use the tool for balance. The steeply inclined pick means that the tools are very difficult to use for self-arrest should you slip, the adze – if the tool has one, of course – is not really shaped for chopping steps or ledges and these axes are very difficult to bury effectively should you need to create a snow anchor.
So what's the solution? Well, we don't want to go back to the days of the alpenstock but we can look at some modern takes on what is a very traditional piece of kit. If we look at the shape of an old traditional axe it had a very horizontal pick and adze, which was designed for step cutting. If you train as a Swiss Mountain Guide you still must buy and use one, they are a thing of beauty and cut steps like no other axe around but for the average Alpinist, they are heavy and not very good on steeper terrain.

Testing gear on a typical Alpine day on Tofana, the third highest peak in the Italian Dolomites. Photo: Bruce Goodlad
Therefore, what do we want our ice-axe to do? In classic Alpine terrain, we want to be able to use the axe to give support, so it needs a head that is easy to hold (and not shred your gloves) with a spike that bites well and a shaft that plunges easily into the snow. On steeper terrain, we want a tool that is comfortable to dagger with – either holding the adze or the shaft below the head. As the terrain becomes steeper then a tool that swings well and is easy to grip is a really nice thing. To achieve the perfect balance pretty much everyone has adopted a curved shaft as this makes is easy to plunge the tool into the snow. The incline of the pick is the next variable, the classic curve works on most terrain but the steeper the incline the better and more secure the tool will feel on steeper terrain. However, the steeper the pick the more difficult it will be to self-arrest with, so all things are a balance.
People always ask if they should use a wrist loop or not and my personal preference is not. When moving through the snowy mountains our ice-axe and crampons are our primary link to the mountain. We should be free to swap hands and use the axe as freely as possible, if you have a wrist loop there is more chance that you will become lazy and not keep the axe in the uphill hand or change grip to gain the most efficient anchor. An alternative that some tools come with is the adjustable pommel, this allows an increased level of security on steeper terrain, but the pommel can be slid out of the way on easier angled ground.
When choosing a tool the length is a key choice – when climbing a shorter tool is preferable but when moving along ridges then a longer tool gives greater security. My personal preference is for a tool around the 60cm length, a shorter tool is great on the steeper terrain and a longer tool better on an easier angled ground but about 60cm seems to be the ultimate compromise to me.
When looking at tools you will note that they have a T and a B rating, this relates to the strength of the shaft and the pick – a B (Basic) rated axe has the shaft tested to 280kg, whereas a T (Technical) has been tested to 400kg on its pick and shaft. Some modular tools may have a different rating for pick and shaft and even if the shaft is strong, if the pick is weaker then the tool can only gain a B rating. Having said all that it is a long time since I have seen a broken ice-axe shaft, or pick for that matter.
My final consideration is the adze, a steep adze gives greater security when climbing on soft snow, however, this makes it difficult to chop a ledge and clear snow. The relationship between the adze steepness and the shape of the shaft will also affect how easy it is to use.
Black Diamond Swift
Sizes: 50, 57, 64cm Weight: from 487 to 526g RRP: £130
The Swift is a thing of simplistic beauty. The forged stainless steel head is one of the nicest pieces of engineering I have seen in mountaineering kit for quite some time. The tool has a curved shaft (T rated), which combined with the adjustable pommel, and inclined pick feels really secure on snow and ice up to Scottish II/III. The pick feels great in all sorts of snow, ice and turf and is at the limit of what I found easy to self-arrest with. Having used the Swift all around the mountains in recent weeks this was my stand-out tool of the review and one that will be coming on many adventures this summer.
Grivel Air Tech Evo G Bone
Sizes: 48, 53, 58, 66cm Weight: 458g (53cm) RRP: £140
This is the latest evolution of the Air Tech, an axe which has been around for quite a while. Grivel have used a shaped shaft to make a light and strong (T rated) shaft that is easy to hold. The shaft uses a rubber grip at the base of the shaft which works really well and whilst it does not give the grip of an adjustable pommel it is easier to use as you don't have to adjust the pommel. The forged head uses a classic design that is brilliant for self-arrest and all classic Alpine situations you may face but not quite as good as the Swift and Raid in more technical situations. I think the Air Tech has stood the test of time and the latest version is an evolution on a classic tool that will take you on any Alpine adventure. Comes with a leash and is available as a hammer too.
Edelrid Raid
Sizes: 50, 60cm Weight: from 575 to 615g RRP: £125
I have climbed with Edelrid tools in the past but hadn't tried any of their classic mountaineering tools. The Raid fitted into the crossover category as the (T rated) pick was the steepest and most technical we looked at. The head has been really nicely designed with smooth curves to keep your gloves intact, and this is modular so you can change the picks and adze. The curved smooth shaft works really well both in steeper terrain and when plunging into the snow. The shaft is really slick so it would be easy to drop it if you are not careful. Luckily Edelrid has thought of this and supply a roll of grip tape so you can customise the Raid to suit your needs. In summary, The Raid is a great tool for those moving into more technical terrain and will look after you through many Alpine seasons.
Other tools worth looking at:
The Petzl Summit Evo (RRP £130) is a fantastic all-round tool that does everything really well. If you are Alpine rock-climbing and just want to go as light as possible then the Petzl Ride (RRP: £85) at 240g is as light as it gets and still works as a tool or have a look at the Petzl Gully (RRP: £110) at 280g which has an adjustable 'trig' rest and is available as hammer or an axe.
Crampons
I could almost start the crampon section with the same rant as the ice tool section; technical mono-point crampons with rigid frames or with no anti-balling plates do not make good mountaineering crampons. Technical crampons with mono or vertical front points don't work well in snow and the lack of effective anti-balling plates means you get big clumps of snow on the bottom of the crampons between the points which stop the points biting and thus you are more likely to slip.
Matching boots and crampons is really important – if you have a rigid (B3) boot then you can use any crampon attachment system, if you have a bit of flex in your boot (B2) then you will need to use a crampon with a heel clip and a strap at the toe and, finally if you have anything more flexible you will need a strap-on crampon. If you are in any doubt take your boot along to the shop where you are buying your crampons and they will advise the best course of action.
There is a reason that the classic 12-point crampon design has stood the test of time – it works. Two front points and 10 downward facing crampons allow the grip security and versatility to move around any mountain. Sure, on more technical and hard ice routes, mono-points and vertical front points are easier to climb with but we are talking about classic Alpinism here, so think carefully about the crampons you will take on your Alpine adventure this summer.
Most crampons come with anti-balling plates these days but if yours don't I would strongly advise fitting some. Damp snow in the afternoon will stick to your crampons making life very difficult for you.
Petzl Vasak Flexlock Universal
Weight: 872g RRP: £120
The latest iteration of the Vasak is a brilliant all-round crampon, it comes with a wire and ring system at the toe so you can match this to your boots. There is also an integral anti-balling plate, which works really well. The current version is lighter and is incredibly adjustable and there is a really neat system that allows adjustment between longer and shorter boots. The toe and heel attachments can be moved meaning the length adjustment is a very precise affair using offset holes and a spring pin, next, there is also micro-adjustment on the heel clip. In action, the Vasak will take you wherever you want to go from the classic glacier trekking to the big Alpine north faces.
Grivel G12
Weight: 1040g RRP: £150
The G12 has been around for years, but I wanted to feature it as after almost 30 years of Alpinism I haven't found a better mountaineering crampon. Luckily while Grivel has added to their range they have left the G12 alone. So why do I like it so much? The points, especially the bottom 10 points, are longer than many other crampons, and whilst this may take a little bit of getting used to, it means that when you are cramponing downhill in the afternoon and the surface snow has melted you will still bite into the frozen snow underneath. In this situation, crampons with shorter points will slide. The one thing you will note is that the G12 is a bit heavier but I am happy with the extra 100-150g for the additional security. The G12 is available with just about every binding system you can think of.
Black Diamond Serac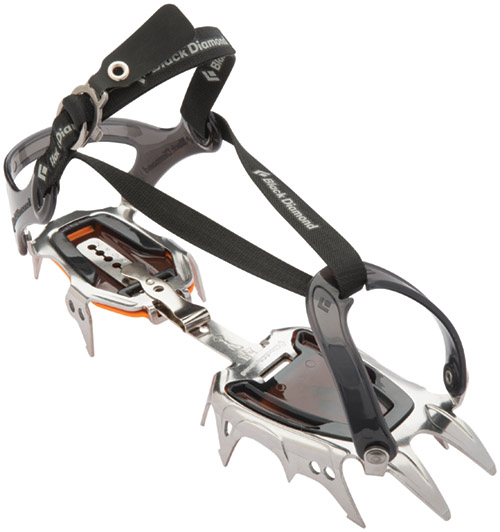 Weight: 890g RRP: £130
The Serac is constructed in beautifully crafted stainless steel so you don't need to worry about looking after them (other than drying them but I never did anyway). The Serac comes in a variety of different attachment systems so you should find a system that fits your choice of boots. So let's get into the detail – the Serac is a great all-round crampon, however, its 10 base points are the shortest of the three models featured so far. This means that they are more comfortable to walk in and feel less wobbly when mixed climbing but it does mean that you do not have the penetration in the afternoon slush, so they may feel a bit more slippy. I guess like all things there is a compromise as they are definitely more comfortable given that the points are about 5mm shorter than the other models, so you don't need to lift your feet as high. Adjustment is by a simple bar and the most easily adjustable heel clip in the review.
Petzl Irvis Hybrid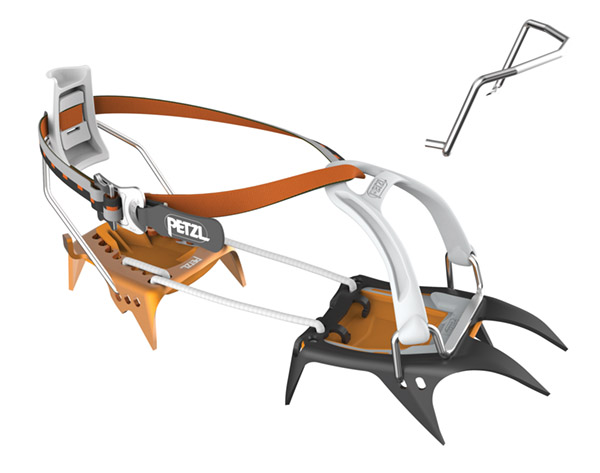 Weight: 540g RRP: £138
And now for something completely different – a crampon held together with string. Many of us have had a crampon held on by string at some point in our mountaineering career but not usually by design. Petzl has come up with a range of crampons that join the front and back together using Dyneema cord, this makes for an incredibly light, packable crampon. The first version I tried was the Leopard LLF at 330g, which is an aluminium ski touring crampon, the aluminium and wire toe bail preclude summer mountaineering use on all but the stiffest boots, but they did prove the concept that a crampon joined together by string does actually work.
So does the concept transfer from the rigid ski boot to the mountaineering boot? The answer is sort of, but first off you have to be really specific about where you can use this style of crampon. The Dyneema will not stand up to any amount of mixed or rock-climbing as it is designed for use on snow with the odd move on rock. If you are happy with this then we can move to the next stage, that of compatibility. The Irvis Hybrid version featured here has a steel front section for durability and an aluminum rear section for weight, the crampon comes with a wire and strap toe piece so it will work with a number of boots. With the straps, the crampons had no problem staying on my B2 boots like the La Sportiva Trango Cube. The weight and packability make these the ideal approach crampons where you may approach across snow or a glacier to reach a route, then the crampons are in your bag for the day. While quite specialist these will definitely have a place in any Alpinist's kit selection, especially those who ski tour, where they excel.
Ice Screws
Whenever I am travelling on a glacier or, in fact, on any snowy peak in the Alps, I will always have at least two ice screws with me. Even if you think you are on snow, digging down will often allow you to discover some ice and this will offer a much stronger anchor or running belay than snow alone ever will.
When climbing in the bigger mountains I am always conscious of weight as carrying less weight allows me to move faster and increase my margin of safety. Now using a lighter ice screw on its own will not make a massive difference but if you apply cycling's Sir Dave Brailsford's (whose dad was a Mountain Guide by the way) marginal gains approach where every gram you shave can add up to a significant weight saving.
The big change in ice screw design was when Petzl brought out the Laser Speed Light combining an aluminium shaft and steel tip to give a massive weight saving, on like-for-like Petzl ice screws this saved 43g. Black Diamond has taken this concept further and made it even lighter with the Ultralight. This use of aluminium and steel does come at a cost both financially and in terms of durability and you do need to take care of the aluminium threads when carrying the screws hanging from your harness on a glacier. I leave the plastic mesh on so they don't get bashed and I'm very particular about how people clean the ice out of the screws as careless bashing can ruin them. Once the aluminium becomes nicked and scratched, they don't go in as easily.
Petzl Laser Speed Ice Screw
Sizes: 13, 17, 21 cm Weight: from 91 to 110g RRP: £70
Petzl did a bold and amazing thing when they brought this screw out; it is every bit as strong as its steel counterparts but it so much lighter. The steel tip is really easy to start in the ice then the flick out handle lets you drive the screw home really quickly. The big eye is easy to clip until I saw the Black Diamond version this was my go-to Alpine screw.
Black Diamond Ultralight Ice Screw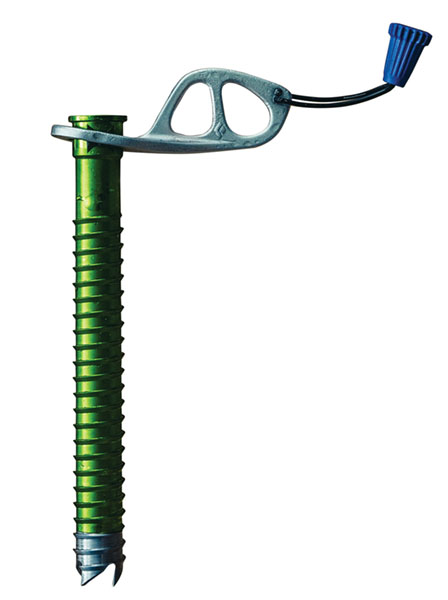 Sizes: 13, 16, 19, 22cm Weight: from 74 to 96g RRP: from £71 to £74
The Laser Speed was a pretty hard act to follow but Black Diamond has done it and improved on the concept. Now it is really hard to make direct comparisons as the two manufacturers use different lengths but the 16cm screw from Black Diamond is 19g lighter than the 17cm from Petzl so however you dress it up that's impressive. In action the Ultralight works fantastically, Black Diamond have redesigned the teeth of the screw, so it is even easier to start. The hanger has two holes which are surprisingly useful on belays and the wire handle is brilliant. Interestingly, looking at the constriction the Petzl screw tip has the aluminium overlapping the steel tip and the Black Diamond has the reverse, we will see which is more durable in time.
Grivel 360 Ice Screw
Sizes: 12cm, 16cm, 20cm Weight: from 156g to 203g RRP: from £60 to £65
Now I know this has been around for years and as a steel screw it isn't as light or sexy as the above but the 360's unique handle allows this to be driven home in complicated ice and in the context of this article allows you to make deeper V-threads. If I'm entering terrain where I may need to abseil then I always carry a 22cm 360 for the extra depth of V-thread I can create.