Around the Bloc: Carrock Fell
From Climber's regular monthly feature on the best of British bouldering venues
Whilst the Lakes doesn't have the wide-ranging bouldering that North Wales or the Peak can offer, it does have three big gems. One of these is the battle-scarred hillside of Carrock Fell says Adam Hocking
THE VENUE
Situated in the Northern Fells roughly halfway from junction of the M6 and Keswick, the area is rich in history. From the Wolfram mining which was used for military applications over the World Wars, to an Iron Age hill fort crowning the hilltop and believed to have been built by the Celts and destroyed by those pesky Romans. Talking of battles, you can pretty much choose your own on the excellent gabbro that litters the hillside below. This widespread boulder field is home to over 180 fantastic problems ranging from V1 to V12 so there's plenty to aim at. Be warned though, the rock is a rough crystalline form of gabbro and your fingers may give out before your arms do, especially on a hot day, but this does mean it has some of the best slopers around.
The boulders face east and catch the sun until early afternoon which is perfect for those clear spring/autumn days when friction is at its optimum but can be frustrating in mid-summer, so plan an afternoon visit unless the sun is your thing. The development of the hillside started with the likes of Boardman, Rouse and Bonington taking time out from planning their epic mountain adventures. Many have since left their mark and there are great problems for all to try. I've heard people suggest that there is not all that much bouldering on the fell and they have soon become bored. This is an easy mistake to make on your opening visit as most people don't venture beyond the three large main boulders of the Northern Group. The problem lies in that the hillside of boulders is like a labyrinth at first but be assured that once you find your bearings the wealth of first class bouldering soon becomes apparent. To aid navigation the areas are split roughly into the Northern, Central and Southern Groups in addition to a small selection of problems at the Mosedale Boulders.

THE TOUR
So where do I start? I have always begun my day in the Northern Group, host to some of the District's finest problems. A quick warm up on the Mushroom Boulder should be a fine way to fire up the muscles. The Traverse of the Mushroom (V3) being of utmost quality and this should be on everyone's list. After sampling this block move up to the immaculate Boardman's Boulder. For me this is the best block in this area and hosts one of the best problems. Rouse's Wall (V5) is a must, but it is hard to start with meaty long moves from undercuts and it features an exciting high finish, making it one of the classic Lakes' problems. All the problems are top class with perfect landings and should hold most peoples' attention at least for a little while. For those with steel fingers you can test your mettle on Metronome (V11) or Dan's stand up problem at V8 on the back of the block; the first being one of the only two (Font) 8s on the hillside. To finish off the Northern block circuit you should drop down to the Low Boulder. A good one to try there is the technical Slopey Arête, the prominent sloping nose either from a robust, hard sit start at V6 or a couple of grades easier from standing. McHaffie's Crack (V8) offers a powerful and traditional exercise, while its close neighbour Ye of Little Faith (V8) is a more modern grovel. This problem can also be doe from standing to give a brilliant V2 with a great rock-over move.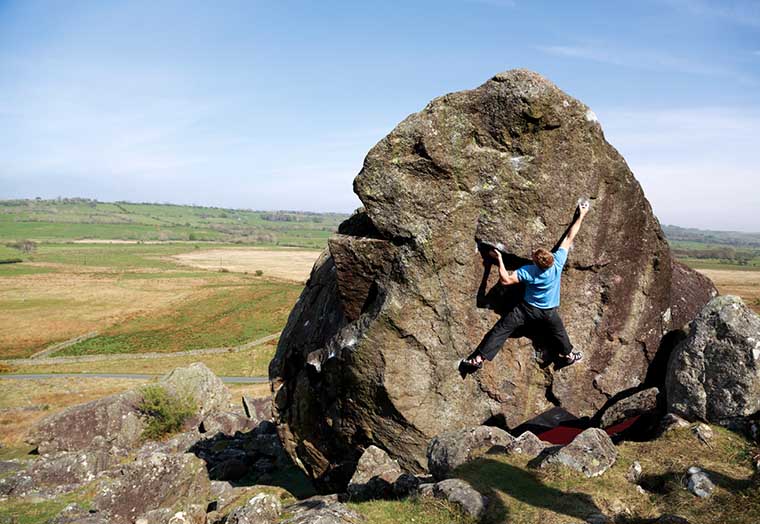 Adam Hocking on one of the hardest problems at Carrock Fell. Situated on the backside of Boardman's Boulder it's called Metronome and is graded at V11. Photo: David Simmonite
Now you have the choice of moving further north to the blocks on the far north circuit where you have lots little gabbro treats such as The Canada Boulder with two classic V5s, Nova Scotia Arête and Canada Dry. Or if you're operating in the V9 and above bracket then Leopold Von Buch isn't to be missed, it's probably the best of the harder problems on the fellside with a lovely move to a gaston amongst its delights.
If your fingers are still holding up and if you want more then you can walk over to the North Central Group. I would advise a quick walk down to the road rather than the tiresome boulder hopping from the Northern Group. Here you'll find great boulders like the small but well-formed Arête Boulder which features the fun Left Arête (V3), the crimpy Left Wall (V4) and Right Arête at a gentle V0. Whilst in this area potter along and test your fancy footwork on the technically elegant Purple Slab (V4) and 47 (V5). Micro classics abound in this area and it's worth taking your time to try them.
For those seeking out harder problems the South Central Group should not disappoint. Starting at the Undercut Boulder you have a great problem with Undercut Arête (V5) which offers great holds and a fun top-out. If you manage this, head over to the Lean-To Boulder where, for a change, you have a climbable John Gaskins problem. The Prow at V9 offers great powerful moves on even better rock and is a much sought after tick.
If you now walk back and up the hillside you'll come across some of the more impressive boulders and in particular the Punk's Life Block. Billowing out like a ship's prow it's the sort of feature that would be more at home in Font. Here you have the three star classic Punk's Life (V7) and also the hardest challenge of the fell Super Yum Yum at a big V12 with a dyno from two bad undercuts and still unrepeated. Above and behind is the Fangtastic Block with a number of great problems, the best being the big diagonal moves of Hockstack & Two Broken Toothbrushes (V7). It's worth pointing out that you'll need more than one mat for these problems. Originally the landing was pretty bad but after some fine ground work from the locals it has become pretty reasonable. The full lip traverse has been done at around V7 also but has a slightly spicy feel so make sure you have a good spot from your mate.

If the Southern Central Group appears a tad on the hard side then the Southern Group is a wonderful place to finish your day, sporting many problems from the low to mid grades. Misty Mountain Boulder offers some great problems for the twinkle toed people out there; Misty Mountain Hop (V3) is probably being the best of the bunch. With so much to choose from at Carrock Fell it is really difficult to tell you about every block and every problem. Sometimes you just have to lose yourself in the area and discover the delights. I hope you enjoy exploring the beautiful hillside as I have done so many times in my life. Please remember no tick marks on the rock and take your litter home...


FACT FILE: CARROCK FELL
Online Topo and Guidebook
Easily the best place to look for a very up-to-date downloadable topo (it's free too), and with regular updates and info on lots of other bouldering areas is www.lakesbloc.com If you want a guidebook then Rockfax produced Lakes Bouldering.
Accommodation and Supplies
There are plenty of options, be it camping or B & Bs, particularly given the proximity of Keswick and Borrowdale from which it's only a 15 minute drive. There are four camp sites either side of the A66 between Penrith and the Mungrisdale turn off, as well as those in the Keswick vicinity. The nearest to the crag is located directly opposite the A66 turn off and is clearly signed. Check out www.lake-district.com For climbing/bouldering kit Keswick's your spot with more outdoor outlets than you can shake a stick at. The Mill Inn in Mugrisdale also offers a fine pint at the end of a long day.