A Climb to Change Your Life
by Peter Goulding
Bolt, bolt, bolt. Bolt. Lower-off chains. Where is the fifth one, though, from the guidebook description? I look for another minute and then the sun winks a flash at me, there it is among the tough-looking overhangs near the top.
This isn't my first outside climb: I've been bouldering to the Peak with one of the instructors from the climbing wall; last weekend, I was at Plas-y-Brenin on a subsidised course. This week, I am out with the climbing club, camping in Llanberis. One of the lads said, "I'll be in the slate quarries all week." My first thought was, fuck that. That doesn't sound very good.
It isn't even my first climb on slate. The first day, we walked into Vivian Quarry and I top-roped up, with everyone else, up Mental Lentils and Psychotherapy. It took me hours to relax beyond the No Entry fencing, worrying that someone would shout at me. When I was a kid, I thought I would have been a hero, had Nazis ever captured me if my imaginary Spitfire had been shot down. Actually, I'd have cracked as soon as one of them raised their voice.
I like being up here though, on the Above the Rails level. We've had to cross fences again, PERYGL! is helpfully subtitled DANGER! But it all feels like too much effort for someone to come and chase us off, so I'm quicker to chill out.
The Climbing Club members have shown me how to tie in at the top, how to swap my rope so it comes through the lower-off and how to clip the bolts into the hangers. It is just a slight extra task to the normal process of clipping in for the permanent quickdraws at a climbing wall. So there is nothing on this face of rock I don't know how to do, but very little that I have actually experienced.
I tie in, still wearing my trainers, Garry checks my knot and threads the rope through his plate. I pop my shoes on, oversized Scarpa Helix, same size as my street shoe, twenty quid off eBay.
Garry lets me dip my fingers in his chalk bag, I don't really like the feeling, and then I start to step up into the groove.
Oh. Not quite. I step back down again. I was weirdly out of balance and didn't want to keep going up. Garry says soothing things about just stepping up and relaxing, and a minute later I step up again and start to climb.
First clip, and Garry says 'Good', then up I go. It isn't super hard, just step to step and finding little fins and slots in the groove to use. It is weird though, standing on things that aren't steps or pavement or rungs, not even manufactured climbing holds and finding that they are perfectly adequate bearers for your weight.
Another clip, and I look at the rock, it is in full sun, and the glare bleaches any colour. Not that I've got the eyes to see the colours in slate yet. That will come later when I am sitting around eating sandwiches.
Clip. A hard-ish move and I'm on a big block, but it's scary because it slopes down. I shout to Garry "Just take me tight, I want to lean back and look at what I've got to so."
"No," he shouts back. "You don't want to do that, it'll blow your onsight." I look down at him. What the fuck is an onsight?
"Seriously?" I ask.
"Yeah," he says, his voice echoes in the dead hot air.
"Okay," I say.
Two seconds later I blow my onsight when I fall. I lose my breath for a second, then look at the purple rope, tight into the 'draw.
"Take your time, get your breath," he shouts. I've hardly fallen far, the bolt was near the crux. My breath pants, but quickly stabilises. I don't care about what has just happened, not rationally anyway, though maybe there is a wobble in my legs, and no saliva in my mouth, my body recognising fear where my brain doesn't think it cares. It is thrilling.
I step up again and make an awkward move – this can't be the easy way to do it, I think, but it works and I can twist my hips to grab an obvious jug. I'm now into the overhangs, and I expect them to be hard, really hard, but clink goes another quickdraw into the hanger, and I can see the holds are obvious really. When I grab each one, it is massive and as easy to grip as a china plate. Swing, swing like an Orangutan through this overhang, then an awkward scuffle – using a knee – and everyone watching says "oh!". Then I'm at the chains.
Untying my knot and threading it through the abseil ring is much more frightening than the fall. I check it six or seven times before I am ready to be lowered to the ground to receive my praise. Lots of fist-bumps. I want to do that again. If I had to choose a moment that changed my life in some way, it would be this one. I didn't know it yet, but this minor achievement – and what it made me want to do next – would define my life for at least the next five years.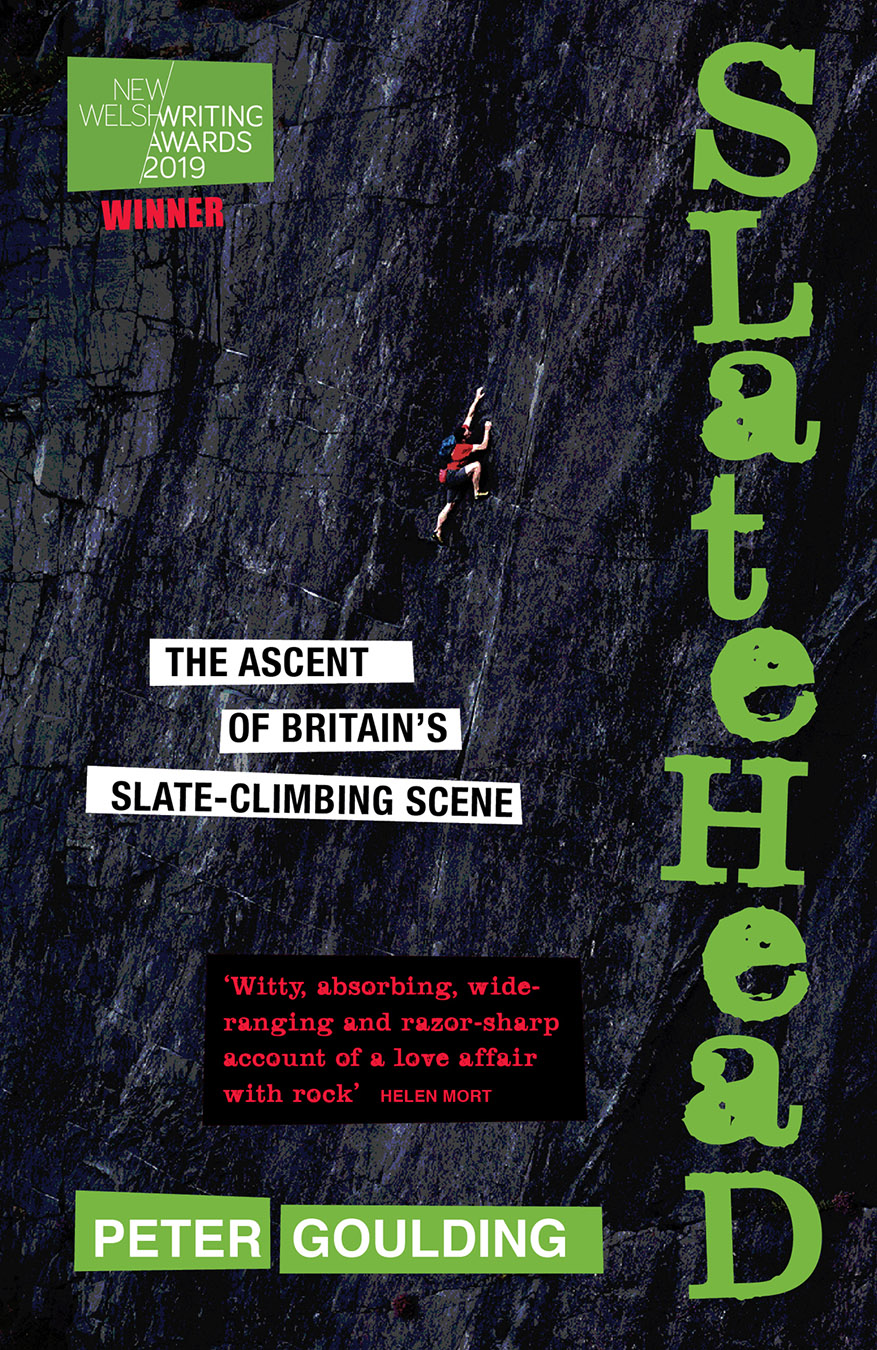 Slatehead: The Ascent of Britain's Slate-climbing Scene by Peter Goulding is published in e-book format on 4 June 2020 at £9.99 and you can pre-order the paperback which will be released on 29 October at £11.99 here. Peter can be found @flatlandclimber on Twitter.