Franco Cookson makes first ascent of The Dewin Stone (F9a+)
Tuesday 31st October 2023
Franco Cookson has completed his long-term project in Twll Mawr, Llanberis, North Wales, making the first ascent of The Dewin Stone (F9a+) to produce one of the world's hardest slab climbs.
Franco made a name for himself climbing numerous hard, bold test-piece routes on the sandstone cliffs of the North York Moors. After a dalliance with The County – ie. Northumberland – Franco's attention turned to Llanberis and the slate. Skipping the entire F8a-8c+ grade range, Franco made a rare repeat of James 'Caff' McHaffie's 2012 Twll Mawr gem, The Meltdown. A month later, Franco succeeded in adding a direct finish to that route.
Franco believes that The Dewin Stone, his latest addition, stands above that route however in terms of difficulty. If/when The Dewin Stone sees a repeat and is confirmed at the grade, then it will join the collection of worldwide slab test pieces at the very top of the list conferring Franco's membership of the pantheon of slab-climbing Jedi masters.
Writing about his first ascent on his Instagram page Franco shared the beta on the line, how it relates to The Meltdown and how his efforts on climbing the route progressed;
'SO ABSOLUTELY PSYCHED TO HAVE FINALLY STOVED THIS ONE IN!!! It has taken just SO LONG and required so much effort! And I'm delighted with the result: pure magic 🙏🌟🧙‍♂️

For years now, I've been completely obsessed with the idea of pushing slab climbing as far as it will go. @caffinspain 's The Meltdown opened my eyes to what sustained slab climbing entailed and hinted at what the future could hold. I went abroad to try and get benchmarks on other hard slabs, but found the best stuff was right on my doorstep, here in North Wales 🏴󠁧󠁢󠁷󠁬󠁳󠁿. What we have here is world-class - in terms ofdifficulty, but also quality. I just love it so much ❤️'
Franco describes where The Dewin Stone is on the wall relative to The Meltdown;

'I found 2 perfect projects, right on the same wall as The Meltdown. The one on the left was sustained and really hard, and the one on the right was mind-bogglingly futuristic. The Dewin Stone takes this sustained left-hand line, following a groove/rib the whole way. There are 4 parts to the climb: it starts with 8m of easy climbing, before jumping into 12 hard hand moves, the last of these the hardest on the whole route (I fell here dozens of times). This gains the groove of The Meltdown, taking in all but one move of The Meltdown's crux section (12 hand moves for my sequence). After the foot pick-up of The Meltdown, you are straight into a longer, boshy, dynamic section (see vid), with some powerful pulls on small crimps, which become really difficult when pumped. This is 17 further hand moves, which means by the time you jump for the stance, you've been doing hard moves, in complete flow state for 41 hand moves (and more importantly, absolutely tonnes of foot moves). The line maybe sounds convoluted, but it's a straight-up, following a groove: a brilliant feature, especially for the grade. The confusion is mostly caused by The Meltdown being such a weird snaking line. The Meltdown's a great line of weakness, but as a result, it does climb all over several obvious lines.'
Next, Franco describes how his attempts;
'I did the moves on this route relatively quickly after doing The Meltdown, but I hadn't quite appreciated the extent to which this route goes on and on. I felt like I was using a totally different energy system on this to when I did The Meltdown - I was just totally destroyed by the end, power screaming a summoning everything I had. I knew the moves so well, could shake out all over the place, cruise through sections I used to find nails, got the best shoe beta, diet was on point, in great shape, and I still had to go back day after day, falling and trying so hard. For me it feels significantly harder than The Meltdown, which is the only route you can compare it to really. More than a grade harder tbh. I've progressed so much in this style over the last few years, grading a route like this becomes a bit of a nonsense, but I'm a firm believer you should propose something. Of course what I'm now really psyched for is to begin work on the next project, to which the increase in difficulty is yet greater again. The moves on that thing are out of this world... 🌎'
Keen to find out even more about his latest test piece Climber has been in touch with Franco…
Congratulations, it must be a relief to have completed The Dewin Stone or are you just a little bit sad that this project is over?
It was never really intended to be a massive project, it just kind of snuck up on me. I haven't really had many emotions with it, I just enjoyed going down each day and learning the dance routine that little bit better each day.
Let's just back up a bit. After you did The Meltdown, you dived right back in and followed up with the direct finish which you gave F9a+. Can you just describe the moves on that direct finish and how much harder that is than The Meltdown?
Saying what's harder or easier is really difficult, as different people find different bits harder and easier. I always did quite well on the first hard traverse move and found the foot pick-up hard. I think other people are the opposite. After doing The Meltdown, I just wanted to find the biggest challenge on that wall that was logical. As there was an unclimbed line that went straight into The Meltdown groove, only missing out the traverse bits of the hard climbing (the bits I always did well on), it seemed like a perfect way to arrive at The Meltdown groove having tried harder and then having a more difficult finish. None of The Dewin Stone is out-of-this-world difficult, it's just very sustained.
The direct finish is weird again. The top of The Meltdown is a traverse (a bit downwards actually). If you're tall you can dial this way that is pretty easy and makes the end of The Meltdown a bit of a formality. Once you have the muscle memory it feels maybe like a V5 comp boulder problem or something, so I was keen to swap this out for a direct finish that gives you a balance sequence, a jump, a powerful crimp pull, a very big rock over and then a very run out foot swappy bit and lunge for the belay. It basically demanded you had energy and accuracy left after climbing all of the challenges of The Meltdown, which to my mind made it harder. For some people, this will feel way harder, for others maybe not. Slate is pretty difficult to grade.
Can we clear up one aspect before really getting into the details of The Dewin Stone? When Caff did the first ascent of The Meltdown he wasn't sure about the grade – hence his comment at the time; "There's a 6b move just before the chains, and at the point you're way out above the bolt. It's E6 just for that bit. As for the overall sport grade, I'm not sure, it's around F8c+ or F9a. Not sure about F9a as it didn't take me as long as I expected." Since then it's increasingly referred to as F9a; is that your feeling too and are the recent grades based on that?
I'd not seen that. I have no idea about the grade. I could see it being F8c once you're well acquainted with it in good shoes, but then loads of people have tried it and not managed to do it. I don't really have any experience at the grade, but perhaps no one does, as there are hardly loads of F9a slate slabs to compare it to. What I would say is that, even for the normal Meltdown, doing the individual moves on a top rope is a long way off being able to do the route. The clips add a good bit for starters.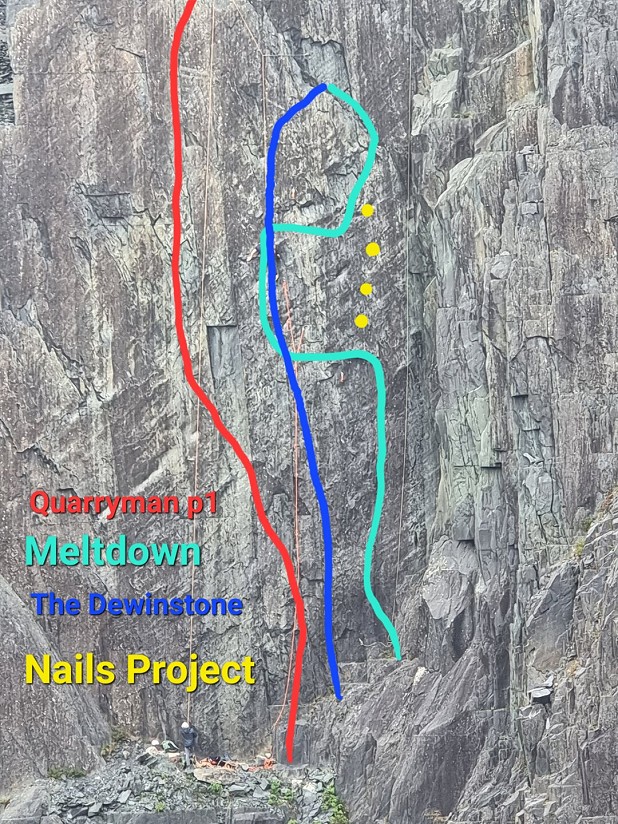 OK, let's get to The Dewin Stone then. You described in your Instagram post the climbing on The Dewin Stone as falling into four parts; the easy initial section, the hard new climbing into the original moves on The Meltdown, the section on The Meltdown and then the final section. You say that the second section, the moves into The Meltdown represents the hardest climbing on the whole route. Can you describe the moves on that section then; it sounds like high steps on super marginal feet and shocking finger crimps or is that miles off the mark?
Yeah, so I found there were 3 bits that were really hard on redpoint. The bit I fell off the most was getting into the groove of The Meltdown. The moves feel steady on a top rope, but on lead (especially with my dangly static rope extensions), you have to stand on bad footholds for a while to clip. I found that this made the move into The Meltdown groove really hard, as your right hand is on all these slopers up this little groove, meaning your rubber starts to give way. You have really spanned arms, with your right hand reaching up to this distant undercut and then you have to kick your feet up into these sloping footholds by your groin and then swing your right foot up really high.
You say that you fell there repeatedly. Was that becoming a mental battle to get through that section?
It was frustrating to fall off there, but it never felt like a mental battle. I kind of just saw it as training, waiting till I hit that area and executed it well. It was just really unpredictable when you'd fall. I'd like to do this line on trad one day and this move would be a real obstacle if you were facing a dangerous fall. It was difficult to dial.
Is it possible to say what grade that initial section would be as a stand-alone route?
Probably, but I don't know!
Did you complete the route the first time you got through that section or did The Meltdown and then the direct finish make you work hard right to the very end?
No, I then found my toes were tired for the foot pick-up move for The Meltdown (the end of the hard climbing on Meltdown) so fell off there a few times. The top is then a totally different style of climbing, very balancy, almost no hands for a bit and then lots of jumping for good holds. Having done all that hard climbing below I found the top balancy bits difficult too and fell off there a bit. There's a big runout at the top, so arriving there tired is a bit scary. I wouldn't want to take the big lob! The headwall felt a lot harder after having done the new start than when I did it with The Meltdown start. I'm in really good shape at the minute for this type of climbing, so unless conditions were weird, I think I can be confident The Dewin Stone is a good bit harder than the others.
It sounds from your description that the climbing is super continuous with minimal shake-outs.
Correct - although not in the traditional sense. You can take your hands off and chalk on nearly every move, but that's not going to help you. Your forearms don't get pumped, you just can't stand on your feet anymore. So it's continuous and pumpy in a very weird way.
You say; 'I knew the moves so well, could shake out all over the place, cruise through sections I used to find nails, got the best shoe beta, diet was on point, in great shape, and I still had to go back day after day, falling and trying so hard.' Were you doing any specific training for The Dewin Stone or was it "just" a case of having every aspect of your game on-point and just coming back time and time again?
More the latter. I do a lot of max hangs, often on the morning of climbing. There is only one hand hold you have to pull on (setting up for the foot pick-up move), but feeling recruited for this is a real confidence boost.
Reflecting on The Dewin Stone; how close to the limit of slab climbing do you think it is for the moment and what might the next generation of slab climbs entail?
Miles away. I don't really think it's that hard. Like I say, none of the moves are particularly hard. I struggled with psyche for it initially, despite it being such a clear line, as I just thought it was going to be a formality. Only once I started falling off on redpoint did I realise where the difficulty lay. You can have powerful moves on slabs, hard crimping, no rests - this has none of that. Nant Peris is the obvious cutting-edge project.
And speaking of next-generation climbs, what about the other line then? Do you intend to go back for that next or are you planning to take a break from Twll Mawr for a while?
I'm very psyched by the line on the right, as it's got really cool, really hard moves. There's still one move I've not really done. There are also some harder slab projects elsewhere in North Wales that are protected by trad gear, particularly the project in Nant Peris Quarry. I don't know if I'll ever climb any of them, but that's what really inspires me. I'm sure they're possible, but probably not by anyone around at the moment.
To whack meaningless grades on things, even if you assume that Meltdown and Dewin Stone are massively over-graded and they're 8c/+ or something, the one at Nant would be like 9b or harder. It is astronomically nails. Lots of pulls on really small crimps with no feet, giving extremely hard boulders, stacked on top of one another, but with good cams keeping you just off the floor before getting onto 'easier' ground. Hopefully, there'll be more attention paid to slab climbing in the future - why couldn't we have slab routes as hard as routes in other styles?