Chris Sharma makes first ascent of Black Pearl F9a+ DWS
Tuesday 14th November 2023
Chris Sharma has made the first ascent of what is probably his hardest deep water solo to date, Black Pearl (5.15a/F9a+) at Soller in Mallorca, Spain.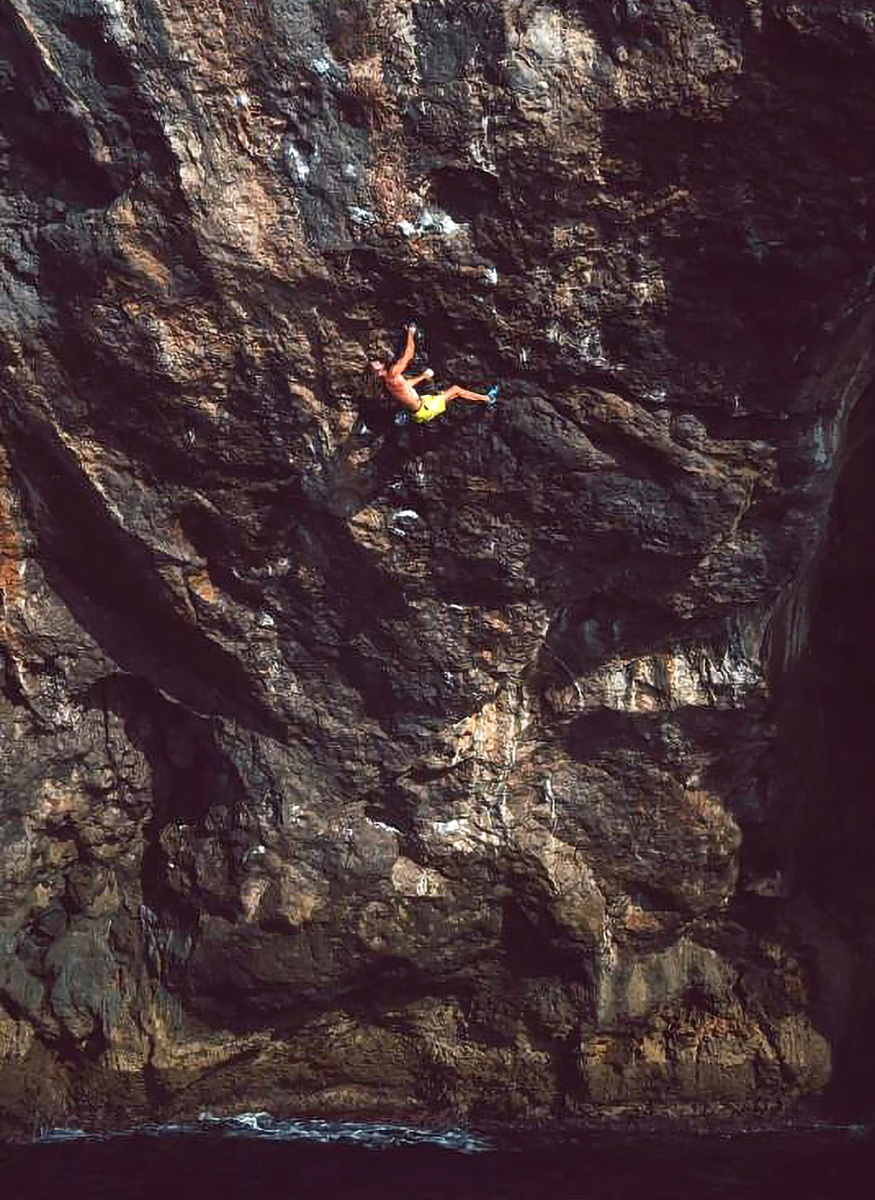 Standing at an imposing 40m high, Sharma believes his latest DWS addition, Black Pearl, is one of his hardest to date. Sharma is well-known for his DWS exploits on Mallorca; famously he has previously added both El Pontas and Alasha to the Mallorican cliffs.
Sharma has been trying the line on and off for four years prior to making the first ascent on November 7th. His ascent comes a few months after making the first ascent of The Sleeping Lion (F9b+) at Siurana.
Commenting online about Black Peal Sharma said; "It represented a progression in deep water soloing for me, and it was a very personal goal that I've pursued over the last four years". He added, "It's one of a handful of routes that have been on my bucket list."
Talking about the grade Sharma feels that it may be harder than Es Pontas and Alasha. He said, "It's hard to compare… But it could possibly even be a bit harder than both of those." Difficulty notwithstanding, at a massive 40m, Black Pearl is certainly one of the highest DWSs.
In an interview with Climbing, Sharma confirmed that he spotted the line back in 2018 but didn't start trying it until 2019 having been inspired by his friend and DWS pioneer Miguel Riera who was trying a line on the same wall. After Riere passed away after a battle with cancer Sharma was inspired to continue. He told Climbing, "Doing Black Pearl felt a bit like wrapping up unfinished business. It's where we spent a lot of his last days together, and so it was kind of a special way to pay tribute to him."
Black Pearl is left of Sharma's 2017 DWS addition, Big Fish (5.14c/F8c+). Sharma described the line to Climbing saying, "I felt just really lucky to find this pathway up the wall. It has these little crimps and you dyno to that perfect pocket in the middle of the wall, and there's nothing else around it. If one little piece of the puzzle was missing, it would be completely impossible."
Describing the difficulties in more detail Sharma estimates that Black Pearl is 5.13a/b (F7c+/8a) to a rest after which an extended 15-move sequence ends in a crucial dyno to a pocket making it a 5.14b/c (F8c/8c+) into a V9 (Font 7c). From there, Black Pearl continues to the top with 5.13b/c (F8a/8a+) climbing.
Read the full interview on Climbing with Sharma here.