Bertone and Roberts secure Olympic tickets at European Qualifier
Wednesday 1st November 2023
Oriane Bertone and Toby Roberts won the top spots at the European Qualifier in Laval, France, over the weekend, earning them both Olympic Qualifications for the Paris Games in 2024.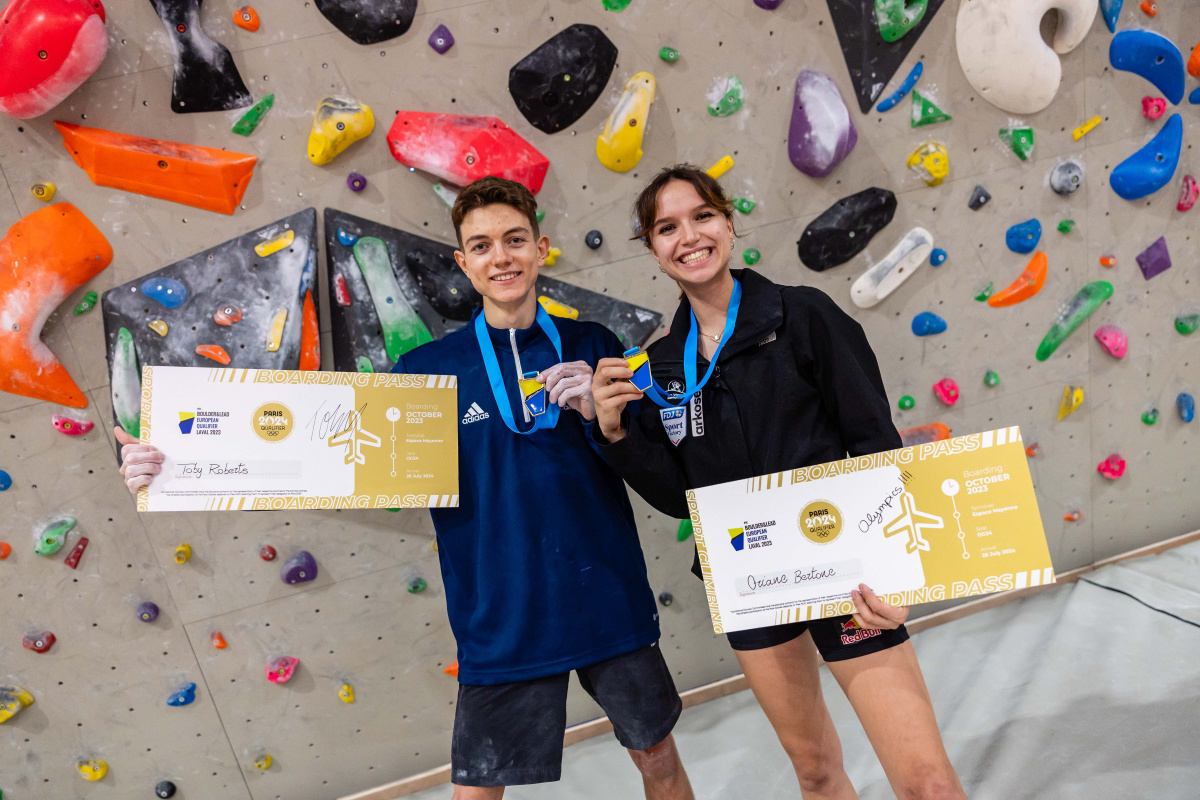 The second of the five Continental Qualifiers, the European Qualifier in the Espace Mayenne, Laval, was, as anticipated, hotly contested. Big-name competitors in the men's competition, like Adam Ondra and Alberto Ginés López – the Tokyo Olympic Champion, were joined by some of the youngest climbers around, such as Toby Roberts of GB Climbing, Sam Avezou and Medji Schalck from the French team. Alex Megos had stepped aside from Laval citing tiredness after the long season. Whilst Oriane Bertone was arguably the women's favourite to take home the Olympic qualification ticket, she faced stiff opposition, not least from the field including Stasa Gejo and Laura Rogora.
Men's
The Men's Semi-finals on Saturday were dominated by Toby Roberts; he finished the day on 180.8 points – over 50 points clear of his nearest rival Adam Ondra. Alberto Gines Lopez trailed another 15 points behind narrowly ahead of Sam Avezou. Showing his potential, Toby Roberts won both the Boulder and the Lead rounds with convincing margins in both – especially so in Lead where he was 30 pts ahead of Adam Ondra.
Although Toby couldn't quite maintain his stranglehold on the top slot in the Final Boulder round he still finished in second and very much in contention behind Sam Avezou. Alberto Ginés López, Medji Schalck and Adam Ondra all finished factions of a point behind Toby showing just how tight a round it had been.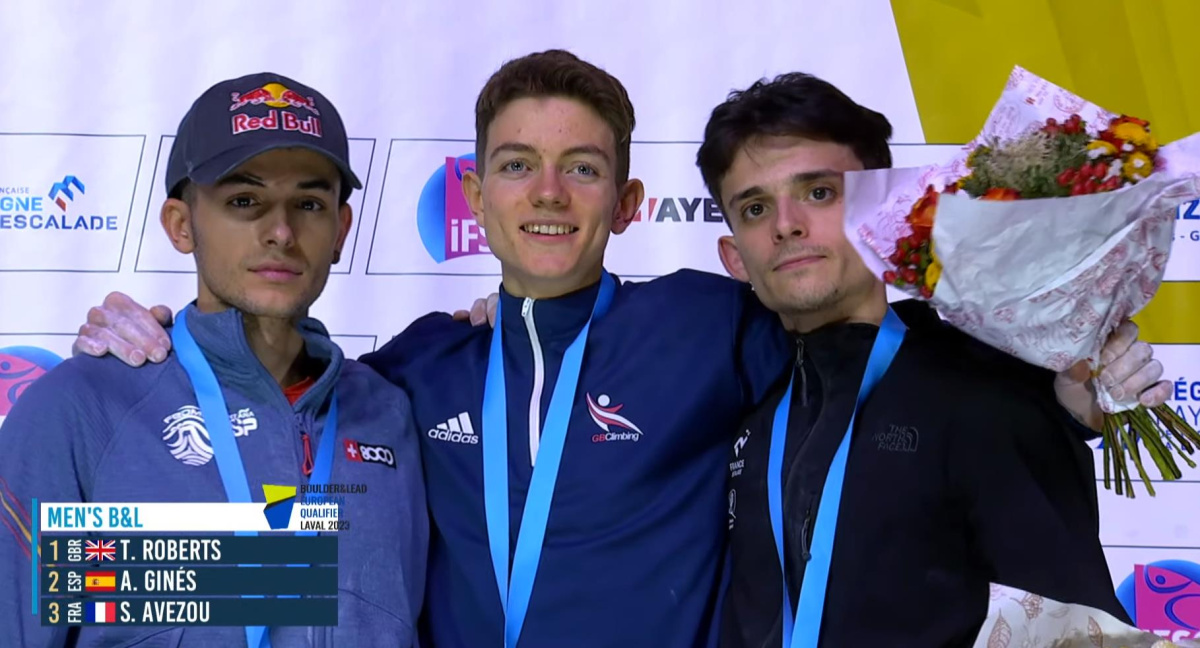 Yannick Flohe posted a strong performance in the Lead – despite losing his glasses mid-climb. Behind Flohe were both Ginés López and Ondra; both didn't really climb to their full potential falling earlier than what might have been expected. When Toby Roberts emerged to climb last, the weight of expectation was massive. However, with a maturity well beyond his young age, Toby posted an utterly brilliant performance. Climbing well beyond what was needed to take the victory, Toby topped the route to score a perfect 100 points. He'd dominated the competition and received a standing ovation from the audience. Ginés López followed in the silver medal position with 133.7 points whilst Avezou completed the podium in third place with 132.9 points.
Speaking to Shauna Coxsey after his victory Toby said;
"I have literally no words now. I don't think is ever going to sink in. Coming into this event, I tried not to have any expectations and just enjoy climbing. It is such a big dream for me, I've been training for it for so long.
"I came so close to it in Bern, but I think I let the pressure get the best of me there, and my weaknesses got exposed. So the aim going away from Bern was to work on my weaknesses, come into this event with a clear head and just enjoy the climbing."
Women's
As expected, Oriane Bertone climbed superbly in the early rounds finishing the semi-finals in the top position. Bertone convincingly won the Boulder round on 84.2 points, a lead of c. 15 points ahead of second-placed Chloe Caulier. Mia Krampl stormed to a victory in the Lead round finishing on 72.1 points; Oriane Bertone and Laura Rogora shared second place on 60 points each.
Whilst Oriane had won the semi-final Boulder round, she utterly dominated the Final round winning the Boulder round with a near-perfect score of 99.9 points; Stasa Gejo and Jenny Kazbekova finished in second and third place with respective scores of 84.5 and 69.6 points. Having qualified for the final in last (8th) place, Laura Rogora started the Lead round off and posted an extremely solid score of 96.1 points finishing with a combined score of 145.7 points. Jenny Kazbekova also climbed very well in the Lead round eventually falling with 72.1 points giving her a combined score of 141.7 points.
Having finished Boulder in second place, Stasa Gejo's 64 points in the Lead gave her a combined 148.5 points, narrowly ahead of both Rogora and Kazbekova. Climbing last, Oriane Bertone's Lead performance wasn't as dominant as Robert's had been in the Men's but her equal third finish and 72 points gave her a combined 171.9 points, nearly 25 points more than Stasa Gejo and therefore more than enough to secure first place and the all-important Olympic Qualification; Stasa Gejo and Laura Rogora finishing in second and third respectively.
Speaking the Shauna Coxsey afterwards Oriane said;
"I was trying to pay attention to the crowd's reaction whenever I was grabbing a new hold. I was thinking 'Is it this one? No.' 'Is it the next one? No.' And when I took the one I heard everybody go crazy, I turned my head so that I could see the screen and saw my name up there. I don't even know what to say, I'm crazy happy."
"I am very happy with the consistency that I have displayed throughout the whole event: I was first in qualification, first in the semi-final, and first in the final, and that is not an easy thing to do. I was especially very happy with my bouldering, I'm not very satisfied with my Lead climb because I was pretty stressed."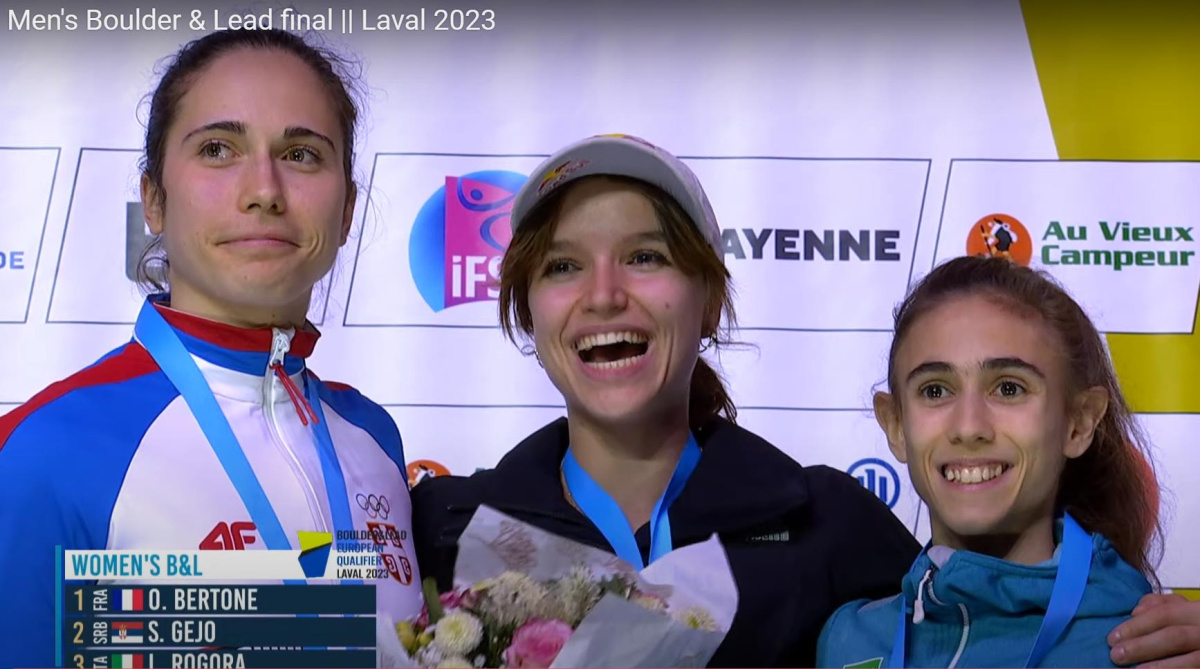 Watch the finals below…